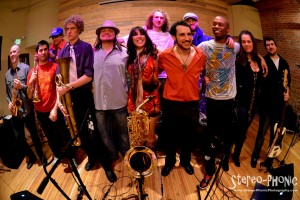 Photo by Johne Edge
Listen Up Denver! has a pair of tickets for you to see ATOMGA & Funktion
on Thursday night April 26th at Cervantes' Other Side for FREE.
All you have to do to enter this contest is post "I wanna get Afro-Funked by Atomga at Cervantes'!"
on our Facebook Wall.  
PLEASE NOTE: Entry deadline is Noon MST Wednesday, April 25th and the winner will be notified on
Facebook no later than 5pm MST the same day.
Why You Should Go: On Thursday the funkiest dance party in town is going down at Cervantes' Other Side when ATOMGA and Funktion share the stage for a one of a kind evening of funky good times music.
ATOMGA shares a positive vibe with the masses. This band uses authentic afrobeat as its foundation then branches out into styles including funk, jazz and world beat utilizing inspirations of each of the 11 musicians in this eclectic project. With a solidified and full-fledged line-up, ATOMGA embarked on a quest to take the Colorado music scene by storm beginning in the Spring of 2011. With no intention of losing momentum and the unyielding desire to share the infectious energy this music has to offer, ATOMGA will continuously connect your heart with your mind, body, and soul.
Whether you're in a crowded club or overflowing dance floor, every Funktion show feels like a house party you were personally invited to. Maybe because the 7-man band swarms any stage like eager party-goers themselves – ready to throw down with everyone there until the keg is empty.
Funktion is a finely-tuned funk fusion band that combines all the soul of James Brown, the rhythmic beats of Earth, Wind and Fire and licks that would do Hendrix proud. They have vintage roots, with a re-imagined sound of something altogether new.
Venue:
Cervantes' Other Side, 2635 Welton Street, Denver, CO 80205 – 303/297-1772
Doors:
8:00 PM
*Price:
$10
Purchase Tickets
*All times and prices are gathered from other sources and I am not responsible for mistakes or inconsistencies. They are intended only as guidelines. Please, always call the venue if you desire the most accurate information possible.