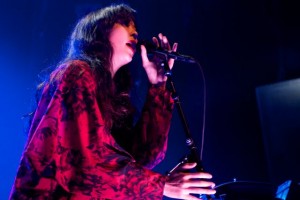 Photos by Ty Hyten
The Scene: The sold-out Ogden Theatre was packed on Wednesday night for the first US tour of New Zealand indie-electro group The Naked and Famous.  It was a large mix of 18-35 year olds dressed in jeans and t-shirts, Bud Light in hand, talking loudly throughout the night.
The Naked and Famous: Fronted by vocalist and keyboard player Alisa Xayalith and guitar player and vocalist Thom Powers, The Naked and Famous took the stage around 9:45 to an overly enthusiastic sea of black X'ed hands waving in the air behind me in the pit. Xayalith's energy as she opened with "All of This" just didn't seem to match that of the audience and the stage lights, but the throngs of fans at my back didn't seem to mind. The stage was heavily dominated by flashing strobes, which actually added a needed bit of artificial energy to the band.  These were paired with strong beams of white and green light that seemed to swallow Powers and Xayalith and reach out like arms towards the audience.
The sound for the evening was right on.  There was a good balance, volume, and if not for the loud chatter around the bar, I'd say it would have been just about perfect.  However, a great sound engineer still can't breathe life into what seemed like a lack of emotion in Alisa Xayalith's voice. It seemed that most of the crowd mirrored her level of emotion too, with the one obvious exception of the choir of hardcore fans in the pit.
After twelve of thirteen songs from 2011 album Passive Me, Aggressive You the band left the stage for a comically short encore break.  They were absent from the darkened stage for less than fifteen seconds and then ran back on to play "Dadada," the only song from the night not from their full length album.  Then, as anticipated, the crowd went nuts as they transitioned into the jangley, delay heavy intro to their hit "Young Blood."  What a breath of fresh air. I'll admit, this was the first time all show the crowd, band, lights, and vocal energy came together, and I really enjoyed it.
On their first US tour, these guys have done a great job creating a large draw (thanks in large part to a lot of TV and radio play), but they need to make some changes to keep that success alive.  This show would have benefited from a smaller room, more movement and interaction on stage, and more conviction from Xayalith. Four of my friends left the show before the encore, citing terribly drunk hoards of teens attempting to push their way into the front, and a lack luster performance. While I didn't come across any terrible fans, I left the show feeling rather indifferent about what I'd just seen and will need a bit of coercion to follow their future endeavors.
Energy: B-
Sound: A
Musicianship: B-
Stage Presence: C+
Set/Light Show: A
Overall: B-