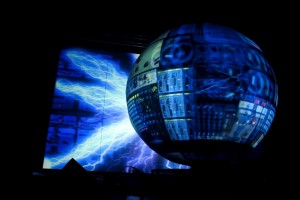 Photos by Sarah Henderson
The Scene:  It's a bit of a drive for most of us out to the lovely city of Broomfield, but when the second annual Levitate Festival brought the likes of DJ Shadow and RUSKO, along with local producers Paper Diamond and Picture Plane, together on one stage, it was an easy drive to make.
I arrived about an hour after what I thought was doors, and could already hear the building roaring.  After coughing up $10 to park (ouch), I hurried over to the building that was calling me from down the street. I could hear Paper Diamond rattling soul shaking sound through the walls of the center as I struggled to find my appropriate will call window.  Once inside I made a b-line to the stage, swimming through the sea of neon and tie-dye to find my ideal spot – in-between a girl with the a pink glow stick in her mouth and a guy with a pair of those cool gloves with the lights in the finger tips.  I let out a sigh of relief, I had made it; these are my people and this is our music.
Paper Diamond:  I felt a little guilty arriving late and missing the first half of Paper Diamond's set (not to mention the entirety of Picture Plane's performance).  However, I told myself I could make it up by dancing as hard as I possibly could through the remainder of the set.  Apparently everyone around me had made similar promises to themselves, and we danced our hearts out together as Paper Diamond bounced through a mix of new original works and crafty remixes of everything from Pretty Lights to Kanye West.
I was taken aback by the sheer awesomeness of the light show that accompanied Paper Diamond's tracks. I'm usually one to dance with my eyes closed (don't judge), but tonight that was not an option.  Like all good things, Paper Diamond's set had to come to an end, and as the mastermind behind the Levitate Festival left the stage I was left asking myself "What could possibly be next?" and "Are beers seriously $9?".
DJ Shadow:  I was pumped to have one of my questions answered when the stage crew rolled DJ Shadow's Deathstar-esque Shadowsphere onto the stage.  The excitement stirred through the room as an intricate three, or maybe it was four, projector system was set up for what was shaping up to be an amazing visual display.  As I snuck off to grab another $9 beer, DJ Shadow snuck on stage and the roar of the crowd brought me to my senses – ridiculous music first, overpriced beer second – I turned on my toes and tore back into the crowd.
DJ Shadow's experimental start to his set was the perfect introduction to an amazing set of visuals envisioned by Ben Spokes.  The Shadowsphere was astonishing, and was the ideal visual accompaniment to DJ Shadow's unique blend of music.  As Shadow's set bounced from funky vinyl shake downs to electronic breaks of experimentation, the visuals kept pace, enthralling the crowd with kaleidoscopic intersections and 3D infused projections.  And, yes I'll admit I was in fact kicking myself for leaving my 3D glasses at the house – I had no idea we were in store for such showmanship.  With 27 years of experience under his belt, perhaps I should have known better.  Of course, with experience comes humility which leads us to the credit roll that looped on the visualizer as DJ Shadow gave shout outs to everyone from fans, to Elm and Oak and Paper Diamond for making sure the Levitate Festival made it back for this bigger and better second year.
RUSKO:  With the stage cleared, the anticipation of the evening's headliner had the crowd in a frenzy.  The energy buzzed from the floor, all the way up to the massive paper lanterns hanging from the ceiling, to the bowl seats, and back to the floor.  With his name in lights above his tables, the British break-beat master made his way onto the stage glowing with enough energy to rival the rest of the building.  Armed with a towering system and loaded with countless tracks, RUSKO was not about to show mercy.  He cranked the speakers up to 12 and let the sound cannon rip into the sea of dancing fiends.
RUSKO's apparent philosophy of cranking up the BPM and the sound system to crank up the energy in the building worked flawlessly.  As the Leeds born artist blessed us with explosions of sound for our skanking pleasure, he put on his own on stage demo that I'd like to call "How to dance to RUSKO's music."  Countless singles including "Hold On," "Everyday," "Cockney Thug," and "Woo Boost" sent everyone in attendance soaring to new heights as RUSKO commanded our attention with a light show to rival the rest of the evening.  RUSKO's set solidified that he is going, onwards, upwards and far beyond anywhere any other young producer could dream of.
Energy: A
Sound: A
Musicianship: A-
Stage Presence: A-
Set/Light Show: A+
Overall: A
In a day and age where music plays as big of a role in shaping who we are as our parents do, I have my parents to thank for how I turned out – musically inclined at least. Growing up in a house with music literally stacked to the ceiling, I remember swiping an array of albums from my parent's collection, only to be called out on it once they wanted to listen to one. As I grew so did my taste in music, which now encompasses everything but pop-country (I just can't do it). So whether its electro-funk or dub-step, punk rock or hip-hop, jam-grass or reggae, you can catch me there, loving life and the beautiful sounds that surround us in it.