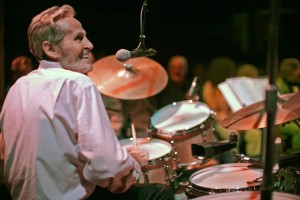 Levon Helm's recent passing hit me hard. I have alway's loved the music of The Band, and growing up just outside of Woodstock New York, their music and lore was everywhere. Woodstock claims many musicians, but Levon was the one that claimed Woodstock. Although I have loved Levon's music since as early as I can remember, my true appreciation for him did not really happen until a few years ago.
My father, Walt, is a retired blaster who demolished rock with dynamite for over 30 years. He was never involved in the music scene or business, and was what I would call a casual music listener…until he met Levon Helm. I will never forget the excitement in my father's voice when he told me about his first night volunteering at one of Levon Helm's Midnight Rambles. For the first time, I was relating to my father on a level I was never really able to before, and the music of Levon Helm was the catalyst for that.
As time went on, my father spent more and more time at The Barn, and with Levon. When I got a call that he and my little sister (who babysat Levon's grandson) would be going on tour with The Levon Helm Band, and they would be making a stop at Red Rocks, I couldn't really believe my ears. My dad, a retired construction worker, was now living a life I could only dream of, and one he never imagined!
That Red Rocks show was the first time I ever met Levon, and it was one of the most memorable experiences of my life; not because I got to meet one of my idols, but because my dad was the one introducing us. When my dad walked me up to Levon backstage at Red Rocks and introduced me, I didn't even know what to say. How do you tell a man like Levon Helm just how much he means to you? Well, instead of me having to figure out what to say, Levon took the helm, and what he had to say surprised me, but it shouldn't have. Instead of me singing my praises to Levon, Levon sang my dad's praises to me. Hearing a hero of mine talk about my father like he was a hero of his, broke down years of misunderstandings between my father and I, and I finally was able to see my father as the amazing man that he was. "Once in a while you can get shown the light in the strangest of places if you look at it right." All of a sudden, I saw my dad as "cool," and I saw just how happy he made people with his presence. Levon treated me like family since that first meeting in 2009, and he did it not because he was especially fond of me, but because I was my father's son.
My father and I talked on Sundays after every Midnight Ramble, whether at the barn or on the road, and he would tell me all about the night before. I loved hearing all the details as a fan of Levon's, but the best part of those conversations was knowing that my father was having a once in a lifetime experience, and that he was enjoying every minute of it. My father busted his ass while I was growing up, and I couldn't think of someone more deserving of such an amazing opportunity than my dad.
When I would go back to New York to visit, I would jump on any chance I had to go to the studio, and since my dad was there so much, that those opportunities were frequent. One of my fondest memories was not at a ramble, but one of the next mornings. My dad and I drove to the studio to do a couple of things, and we were in the studio section of the barn, which Levon's house is attached to. When the Rambles weren't going on, it served as an actually living and work space. As I was putting some chairs away, Levon's daughter Amy and her husband Jay Collins (sax player for the Levon Helm Band and Gregg Allman) stopped by for a visit. Levon came out of the house with his bathrobe on, nothing but smiles, and sat behind his drum kit. Amy placed Levon's grandson Leigh on his lap, and that little man knew just what to do!
The purpose of Levon's Midnight Rambles, and his choice to reenter the ring after being diagnosed with cancer, was all summed up in that image. Levon just wanted to bring people together; his family, his friends and his fans. Watching three generations of Helm blood behind a drum kit on a Sunday morning proved his success, and so did the fact that I was standing there with my dad.
So when Levon passed recently, shortly after my 35th birthday, I went into a very intense state of reflection. I was sad to lose such a powerful presence in the world of music, but mostly I was thinking about what my dad must be going trough. The stories my dad has told me of his times with Levon up until the end are priceless, and are treasures I will carry around with me forever.
When I look back on Levon's life, I see I man that gave his joy and love to all those around him through not only music, but also through his overwhelming charisma, charm, and character. He not only gave me the gift of his music, but he gave me the gift of growing closer to my father because of it.
The last time I saw Levon I was standing at the foot of the side steps into the studio. The entire Levon Helm Band was standing on the steps, including Levon, and I was petting his dog Muddy on the head. I was about to head to the airport and return to Colorado after being around the studio for a couple of weeks, and Levon asked if I had fun at the Ramble the night before. I of course responded "yes," but told him that I wanted to go nuts and dance, but since I was sitting next to the soundboard (thanks for letting me cozy up to you Brendan!), I couldn't really let loose. I acted out a cramped space dance move, and Levon immediately joined in before busting out some moves of his own. As we all said our goodbyes, I truly felt like all the people involved in making the Midnight Rambles happen were one big family. I didn't know it would be the last time I would see him, but I couldn't ask for a better parting image.
Mr. Helm, thank you for always showing your smile and your joy, and for giving us so many great years of music. Also, thanks for giving my dad the experiences that he had, I know he will cherish them forever. You brought us all together my man, and we will stay that way even though you are gone.

Brian Turk grew up in the shadow of the Catskill Mountains, near Woodstock, NY. He comes from a family of music lovers, audiopliles, Dead Heads and avid concert goers.The musical magic that can only be created in the Catsklills, both past and present, is what Brian cosiders the epicenter of his music addiction. The music of The Band, and most recently The Levon Helm Band, is the soundtrack of home for him. Brian's mother took him to his first concert at 5years old...it was Johnny Cash and Roseanne Cash at Jones Beach Amphitheatre. For Brian, music is a family affair. He feels the same way about live music...we all convene to celebrate together. Brian's writing life started when he wrote his favorite author, southern fiction writer Clyde Edgerton, a fan letter at age 13. When most kids were idolizing baseball players and television, he was worshipping writers and musicians. The two became friends and Clyde shared his craft with Brian. The next year Brian attended Duke University's Young Writers Camp. This is the extent, of what Brian considers, his "formal" training in writing. From then on his goal was to capture snapshots of life through words. Brian has been involved with live music in various facets over the years, and combined with his enthusiasm and love for Denver's music scene, he creates a vivid description of what he sees and hears. If you see him out at a show, dancing with a notebook in hand, say hello.