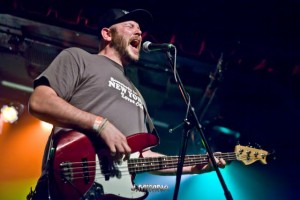 Photos by Jim Mimna
The Scene: Last Saturday, The Quick & Easy Boys lit up the stage at Cervantes' Masterpiece Ballroom with an aggressive pace and unique style.  Along with Missed the Boat, they got the crowd excited and warmed up for an evening with Oakhurst.  Cervantes' has recently upgraded their acoustic treatments of the main ballroom and the improvement is quite noticeable and appreciated to the trained and/or attentive ear.  While those in attendance may have been expecting a night of bluegrass, there was no disappointment with the infectious and funky groove of The Quick & Easy Boys.
The Quick & Easy Boys: They opened the show in the same vein as their first release, Bad Decisions With Good People, with the soulful tune "Beam of Light."  As they worked through their set, they drew in the audience with their authentic mix of funk, rock, and psychedelic pop.   They mixed new and old songs in a steady flow and as they played their set built momentum like a locomotive and never slowed down.
Guitar player, Jimmy Russell, ripped through various styles and genres like a mad man, blending reggae, rock, and funk riffs into a sound all his own.  Meanwhile, lead vocalist and bass player, Sean Badders, kept the bottom fat and funky, and his vocals crisp and on point.  All was tied together by drummer Mike Goetz's stirring of the funk stew with his back-beats that had the audience shaking their ass.
This Portland power trio is currently touring in support of their new album Make It Easy which will be released this fall.  To check out a free sample download of their music, please visit thequickandeasyboys.bandcamp.com.  Although I was somewhat familiar with their tunes thanks to the Baltimore band, The Bridge, this was my first time seeing The Quick & Easy Boys and I certainly hope to catch this original, high energy, funkadelic band again real soon!
Setlist: Beam of Light, Let Me Get Down, Whiskey Fever, Without You, Main Mass, Stealing Glances, Willie, Bury my Bones, Take Your Medicine, Our Time
Encore: Wild Fire
Energy: A+
Sound: A+
Musicianship: A
Stage Presence: A
Set/Light show: B
Overall: A
Capturing life in various forms is what I do. I consider myself an archivist by nature. It is not a career choice that I consciously made, but it is something that has called me. I strive to freeze a moment in time with every frame, a moment that can retell its story with each viewing, forever. I also have a deep passion for music and have been photographing and recording live music for years. Capturing the energy and magic of a live performance in a photograph is one of my passions. In addition, I enjoy photographing in a wide variety of settings, from wildlife scenes to family portraits and everything in between. I am a lover of the earthscapes that we see all around us every day, both natural and manmade, and aim to make unique images that do justice to their beauty. Where others see darkness, I see streaks of light through long exposures. I shoot a very wide variety of subject matter including individual/family portraits, event coverage, landscapes, live concert/performance, HDR, product and commercial photography, architectural, weddings, food, and editorial photo journalism. With artistic expression, I aspire to create visual art that speaks volumes.