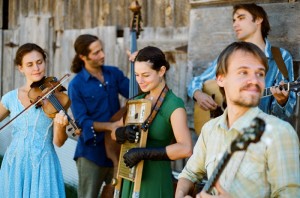 Photo by Anne Staveley
Nederland Colorado based neo-acoustic quintet Elephant Revival will be in Denver this Friday playing their unique version of an emerging musical genre called Transcendental Folk at The Ogden Theatre.  As they prepped for the show, Daniel Rodriguez (Guitar, Banjo, Vocals) took a few minutes to sit down with Listen Up Denver! to talk about the upcoming show, the upcoming summer, and of course, spirit animals.
Listen Up Denver!: Where did I catch you at today what are you up to?
Daniel Rodriguez: It's been a great day so far. I went down to the CU Boulder campus and got my ticket to go see Barack Obama speak tomorrow.
LUD!: Very cool. So before we dive into touring and the lot, can you describe your sound for any of our readers who haven't seen or heard you before?
DR: Our sound is tough to describe, if I had to put a label on it, which I don't like to do, I would say it is Folk Rock with a Celtic spice to it. We have five songwriters and we are all unique to each other, so it's not like we are writing in the same style. One moment it can be a Folk song derivate of Bluegrass, the next song can be really poppy, and the next song can be really sort of ethereal and mysterious…it's tough to pin-down.
LUD!: Definitely. I love your guys' eclectic sound, where did the band name come from?
DR: So, the name comes from our bass player Dango who lived in Chicago. He was at the Lincoln Park Zoo and was busking outside the elephant cage with one of his buddies. They had two elephants in the cage at that time that had been together for 15-20 years in the same elephant cage. One day the city of Salt Lake City called and asked if they had an extra elephant. The zoo said "we have two, we will send one down." Going over a pass in Wyoming on the way to SLC, that one elephant fell over and died. Then, the other elephant for unexplained reasons back in Chicago fell over and died the same night. It is a really sad heartbreak story, and Dango at the time felt it was time to bring together all of the musicians he liked playing with. We were all living in different parts of the country so he kind of brought everybody together.
LUD!: You guys kicked off your spring/summer tour about a month ago with a live webcast show on dittytv.com.  Can you share the reasoning behind this decision and give us some insight into the experience?
DR: I don't think we really knew what we were getting into, but I don't say that in a good or a bad way. We did a thing called the Folk Alliance in Memphis. You sign up for this thing and go to this huge hotel in Memphis and there are a thousand promoters and venue owners waiting for you. I guess Ditty TV was there too. You put on these showcases that are similar to touring the world, but you are in one hotel and get lots of exposure. Ditty TV saw us and asked us to come out, so we came out and it was broadcast on the internet and we had close to a thousand of our fans viewing it.  It was great way to play a show that everybody could access all over the world.
LUD!: How has the rest of the tour been?  Any high or low notes?
DR: I can't really think of any low points. But we have played some amazing festivals like Suwannee SpringFest down in Florida. It seems like the family of Elephant Revival, the fans and everybody, keeps growing and growing. This last tour we were really surprised at the amount it just keeps expanding. We were really stoked and surprised to see how many fans came out to see us. You know the driving can become cumbersome, but then again that's what has helped us write some of our songs.
LUD!: Last time we covered one of your performances [read the review here] you had silk aerialist performers, can we expect to see more aerialists or additional performers this Friday at the Ogden?
DR: Yeah! We are going to have some more silk fabric dancing. I think they have chosen a few songs of ours that they like and are going to come out for. And we are really excited to have the Plain Wall Singers, our friends from the Lakota tribe, to come out and sort of warm up the night with some traditional Lakota songs. We also have Chad Stokes our friend from Dispatch coming out and we are super excited to have him and hope to get him up during our set too.
LUD!: Definitely looking forward to it. We are covering Wakarusa Music Festival this summer and are slightly disappointed you are not a confirmed artist this year.  Reflecting back on your 2009 trip to the Ozarks, can you share your experience or perhaps compare it to other festivals you've played?
DR: The same promoter, Brett, who puts on Wakarusa also puts on The Harvest Festival, which is at the same grounds. We played both Wakarusa and The Harvest Festival and Brett really thinks that Harvest is our cup of tea, so we are booked for that. It's actually really nice to go to that because it is sort of a family reunion for some of us. Bonnie's whole family comes out and her folks don't have to walk to ten different stages. Wakarusa is just kind of massive so Harvest is kind of nice because its really easy going.
LUD!: How is the weather for that one? I haven't made it but I assume it has to be a little bit less hot and humid?
DR: Once October comes around for Harvest, the weather is pretty tame and though you still get some really hot days, the sweltering heat has left and it is really great and relaxed.
LUD!: With summer quickly approaching, what are you looking forward to the most?  Are there any tour dates or personal goals that are itching to accomplish?
DR: Well this summer is pretty unique to us because we are going to be flying into a lot of different places and we are playing some festivals that we have been looking forward to playing since we started. We are playing Summer Camp, we are doing High Sierra for the second time, which we really love. Every festival that you see on our tour we are really stoked about. I think for me, looking at the line up for High Sierra and how many good friends are out there, I am really stoked about that one.
LUD!: With a name like Elephant Revival I have to ask, what Spirit Animal do you feel like you embody?
DR: I think if I had any kinship with an animal, aside from a human, it would be the eagle.
LUD!: Good answer. Is there anything else you would like to share with our readers that I haven't touched on?
DR: Yeah, just wanted to let everybody know that between the five of us in Elephant Revival we have enough to record about 100 albums right now. We are looking forward to getting five of those songs out this summer along with a songbook. We are all contributing art for a songbook along with lyrics and chord charts. A lot of people have been looking and sending out emails and letters looking for chords and lyrics and we are going to have that for everybody too.
LUD!: When can we expect those releases?
DR: I would say June. We are also doing Telluride around then and we are playing a Night Grass show that everyone is stoked about too.
In a day and age where music plays as big of a role in shaping who we are as our parents do, I have my parents to thank for how I turned out – musically inclined at least. Growing up in a house with music literally stacked to the ceiling, I remember swiping an array of albums from my parent's collection, only to be called out on it once they wanted to listen to one. As I grew so did my taste in music, which now encompasses everything but pop-country (I just can't do it). So whether its electro-funk or dub-step, punk rock or hip-hop, jam-grass or reggae, you can catch me there, loving life and the beautiful sounds that surround us in it.