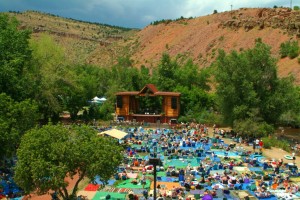 Since its inception 22 years ago, the Rocky Mountain Folks Festival has been about songwriters. Not constrained by genre barriers, they've always been drawn to true artists – songwriters who blossom and evolve, following their own unique path through the world's musical landscape. This year they cap the single-day lineup with two unique and deeply admired artists: Neko Case, whose powerfully soaring voice has led her from alt-country torchbearer, to member of an indie-rock supergroup, to a critically-acclaimed roots songwriter and performer; and Iron & Wine, who has developed over the past 10 years from an intimate solo songwriter to the leader of a larger band that layers textures and poly-rhythms with pop, African, country, and folk sounds.
This latest round of lineup additions runs deep… Justin Townes Earle (son of Steve Earle) brings songs from his latest album, a skillful blend of raw Memphis-soul and vulnerable country-folk (free album stream).  One of their favorite Canadian songstresses Kathleen Edwards makes her 2nd appearance in Lyons with her critically-acclaimed new record (free album stream).
They are also excited about two Planet Bluegrass debuts, as the stunning 4-part family harmonies (2 brothers, 2 cousins) of English folk-rockers The Dunwells (watch radio session) share the Sunday afternoon with the acoustic duo The Milk Carton Kids who marry sweet brother-style harmonies with edge-of-your-seat old-timey guitar leads (free concert video).
With this announcement of the single-day lineup, single-day tickets are now onsale for each day. They are nearing the end of their allotment of 3-day passes, so don't hesitate if you're thinking about immersing yourself in the full weekend of inspiration. Or consider camping – spaces are still left in the onsite campground or nearby Meadow Park. Order yours now at shop.bluegrass.com or800-624-2422.
Watch for more Folks Festival news in the coming months, including 2 more early-day Sunday sets, the full schedule in the Wildflower Pavilion, and the 10 finalists in the Songwriter Showcase contest (entries accepted thru June 8).
With the additions of Iron & Wine, Neko Case, and several others, Planet Bluegrass is proud to announce the single-day lineup for the 22nd Annual Rocky Mountain Folks Festival (Aug 17-19) in Lyons, CO.
Friday, August 17
Iron & Wine • Kathleen Edwards • Dawes • Justin Townes Earle • Holly Near • Caleb Hawley • Songwriter Showcase
Saturday, August 18
Amos Lee • Kasey Chambers • Darrell Scott • Elephant Revival • Richard Shindell • Girlyman • Gretchen Peters
Sunday, August 19
Lyle Lovett • Neko Case • Peter Himmelman • The Dunwells • The Milk Carton Kids • and several more still to be announced…