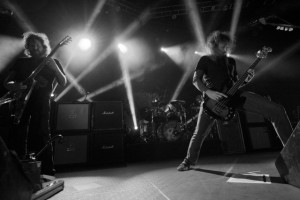 Photos by Mitch Kline
The Scene: Mastodon and Opeth rolled in to The Fillmore Auditorium last Monday on their co-headlining Heritage Hunter Tour. While Monday night is a tough slot for any band, I was surprised to see the huge venue less than half full for this show and wondered why the management had decided not to pull the curtain across behind the soundboard to give the room a more intimate feel.
Swedish doom metal outfit, Ghost opened the show, but unfortunately I was unable to get into the venue in time to catch their set. The crowd had less indie crossover than Mastodon's headlining stop in Denver last November when they played to a sold-out crowd at The Ogden [Read our review of that show here]. This was a metal show pure and simple, and despite the fact that much of the energy was lost in the open space of the room, the sparse but enthusiastic crowd definitely got their fair share of what they came for.
Mastodon: Mastodon leaned heavily on their most recent release, The Hunter, playing all but one song from the  fantastic album. As always, the band didn't waste any time with stage banter or antics, and just blasted through a raging seventeen song set that included "Crack The Skye" and "Curl of The Burl," without a word between songs
Interestingly, the band closed out their set with "The Sparrow," the somber song that closes out The Hunter. Regardless of that strange momentum shift, Mastodon's set once again left me looking forward to their next visit to Denver.
Setlist: Black Tongue, Hand of Stone, Crystal Skull, Dry Bone Valley, Thickening, Octopus Has No Friends, Blasteroid, Stargasm, The Hunter, Crack the Skye, All the Heavy Lifting, Spectrelight, Curl of the Burl, Bedazzled Fingernails, Aqua Dementia, Blood and Thunder, The Sparrow
Opeth: If you're going to play after Mastodon, you better have something to keep the momentum going. Unfortunately, that never happened with Opeth's set. No doubt, they're talented musicians, but their style of progressive metal didn't do much for me after a blistering set by Mastodon, and long gaps and banter between songs didn't help much.
Setlist: The Devil's Orchard, I Feel the Dark, Slither, Windowpane, Burden, The Lines in My Hand, Folklore, The Grand Conjuration, Demon of the Fall
Energy: C+
Sound: B.
Musicianship: A
Stage Presence: B
Set/Light Show: B
Overall: B