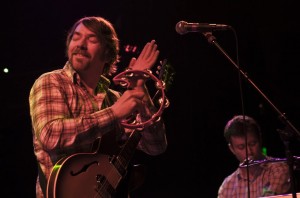 Photo by Tim Dwenger
The Scene: While it was a slight older crowd than The Fox is used to catering to, the Boulder music lovers are tuned into the timing of shows like no other group of people I have encountered. For their opening 60 minute set, The Fox Street All Stars played to about 150 or so people who lingered toward the back of the room and during the break between sets it was looking like The New Mastersounds might have a similar crowd. However, almost the second the lights went down the dance floor in front of the stage filled up and the room filled to more than 3/4 capacity. A great turn out for a Wednesday night especially since they had just played a raging 4 hour show in Denver on Saturday night. The crowd was generally good natured aside from a guy at the bar who mouthed off to the bartender for not picking him next and then proceed to order a drink I've never heard of . . . a Vodka "Full." In his words a Vodka Full is "a double, triple, quad, whatever it is, just fill the glass," with well vodka none the less.  Guess that's one way to jump-start the night.
The Fox Street All Stars: Having seen this band a whole bunch of times over the years, it's been great to watch them progress to the point where they are opening a whole tour for a band like The New Mastersounds, and clearly this experience has done them good.  Over the last two weeks of playing together every night they have fine tuned their gritty roadhouse blues sound to a edge as sharp as broken bottle.  The core trio of the band, Eric Low (Drums), Jonathan Huvard (Guitar & Vocals) and James Dumm (Guitar and Vocals) were supplemented by Eric Blumenfeld of Kinetix on Keys and the two pronged bass attack of Dave Solzberg and Josh Fairman who rotated in and out during the set.  Their high energy performance surely converted some new fans as they ran several tunes from their debut album Welcome to Mighty Pleasin' including the slow burning "Angel Wings" which channels The Black Crowes.  They closed their set with a raging 8 or 10 minute version of The Stones classic "Midnight Rambler" which had every body in the house grooving along and hollering for more which is A LOT more than most bands get when they are opening for a band with the draw of The New Mastersounds.
The New Mastersounds: They did it again, they never seem to fail, they've got to be one of the tightest bands in the business right now.  The New Mastersounds always seem to deliver with flawless precision and last night was no exception.  Eddie Roberts lightning fingers danced on the fret board while Joe Tatton deftly tickled the keys on top of the rhythm section of Pete Shand on bass and Simon Allen on drums who keep time with swiss watch like precision.  The mind meld that this group enters into when they play is nothing short of amazing as they communicate with subtle movements, grunts and musical cues to keep the grooves locked in and the audience dancing.
Their ninety minute set featured Drummer Simon Allen on fire with his one liners between songs which kept the audience in stitches as he launched the band into the next high energy jazz-funk number pulled from their back catalog including "Hey Fela!," "San Frantico," "Make Me Proud!," and the new tune "On The Border!"  While most of their songs are instrumental, the band has been steering toward more shouted lyrics over the past few years and in keeping them minimal they have used lyrics to great advantage to punctuate songs in the way that instruments can't.
While a New Mastersounds show tends to be one big highlight, the stand-out moments of this show came when the band veered from course and invited members of Fox Street out to sit-in with them.  Blumenfeld sat in beside Tatton on keys and the pair blew the room away with a keyboard duel that featured Tatton getting downright nasty on the synth.  A few songs later Fairman came out and took over Shand's bass proving he can truly hang with the big dogs.  Toward the end of his solo, Fairman looked surprised when another set of hands joined him on the fretboard and it wasn't long before Shand had taken over playing the instrument while it still hung from Fairman's neck.  The seemless transition had the audience roaring and Roberts and Allen cracking up.
As the evening wound to a close the second encore featured an epic collaboration on James Brown's "Get On The Good Foot" when Dumm, Low and Huvard from Fox Street emerged to get their funk on!  Huvard took on lead vocal duties and mc'd the affair as he called out to each of the players for a solo and danced around the stage like a man possessed.  Dumm's screaming slide guitar solo elicited smiles from Roberts who bopped along on rhythm before taking a solo of his own and Low took over the kit from Allen for more than half the song.  As everyone left the stage together and the tour came to a close it was clear that they had truly enjoyed playing together and the audience was left hoping for more collaborations between these two kindred bands; they left us off on the good foot for sure!
Energy: A
Sound: A
Musicianship: A
Stage Presence: B+
Set/Light Show: B-
Overall: A-
Music has always been a part of my life. It probably all started listening to old Grateful Dead, Peter Paul & Mary, and Simon & Garfunkel records that my parents had, but it wasn't long before they were taking me to concerts like Starship, Crosby, Stills & Nash, and Huey Lewis & The News. I got the bug to write about music after reviewing an Eric Clapton concert for a creative writing project in high school but didn't really take it up seriously until 2002. Since then I have published countless articles in The Marquee Magazine and done some work for Jambase.com, SPIN Magazine, and various other outlets. I started Listen Up Denver! as a way to share the music information that is constantly spilling out of my head with people who care. Please enjoy!