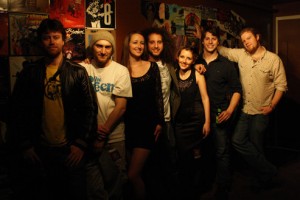 Want to see Rodina for free on Thursday?  
All you have to do to enter this contest is comment on this post!  
PLEASE NOTE: Entry deadline is Midnight Tuesday May 8th
Why You Should Go:  This new super-group marries catchy hooks and Jazz sensibilities with the best of Jamband Soul, Pop, Reggae and Funk – and delivers a great show. Assembled around the captivating vocals & song-writing of Irish singer Aoife Hearty, Rodina also features New Mastersounds keyboards man Joe Tatton,  who has toured the US, Europe and Japan extensively over this time playing sets with Maceo Parker, Art Neville and Karl Denson among others; Joshua Fairman of Kinetix is featured on Bass and Fox Street All Stars Eric Low and James Dumm weigh in on Drums and Guitar respectively.
This collaboration came together in the studio as the group recorded their new EP. At the same time some auspicious gigs in Colorado at the beginning of the year included a  double-nighter at Cervantes' with Meters' original master George Porter Jr. who sat in at the end of the set.  Get ready for a great night of music as the group embarks on their West Coast tour.
Venue:
The Bluebird Theatre, 3317 E. Colfax Ave, Denver, CO 80206 – 303/377-1666

Doors:
8:00 PM
*Price:
$12.00 Adv & $15.00 Door
Buy Tix

*All times and prices are gathered from other sources and we are not responsible for mistakes or inconsistencies. They are intended only as guidelines. Please, always call the venue if you desire the most accurate information possible.