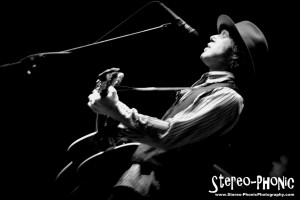 Photos by Johne Edge
Troubadour Todd Snider recently made three stops here on the Front Range and we were lucky enough to have members of the Listen Up Denver! team at two of the shows.  While it does appear that the shows shared some similar moments, it's very interesting to see the different perspective of our writers.  Both loved their show, and picked out some of their favorite moments to share.  Read on as Levi Macy and Crystal Edge share their memories of these two shows with you all.
THURSDAY – THE BOULDER THEATER – BOULDER, CO
The Scene: I'm usually a stand up and dance around type of guy when it comes to seeing live music and there are a few exceptions to this rule. However, every now and then an artist deserves all of my attention, and every now and then I feel you don't have to be up and moving around in order to appreciate what an artist does. So, when I walked into The Boulder Theater last week to see rows of seats set up and the entire upstairs balcony blocked off I was more than thrilled. The theater was mostly filled with hippie lookin' folks, groups of kids my age, and the occasional well dressed couple out for a night on the town. By the time I arrived Reed Foehl was just leaving the stage and people were lining up at the bar in order to get their drinks before Todd Snider took over.
Todd Snider: The art of telling stories through song is a tradition that has been passed down through many generations by almost every culture the world over. With today's sometimes oversaturated and convoluted music scene it can become easy to overlook or completely forget the fact that there are still people out there staying true to this tradition. In the spirit of all that is right and good in the world of rock & roll, singer/songwriter Todd Snider continues to carry the torch passed on by the likes of Bob Dylan, Jerry Jeff Walker, and many other famous storytellers.
He came to the stage around 9pm backed by The Burnouts. The set started with "The Ballad of the Kingsmen;" an ode to the group who were famous for their version of "Louie Louie" and the massive upheaval due to the images conjured up by the mumbled lyrics.  Now, for those that are not familiar with the 21st century minstrel that is Todd Snider, it should be known that his performance is far more than simply a display of song and dance. He is also a story teller of epic proportions.
This current tour may be in promotion of his most recent album, Agnostic Hymns and Stoner Fables, but he didn't let that get in the way of the songs that most of us came to see. After thanking everyone for letting him play his new songs without heckling or throwing things, he showed how grateful he was by working through many of his older numbers such as the crowd favorite "Beer Run." Snider has a way of playing each song uniquely every time and around halfway through this one he explained that most people assume he hates to play this song, but in fact "Beer Run" is his favorite song to play. He went on to say "shit, I even played it three times in the greenroom"
His songs are healthy mixes of kindhearted fun, profound introspect, and just enough politics to keep me interested but not bored. He switched things up this tour a little bit by setting down his iconic acoustic guitar and shredding an electric axe. Snider even mentioned multiple times throughout the night how much he loved playing it.
Around 20 minutes into the set Todd welcomed Bridget Law from Elephant Revival to the stage. As always her sublime fiddle playing gave me goosebumps, she added an element I didn't quite know was possible. As if that wasn't enough, near the end of his set another local star made an appearance as Jeff Austin of Yonder Mountain String Band graced everyone with his mandolin picking.
The band worked their way through 4 or 5 more of Todd's songs including a very energetic and relatable "Conservative Christian Right-Wing Republican Straight White American Males." Which resulted in a massive crowd reaction, which is too be expected in the fine Republic of Boulder. As the nearly 2 hour set came to an end, Snider told a story of drinking one night with his idol Jerry Jeff Walker. The heartfelt anecdote ended with them walking down the street and turning a corner only to see a street performer singing a song written by Jerry Jeff himself, "Mr. Bojangles." He explained how that was one of the most inspiring musical moments of his life before going into his very own version of the song.
The encore was short and oh-so-sweet. The band exited then quickly returned to the stage to wrap the night up in perfect synchronized fashion with a rendition of The Kingsmen's "Louie Louie" that brought everyone in the theater to their feet and resulted in most of us singing along.
It was clear by the end that Todd Snider has been performing for a very long time and is a special creature untamable by time or culture. He is a stoned troubadour, a minstrel, a storyteller, and an enigma. He will hold you in the palm of his hand and have you rolling on the floor with belly laughs while simultaneously questioning all the important things we are supposed to question. He is a member of a long line of good ole folks that help make the world go round, a long line of "tree huggin', peace lovin', pot smoking, porn watchin', barefoot folk singing, lazy ass hippies like me."
Energy: B+
Sound: A+
Musicianship: A
Stage Presence: A+
Set/Light Show: C
Overall: A
FRIDAY – L2 ARTS & CULTURE CENTER – DENVER, CO
The Scene: The L2 Arts and Culture Center is a gem of a venue, hidden in plain sight at the corner of Colfax and Columbine the venue is situated right next to Twist and Shout and The Tattered Cover Bookstore.  This 500 seat auditorium shares its part time events gig with God.  It's current owners, the L2 (Life to the Second Power) Church bought the 83 year old building in 1995 and began an extensive remodel project that boasts state of the art lights and sound.  And while I am usually not a fan of shows that require me to sit down, it was the perfect arrangement for capturing every word of Todd's highly anticipated set.  So I settled into my seat with my brethren for a night of toe tapping, sing-a-longs, and laughter.
The Opener: Haunted Windchimes.  The honeyed harmonies of Pueblo's Haunted Windchimes enchanted me from the minute I entered the theater.  Primarily a string outfit (with a hint of squeezebox thrown in for good measure), the quintet took us on a journey to by-gone times;  an era before people concerned themselves with what "genre" they fit into,  and simply played what came from the heart.  Their short set reflected that attitude with a range of songs that elicited a similar range of emotions from the crowd.  We vacillated between resisting the urge to stand up in our seats and cut a rug, and figuratively wringing our handkerchiefs.
Todd Snider: The self proclaimed, "Stoner Folk Music" icon took to the stage as he should, barefoot and sporting a perma-grin from ear to ear.  Todd jumped right out of the gate with some new material from his recent Agnostic Hymns and Stoner Fables album, including "In the Beginning," which features the lyric, "we still use religion to keep the poor from killing the rich," and "New York Banker," a ballad about the warped karma of the financial crisis that contains the catchy chorus, "good things happen to bad people."  Without a doubt, Snider is certainly adept at writing lines that push many of society's buttons, but he made his patented disclaimer, as part of his "18 Minute Intro."  He said, "I should warn you that I might share some of my opinions with you over the course of the night.  While I may share them with you, I don't share them because they're smart or because I think you need to know them, I share them with you because they rhyme.  I didn't come down here to change any of y'alls minds about anything.  I came down here to ease my own mind about everything."  This funny, humble, and honest speech is a direct reflection of Todd and his delivery was so well timed and executed that it left the sold out crowd holding their breath each and every time he paused to speak.
We didn't have to wait long for more dialogue, a prelude to "Precious Little Miracles," also from the recent album.  Todd prefaced the song with the fact that he likes children…your children.  And he swore that he would never write a song about kids, but that his friends started making songs about their own kids.  So one day, after watching the news, he felt inspired to write a kids song…a song where babies turn into felons.  Despite the taboo nature of the subject, the new song was a great hit with the audience.  In particular, the "hitch your britches" line (referring to the saggy jeans phenomenon) got heaps of laughs and nods of approval from the mostly over-forty crowd.
"Play a Train Song," dedicated to the late Skip Litz, a dear friend and former mayor of East Nashville, gave Snider an opportunity to recount a story about accompanying Skip on a pre-surgery drinking adventure.  Post surgery, Skip pulled up to Snider's place with, "a piano in the back and two girls in the front that looked like strippers."  He told Todd, "I'm giving you this piano because you saved my life.  If you weren't married, I'd give you these girls too!"  Haunting and heartfelt, the ballad left more than a few folks dabbing at their eyes and gave the casual fan a glimpse at a sincere side of Snider that is often masked in humor.
"Digger Dave's Crazy Woman Blues" was, naturally, prefaced with a tale of Digger Dave.  Apparently, Todd befriended Digger Dave in Homer, Alaska after wandering into what "looked like and smelled like a party."  Digger Dave and Todd actually had met earlier that day if you consider Dave yelling "queer bait" at Todd as he walked down the street, an actual introduction.  At any rate, the men managed their differences out over some John Prine and obviously Snider got a good song out of the friendship as well.  It's an account of how the "only one way to know how far is just far enough… You gotta go a little bit too far, and then back up…Back up and hope hard luck ain't on your side."
"Alright Guy" segued into my favorite testimony of the night.  Mid-song, Todd paused to describe an event that was a testament to its title.  Snider described the night he happened upon an accident on the highway.  Although he could hear the sirens off in the distance, he still stopped to see what he could do to assist his fellow human.  In the first car he met a woman that clearly had a compound fracture.  Likely in shock, she nodded that she thought she was alright, and he assured her that help was on the way and that she would be okay.  Checking the folks in the second car, he discovered a woman that had not a scratch on her.  However, she insisted that she was, in fact, NOT okay….and proceeded to pull a sandwich sized baggie of marijuana out of her pants. There's no question what happened next, as Todd puts it, "I took that marijuana…for HER.  You see, I'm a good Samaritan."
"Beer Run" experienced a similar interlude in which Snider promised his fans that, "It's my favorite still. I sung it in the dressing room twice before the show.  Anytime I make up a song that someone else wants to hear, I want to play that song!  Because I'm an old timer…" This, of course, led into "Age Like Wine" before eventually coming full circle back to "Beer Run."  With a classic sing-a-long chorus, it was an evening highlight for many.
In the final tale of the night, Snider recalled an evening in Santa Fe.  He had been drinking with legend, Jerry Jeff Walker.  When the two of them left the bar, the streets were eerily empty, except for one man.  On the street corner, in the dead of the night, a man played "Mr. Bojangle" to no one.  Todd said it clearly touched Walker and they listened to the song without ever revealing that the audience and songwriter were one and the same.  With that, Todd played "Mr. Bojangle," one of the many Jerry Jeff Walker songs that can be found on Times As We Know It, a tribute to his original musical hero (released on April 24th).
The storyteller's set ended with another long-time favorite, "Conservative Christian," and an electric encore that got our blood pumping.  However, Todd's gift of gab is what truly made the night memorable for this listener.  It wasn't until the barefoot troubadour left the stage and put a pair of shoes on, to load up his gear and head to the next tour stop,that I realized all things must come to an end.
Energy: A+
Sound: A+
Musicianship: A
Stage Presence: A
Set/Light show: B
Overall: A