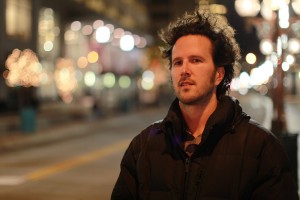 Listen Up Denver! has a pair of tickets for you to see Mason Jennings
this week at The Soiled Dove for FREE.
All you have to do to enter this contest is post "I want to see Mason Jennings at the Soiled Dove"
on our Facebook Wall.  
PLEASE NOTE: Entry deadline is Noon MST Wednesday, May 9th and the winner will be notified on
Facebook no later than 5pm MST the same day.
AEG Live, 88.5 KGNU, Radio 1190 and Blackspy present Mason Jennings live this Thursday, May 10th and Friday, May 11th at The Soiled Dove.  He took the time to chat with Listen Up Denver! recently about his appreciation for contrast, cooking as a metaphor for songwriting, and exactly what his inner "metalhead" child would think of him today.
Listen Up Denver!:  So Mason, where did I catch you today and what are you up to?
Mason Jennings: I'm hanging out in Salt Lake City today.  I just flew in for a couple of shows here and I'm going to fly back home and then fly back into Denver next.
LUD!:  Your last release Minnesota was your 15th album (if you count EPs and live recordings) in 14 years.  How was this release different from your others?
MJ:  The biggest thing right off of the bat is how much piano is on that record.  There's a lot more piano on it than most of the other ones.  I recorded it all out in my studio in the woods of Minnesota.  I think the biggest difference is mostly the piano, but as I grow as a person I think that the music keeps evolving and growing and changing too.
LUD!:  What do you think moved you in the direction of using more piano?
MJ:  Well I was listening to a lot of Chopin and classical music, and that sort of started me in that direction.  But also, I think coming off the road from my last record and tour, where I had a rock band and mostly electric guitar, I think that I was just gravitating naturally to a more quiet instrument.  After being on the road my ears get fried out and I think it was just a way to rest.
LUD!:  You have called Minnesota "home to your heart."  Can you share with our readers why Minnesota is such a special place for you?
MJ:  I think I really like the contrast of everything.  I like how you have the wilderness right outside of the great art centers.  Not unlike Denver, you just go an hour outside of the city and there's real wild country.  I like the extremes of the seasons.  I like how cold it gets and how hot it gets in the summer.   I like contrast like that in my art too, so it's a good fit for me to have experiences like that.
LUD!: You shared some thoughts on songwriting recently where you described the process as "a little bit like practicing kissing on the back of your hand, or hugging a speeding dolphin."  Care to elaborate?
MJ:  (laughs)  I don't know, it just changes every day.  These days it seems a lot like cooking a meal.  So when I'm writing songs, it's like when you get a hankering for something…you want to hear something that doesn't exist, so I just have to make it myself.  It changes all of the time.  You have to think of something that doesn't exist and then you bring it to fruition.
LUD!: You continue to build a fan base by constantly touring.  What's life on the road like for Mason Jennings?
MJ:  It changes.  There's all different kinds of tours.  Sometimes I go out for a long tour, for weeks at a time.   That's more intensive, but for the majority of the year I usually fly in and out and do small theatre dates….like what I'm doing in Salt Lake and in Denver.  I might come in with a friend and we'll just bring a couple of guitars.  We'll fly in and just hang out in the city for a couple of days, and that's not quite as intensive.
LUD!:  That's a lot more family friendly, I bet.
MJ:  Yeah, because I have little boys at home it's good for me to be home during the week.
LUD!:  We all have guilty pleasure music, something you might listen and sing along to in the tour van, but wouldn't want other people to know about.  Mine is Journey, what is yours?
MJ:  I don't feel too guilty about it, but one that maybe surprises people is that I really like Don Henley.  I like the song "Heart of the Matter."  I grew up loving Stryper and Cinderella.  Those are the two posters that I had on my wall when I was little.
LUD!:  What do think your inner metal-loving kid would think of you now?
MJ:  I think he'd be stoked that I'm doing music.  I think he'd like me.  When I was little I always liked Paul Simon and that kind of music too.  So even when I was little I liked a wide variety of music.  You know, I was always trying to do that heavy metal/hard rock kind of stuff, but the edges of my voice are too beveled.  When I play electric guitar, my voice disappears into the mix, so I ended up being more folk based by default.
LUD!:  You are playing back to back nights at The Soiled Dove this week.  What can Denverites expect when they come out to see you?
MJ:  I'll be solo, with guitar and piano.  It's really fun for me to do these kinds of shows because I don't get to do them very often.  I just reach back into all of the different records from my catalogue and the new stuff too.  It's a more intimate show and I kind of never know what I'm going to do until just before the show.
LUD!:  Thanks for your time this afternoon.  Are there any final thoughts you would like to leave our readers with?
MJ:  I always enjoy coming to Colorado to play shows and I'm really looking forward to next weekend.
As a long time fan of Jennings, and his music, and with tickets only being $25, I just might have to catch both upcoming Denver dates.  So many great songs he can choose from for his sets, like "Fighter Girl" and "The Light, Pt.2″, besides, who knows when Mason may release his inner metalhead child and go off into a staccato attack on the guitar, breaking into a rendition of Cinderella's "Shake Me."