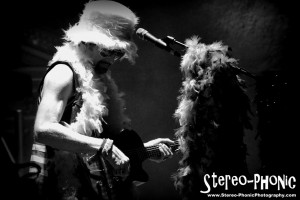 Photos by Johne Edge and Sarah Henderson
The Scene:  On the tail end of a day for The Derby and Cinco De Mayo, there was only one place to end up and continue to get away with a silly hat – The Ogden Theater – East Colfax's premier music destination.  And the hats were out!  Derby hats, Sphinx hats, and Sombreros.  The variety of hats matched the various collections of friends and music lovers, all of whom had made the conscious decision to attend the sold out, funktronic, groove fest that plays from the BoomBox.
Opener: Sunsquabi.  I arrived to the live instrumental and electronic production blend that is Sunsquabi about mid set and didn't stop dancing until they left the stage.  The high-energy group is known to deliver great live shows, blending several genres of music into a dance-worthy and progressive set.  The recent addition of live drums provided a new element to this musical fusion, supplementing the already stellar bass and ripping guitar.  The young, local collective supplied the crowd with a perfect introduction to the evening and a good idea of what was in store.  As the winners of the Denver edition of the Waka Winter Classic, I'm looking forward to catching these guys in the Ozark Mountains at Wakarusa this year.
Opener: DJ Mikey Thunder.  Like a dark and dreary cloud, the passing of Adam Yauch, better known by his stage name MCA of The Beastie Boys, sat over many a music lover's heads.  Artists and radio stations alike have been trying to clear the air and pay their respects the best they can by honoring a true pioneer in not only the world of hip-hop, but the entire music industry.  Where others failed (see Coldplay), DJ Mikey Thunder would succeed delivering a heartfelt tribute set of non-stop Beastie beats.  Filling a void for many in attendance who may have never had the opportunity to make a Beastie Boys performance, Mikey Thunder's set was more than a breath of fresh air; it was a gust of musical tribute that would clear the stormy clouds of grief and make way for the clear skies of remembrance.  RIP MCA – may you always fight for your right, to party.
BoomBox:  Russ and Zion took the stage in their iconic hats and broke into a jam infused version of The Grateful Dead classic, "Shakedown Street," that instantaneously had the entire building moving.  As the music and light show intertwined with each other, a carnival vibe oozed across the dance floor as jugglers, flow wand spinners, and the like, egged on a "cirque de funk" vibe from the boys on stage. Glistening bodies boogied throughout the building as Zion and Russ played through other memorable hits including "Stereo," "Mr. Boogie Man," and "Dungeons."  As the evening slipped away waves of energy ebbed and flowed from the dancing bodies around me to the melodic masters on stage.
Energy: A+
Sound: A
Musicianship: A
Stage Presence: B+
Set/Light Show: A
Overall: A
In a day and age where music plays as big of a role in shaping who we are as our parents do, I have my parents to thank for how I turned out – musically inclined at least. Growing up in a house with music literally stacked to the ceiling, I remember swiping an array of albums from my parent's collection, only to be called out on it once they wanted to listen to one. As I grew so did my taste in music, which now encompasses everything but pop-country (I just can't do it). So whether its electro-funk or dub-step, punk rock or hip-hop, jam-grass or reggae, you can catch me there, loving life and the beautiful sounds that surround us in it.