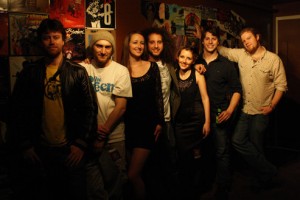 In the U.K., funk music is an underground scene. Here in the Front Range, it's a mainstay.
The New Mastersounds are one of those mainstays here, despite being from Leeds, England. And now New Mastersounds keyboardist Joe Tatton is hammering his Hammond in a new Colorado-based side project — Rodina.
Rodina is a who's who of Denver talent, and the entire lineup is rooted in funk and reeks of Jazz Fest and Jam Cruise. Tatton and his partner, singer Aoife Hearty, have been performing under the name Rodina for a few years, but now they have added Joshua Fairman on bass (Kinetix), James Dumm on guitar (Fox Street All Stars), Eric Low on drums (Fox Street All Stars) and Joel Scanlon on percussion (Giant Panda Guerilla Dub Squad).
"Rodina started off as a songwriting partnership, between myself and Aoife, and we recorded an album about two or three years ago, called Over the Sun," said Tatton in a recent inter-continental conversation with The Marquee. "The album had a quite ambient and jazzy influence; sort of Morcheba/Zero 7. We recorded with a lot of great U.K. musicians, and we gigged it around a bit. We played with so many different musicians, but Rodina was basically just Aoife and I."
But that all changed last summer at a festival here in America. "I met up with Josh Fairman at Summer Camp in the States, while I was playing with The New Mastersounds, and Josh was playing with Kinetix. Josh jammed with us at Summer Camp, and then me and Aoife went out to stay with Josh in Denver, and we did a couple of little shows out there. We went to his studio and met a lot of cool guys; that's how the Denver connection started really," Tatton said.
Once the connection was made, sparks flew, and a new Rodina began to form. "In January we got an opening slot for George Porter Jr. at Cervantes' Other Side, and at the same time we recorded an EP at Josh's studio, which we'll be releasing when we come over in May. Both the show at Cervantes' and the EP feature artists from other great Denver bands as well, and we are going under the collaboration title of Rodina," said Tatton.
Finish This Article Over At The Marquee Magazine Site . . .

Catch Rodina Live:
The Marquee is an independent, Colorado-based, PRINT & ONLINE Free Music Magazine. The Marquee strives to be the Farmer's Almanac of the regional music scene — providing readers with facts, tid-bits, in-depth feature stories and a Calendar section that is unparalleled on Colorado's Front Range, covering every live music venue from large venues such as Red Rocks Amphitheatre to small clubs and coffee shops.