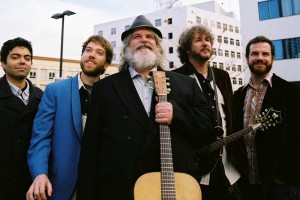 No more pussy footin' around about it. Leftover Salmon is no longer on hiatus — that ended years ago. And this year they will officially shelve the "reunion" status they've been playing under since they started dabbling in shows again in 2007.
No, in 2012 Leftover Salmon doesn't need a qualifier for their status. For the first time since 2002, the band is simply that — a band — firing on all cylinders with a tour schedule of more than 60 dates lined up for the year.
"Yeah, were a full-on band again, man," said guitarist and Leftover Salmon co-founder Vince Herman, during a recent interview with The Marquee.
Herman — never one to sound like Eeyore in the first place — was particularly lively, when The Marquee caught up with him while on a tour stop in Atlanta. It was the first day after a few weeks on tour when the group had time to stop and do laundry, and aside from the struggle of getting the machine to work, Herman seemed down-right giddy about the prospect of clean clothes.
But that nugget of joy was minor in comparison to Herman's other reasons for being so jolly. The lead singer, who in recent months has dropped some serious weight and is working hard to keep it off, seems to have signed a new lease on life that is showing up in his health, his love life, and most importantly for us, in the band that he helped start back in 1989.
"It was time to shit or get off the pot," he laughed. "You can only do the reunion stuff for so long before people start saying, 'Well, are you a band or not?'"
Herman was quick to point out that he and his Leftover bandmates will continue to pursue their side projects, but that for the first time since the hiatus, Salmon is the main focus.
"I'm going to keep Great American Taxi going and I want to keep playing with my kids. We don't want to put all of our eggs in one basket. We all have side projects that are worth maintaining and it brings other energy to the band when you can get out and do other things, you know? But man, this has just been too much fun," he said.
All of that fun has resulted in Leftover Salmon's first album in eight years — Aquatic Hitchhiker, which will be released May 22 on the band's own label LoS Records. The album, which was recorded in Denver at Mighty Fine Studios, and in Portland, Ore. at Cloud Sound Studios, was produced by Steve Berlin of Los Lobos, and Herman said that they had the unique experience of having Berlin involved in some of the writing sessions for the album.
Finish This Article Over At The Marquee Magazine Site . . .

Catch Leftover Salmon Live:
May 13th – Aquatic Hitchhiker CD Release Party – 700 Block of Santa Fe in Denver, 1-6pm
The Marquee is an independent, Colorado-based, PRINT & ONLINE Free Music Magazine. The Marquee strives to be the Farmer's Almanac of the regional music scene — providing readers with facts, tid-bits, in-depth feature stories and a Calendar section that is unparalleled on Colorado's Front Range, covering every live music venue from large venues such as Red Rocks Amphitheatre to small clubs and coffee shops.