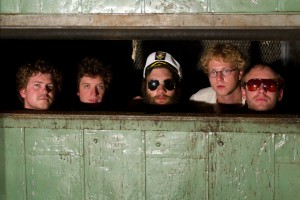 In the music industry there is such a huge difference between recording in a studio and performing live. Bands like The Beatles chose to give up touring entirely and focus on the sound they could only achieve in the studio, while other bands, like The Rolling Stones, seemed to focus more on harnessing the energy and power of their live show in studio settings. It's a delicate line, and one that's difficult to toe without alienating one group of fans or another. Are people coming to the shows to hear what they heard on the record? Or are they coming because they genuinely have a love for the band, their creative passion, and what they do on stage?
Providence, Rhode Island's Deer Tick may not be The Stones or The Beatles, but they certainly are one of the most creatively prolific bands of recent memory. With four albums and two EPs in their short, seven-year career, John McCauley and his various band members have flirted with folk while remaining, at heart, a rock and roll band. Their most recent record, Divine Providence, proves this, in spades.
"I think we were desperate to record something that would capture our live shows," McCauley said in a recent interview with The Marquee as he prepared to head out on a two-month tour. "Even when we play old tunes like 'Spend the Night,' now it sounds more like T. Rex than anything else. We're able to kind of adapt to whatever situation we're stuck playing in, but we got really sick of a lot of it, so we made it our mission to make a louder album. I think it really takes coming to a live show to 'get' us."
The 'us' that McCauley is referring to is he and his four bandmates. While Deer Tick used to be a rotating cast of characters, McCauley is adamant that the current incarnation of the band is as permanent as it can get. "We've been a solid five-piece for a few years now," he said. "This is the definitive lineup. If anybody quits or dies, Deer Tick is done. It's me and Ian O'Neil on guitar, Chris Ryan on the bass, Rob Crowell on keys and sax, and Dennis Ryan on drums. We all sing."
That idea of everyone singing is something that's relatively new to Deer Tick. Until Divine Providence was released, McCauley was the only one who sang, but the new record features Ryan singing the dark tune "Clownin' Around," about the serial killer John Wayne Gacy, Jr. Ryan does a great job on the tune (in fact it's one of the standout tunes on the album) and McCauley promises it's not the last time that one of his bandmates will be featured on lead vocals. "I've always wanted to be in a band and not the star of the John McCauley show, so it seemed like the right move," he said. "Yes, we'll be doing a lot more of that."
Finish This Article Over At The Marquee Magazine Site . . .

Catch Deer Tick Live:
The Bluebird Theatre :: May 13
The Marquee is an independent, Colorado-based, PRINT & ONLINE Free Music Magazine. The Marquee strives to be the Farmer's Almanac of the regional music scene — providing readers with facts, tid-bits, in-depth feature stories and a Calendar section that is unparalleled on Colorado's Front Range, covering every live music venue from large venues such as Red Rocks Amphitheatre to small clubs and coffee shops.