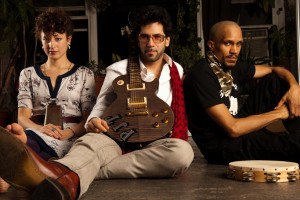 Listen Up Denver! wants to send you and a friend to see The Pimps of Joytime and Orgone for FREE!  
Listen Up Denver! has a pair of tickets for each night to giveaway and all you have to do to enter this contest
is post "I wanna funk up Cervantes' with The Pimps and Orgone this weekend" on our Facebook Wall
PLEASE NOTE: Entry deadline is Noon MST Thursday May 17th
Why You Should Go: Over the course of the past five years, The Pimps of Joytime have evolved into a road tested and audience approved groove machine.   In name alone the band carries with them a certain panache, a "je ne sais quois" if you will, that lays the perfect groundwork for a funky sound that is sure to get any party hoppin'. At times, it's got a dirty, lo-fi feeling that is reminiscent of the best old school funk tracks, but it's evident that all that grime is intentional, as the group's song can swing into a swirling digital wonderland that comes through in all its hi-fi glory.
As if that wasn't enough, the Los Angeles based band Orgone is splitting the bill with The Pimps.  Orgone is many souls with a cosmic connection, a natural creative force and musicians who have played together for years. They are self schooled and continue to shape their musical voice as a solid unit of guys who hang, spin records and jam out their shared inspirations. With a rooted sense of funk, soul, afrobeat, deep rhythms and an intimate understanding of DJ culture as well as each others' individual talents, Orgone seamlessly slides through multiple styles and dynamic performances. The group continuously injects whatever they play with a heavy brand of raw funk power.
Venue:
Cervantes' Masterpiece Ballroom, 2637 Welton Street, Denver, CO 80205 – 303/297-1772
Doors:
8:00 PM
*Price:
$20.00
Buy Friday Tix
Buy Saturday Tix
*All times and prices are gathered from other sources and we are not responsible for mistakes or inconsistencies. They are intended only as guidelines. Please, always call the venue if you desire the most accurate information possible.