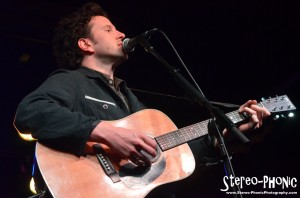 Photos by Johne Edge
The Scene: We arrived well after doors opened to find two tables at the very front of the Soiled Dove's stage open and waiting for us.  I looked around the near capacity crowd of almost 300 folks, and wondered why no one had opted to get as close as possible in this uber intimate setting, then happily snagged the VIP seats.  In a former life I was the geek that sat attentive at the head of the class so, aside from an eventual crick in my neck from gazing upward, I considered myself the luckiest girl in the room.
Mason Jennings: Several days before the show, I had the opportunity to interview Mason Jennings over the telephone.  He was exactly as I had anticipated:  soft spoken and appreciative, humorous and humble.  It came as no surprise then that his stage presence mirrored this and when Mason began his set with "The Light, Part II," a song that I personally requested in our interview, I was struck by his devotion and reliability as well.  It was a touching moment that took so little, but meant so much.
Of course, I was not the only one smitten by Mason.  As his set progressed, three women to my left kept shouting, "Damn, What A Beautiful Man!"  True, it is the title to one of his songs.  However, I have a feeling that their request was a thinly veiled disguise for their cat calls.  Guys take note:  sensitive singer songwriters hold a great deal of sex appeal for us ladies.
But enough about the man, and onto the music. One of Mason's admirable traits, musically, is his range.  His songwriting cannot be pigeonholed.  Many are love songs, such as "Darkness Between the Fireflies," which seems so tender and personal with lyrics like,  "Honey I'm sure that you've been in love before.  Plenty of men have held high places in your eyes.  Jealously has got no use for me.  The past is beautiful like the darkness between the fireflies."  Some are comical, albeit possibly autobiographical, such as "Your New Man:" "His name is probably Roge.  He probably drives a truck and his hands are probably HUGE."  Others are written from the perspective of another, such as "The Field," a poignant tribute to our recent war veterans written from the point of view of a grieving father: "If I was the president, if my world turned black.  I would want no victory, I'd just want you back."  Shamelessly dirty at times ("Summer Dress,")  and hauntingly eerie at others ("Jackson's Square,") Jennings is capable of manifesting a different mood each time he strikes the first chords of a new song.
Mason also took the time to share a few words about some of his songs and I always love these moments the best because they humanize the artist.  For example,  it turns out that "Nothing" was inspired by an old Victorian that he lived in.  The water really was brown, and there was nothing in the house but a drum set under the dining room chandelier.  One day a group of men showed up with clipboards, bearing the news that his home would be relocated and he was not invited to join it.  Also, folk legend and friend, Donovan, once critiqued "Darkness Between the Fireflies" with the words, "That song sounds like it's playing backwards and I don't know what you're saying!"   But best of all, "Butterfly" was inspired by his admiration for Eric Johnson, shred master extraordinaire.  As my interview divulged, Mason had a propensity for metal as a child; a fact that he admitted to onstage, along with an admission that his hair was "Not a mullet…but a European soccer cut."  Sadly, Mason's friends called "Butterfly," "limp." Thankfully, I guess I can add self-confident to the Mason Jenning's list of commendable character traits.
The night ended with a "by request" encore, including "Hospitals and Jails," "Keepin'It Real," and "Sorry Signs on Cash Machines."  "Damn, What a Beautiful Man" was not played, despite more pleas, and Jennings eventually admitted that he "didn't remember the words."  That comes as no surprise, considering the size of his catalogue.  However,  Jennings made up for any disappointments during his gracious meet and greet for photos and autographs after the show.
AEG Live, 88.5 KGNU, Radio 1190 and Blackspy (and the lizard people that live below DIA and handle your luggage) brought Mason Jennings to the Mile High City for not one but two nights.  Between the two shows Mason must have gone back and listened to the lyrics to "Damn, What a Beautiful Man," because on night two it was added into the setlist.  Like I said before, Mason is a man devoted to his fans.
Energy: A
Sound: A
Musicianship: A+
Stage Presence: A
Set/Light show: B
Overall: A