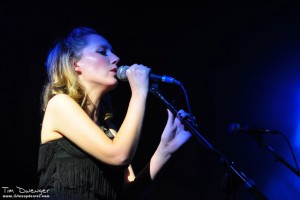 Photos by Tim Dwenger & Ty Hyten
The Scene: All I can say is…I just wish more people were there to see it. In its current formation, Rodina is a new endeavor, and considering the name has virtually no recognition yet, a fair amount of people showed up to check out this who's who of local and international talent. It was a Thursday night, and the Nuggets were playing a crucial playoff game against the Lakers, but the almost 200 people who ventured out and took a risk on something new, were the ones who saw a truly championship performance.
Since Rodina is so new to the Colorado scene a little background is in order. Joe Tatton of The New Mastersounds and his partner Aoife Hearty formed Rodina a few years ago, and the Leeds UK based collaboration released an album called Over the Sun in 2008. The album focused on the ambient vocals of Hearty, combined with Tatton's funk driven keys. Other musicians surrounded the two in the studio and on stage, but Rodina was really a two person project. Last year Tatton met Kinetix bass player Josh Fairman, who is also a recording engineer, and a Colorado based version of Rodina was formed. Consisting of Tatton, Hearty, Fairman, James Dumm (Guitar – Fox Street Allstars), Eric Low (Drums – Fox Street Allstars) and Joel Scanlon (Percussion – Giant Panda Guerilla Dub Squad), Tatton is taking the original concept of Rodina to a whole other level. The above mentioned line up all appeared on Hypnotize, the new Rodina EP recorded at Fairman and Scanlon's studio here in Colorado, and Thursday revealed the new EP, and the insane amount of talent that makes up the Rocky Mountain version of Rodina.
James and The Devil: Hailing from right here in Colorado, James and The Devil have exploded onto the scene over the last year.  With one full length under their belts, and another on the way, their hybrid of Country Rock and Funk was infectious as lead singer Jim Campbell poured every ounce of his being into the performance and fiddler David Ross sawed at his instrument giving the music a hint of Charlie Daniels flavor.  In addition to original songs, the band paid tribute to Adam "MCA" Yauch, with The Beastie Boys' "No Sleep 'Till Brooklyn" and, near the end of their set, surprised many in the crowd with a cover of Iron Maiden's "Hallowed Be They Name."
Rodina: The members of Rodina took the stage of The Bluebird with fire in their eyes. They had played to well over 200 people the night before in Aspen, and that Wednesday night kickoff of this short tour gave them a tank of gas that will keep them going well beyond their currently scheduled dates. Even though the crowd looked small in The Bluebird, it still felt like something big was happening on the stage. Opening up with "Don't Take It Slow," I immediately got to see how far this band has come in three short months. Rodina played a couple shows in Colorado back in January, when they were in town working on the EP, and I caught their set at Cervantes' Other Side when they opened up for George Porter Jr. They played "Don't Take It Slow" that first time I saw them, and I felt like I was watching a band in its infancy…which I was. This time I saw a band that had already found its groove, even though they have had an ocean between its members for the past few months. If they are sounding this good and meshing so well on stage this early in their development, this band just might turn into a monster.
The first song allowed every member to introduce and establish themselves with solos and highlights indicative of a band that just "clicks." All of these musicians have Jazz Fest and Jam Cruise running through their veins, and combined with the airy vocals of Hearty, you get a kind of dissociative experience. Your body is moving to the funk, and your mind is floating with Hearty's ambient and soulful voice. Although not "officially" a member of Rodina, Aubrie Hamrick joined them on stage both times I have seen them, and she was definitely an integral part of both evenings.
"Lose Your Way" was the first song they played which is featured on the Hypnotize EP, and it defined the new sound of Rodina. No longer is this two people writing songs, it's now a collective of talented musicians operating as a larger, but just as cohesive, unit. Everyone's particular style and nuance shines through, but the original chill Rodina vibe is preserved. These guys know when to turn up the funk, or lay down more subtle grooves for tracks like "Lose Your Way."
Although this band has a distinguishing funk element to its music, and an ambient jazz element to its vocals, the line-up allows all kind of territory to be traversed. Case in point: a shredding version of Muddy Waters "Hoochie Coochie Man." This song really allowed the boys in the band to let their hair down (or up-and-out in Fairman's case), and you heard a bit of all the represented bands.
The night gave us a taste of all sides, and all incarnations, of Rodina. The four songs off the new EP blended with songs like The Meters "I Need More Time," "All We Can Do" by The New Mastersounds, and "The Things You Do," which appeared on Rodina's Over The Sun. "Silvermine" was one of the last songs of the set, and was originally released on an album by another UK based Rodina project, Rodina and The Wolf.
You could tell that these musicians are all overjoyed to have connected with each other. Rodina has been something that Tatton and Hearty have been working on together for years, and I really think their idea has found a new home here in Colorado. When I first heard Rodina play, it felt like the jazzy vocals were out of place, and the instruments were the force behind the performance. Now Rodina has seamlessly blended the two elements, and is showing its true voice.
Energy: B+
Sound: A-
Musicianship: A
Stage Presence: A-
Set/Light Show: B
Overall: A-
Brian Turk grew up in the shadow of the Catskill Mountains, near Woodstock, NY. He comes from a family of music lovers, audiopliles, Dead Heads and avid concert goers.The musical magic that can only be created in the Catsklills, both past and present, is what Brian cosiders the epicenter of his music addiction. The music of The Band, and most recently The Levon Helm Band, is the soundtrack of home for him. Brian's mother took him to his first concert at 5years old...it was Johnny Cash and Roseanne Cash at Jones Beach Amphitheatre. For Brian, music is a family affair. He feels the same way about live music...we all convene to celebrate together. Brian's writing life started when he wrote his favorite author, southern fiction writer Clyde Edgerton, a fan letter at age 13. When most kids were idolizing baseball players and television, he was worshipping writers and musicians. The two became friends and Clyde shared his craft with Brian. The next year Brian attended Duke University's Young Writers Camp. This is the extent, of what Brian considers, his "formal" training in writing. From then on his goal was to capture snapshots of life through words. Brian has been involved with live music in various facets over the years, and combined with his enthusiasm and love for Denver's music scene, he creates a vivid description of what he sees and hears. If you see him out at a show, dancing with a notebook in hand, say hello.