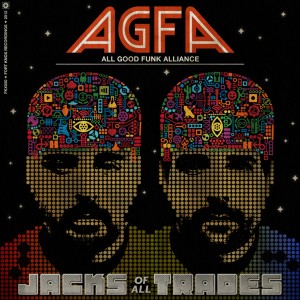 After dropping the Rhythm and FX EP and touring in March, All Good Funk Alliance is back with the release of their latest album, Jacks Of All Trades.  I have been waiting for this album ever since Jon Horvath of Fort Knox Five and Fort Knox Recordings told me "the All Good Funk Alliance album is one of the best things that we've done on the label, thus far."
Frank Cueto and Rusty Belicek pick up right where they left off with Rhythm and FX and keep the party going with their first Fort Knox full length release.  AGFA's near perfect blend of Hydro-Funk and Nu-Disco represents this summer's first must have album.  The albums gritty breaks, booming bass, and synth laden soundscapes, are like 1970's porn for your ears.
It is hard to pick just a few favorites among the thirteen genre bending songs on the album.  "In The Rain," featuring label mates Empresarios, stands out with its electro-tropical flow and Cumbia rhythms. "Go-Go Bananas" is a good party breaks jam which features the vocal styling's of Mustafa Akbar and it sounds like he is coming straight from Planet Rock. Finally, with an intro that "pledges allegiance to the funk," "Time to Get Loose" is probably my favorite track with it's blend of a little bit of old school Hip-Hop, a little bit of Disco, and a whole lot of bass.  AGFA had a lot of fun with this album, and we at Listen Up Denver! would expect no less from two guys who are a part of Soft Rock Happy Hour at 4 o'clock every day at Burning Man.
Check out AGFA's signature sound on the Jacks Of All Trades track "I Don't Care If It's Your Birthday" below or Download it here.
Wherever the music is, you'll find me with my camera, shooting on street corners, from barstools at clubs, from the side of the stage at theaters, and from photo pits in places like Red Rocks. Clicking away, trying to capture the emotive essence of music, and all those moments that we forget because of one too many Pabst Blue Ribbons.