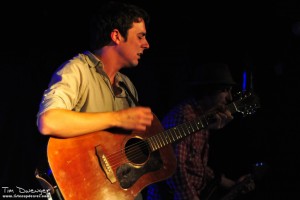 Photos by Tim Dwenger
The Scene: From early in the night, The Bluebird was packed with a wide variety of music fans.  There were grey hairs who looked a little overwhelmed at the size, and density, of the crowd, hipsters doing their best to look as cool as possible, industry folks, a few hippies blowing smoke at the ceiling, and a healthy number of late 20 and 30 something couples out for a musical date night.  Aside from some talking over Bailiff and the quieter Joe Pug songs, the crowd was very well behaved, as you might expect for a show of this nature.
Opener: Bailiff. Opening a show at The Bluebird for two respected artists like Joe Pug and The Lumineers is no easy task, but I've got to say that Bailiff was up to it.  While their 30 minute set didn't transfix the steadily growing crowd, it definitely intrigued a good portion of us.  The Chicago act mixed original material with a great cover of Bruce Springsteen's "Dancing In The Dark" that surprised those who weren't paying much attention as it built in intensity, but I have to say that the one song that hooked me was "Curtains."  An original tune featured on their Red Balloon album, "Curtains" reminded me of one of my all time favorite bands, Soul Coughing, while still remaining unique and original.  These guys are on their way!
Joe Pug: Let it be noted that this show was originally supposed to a Joe Pug headlining gig until The Lumineers debut record shot up the charts and they were added to the bill.  While I've enjoyed The Lumineers record, and was excited to see them live, the highlight of the night for me was without a doubt, Joe Pug.  I had caught his set earlier in the day at The Larimer Lounge [Editor's Note: photos included below and apologies for any blending of the two shows in this review], because I was afraid that people wouldn't be paying much attention to him at The Bluebird as they waited for The Lumineers, and while the set was nearly the same, I was glad I did because there was a good amount of talking during his set.  At a few point, he did manage to suck everyone in and one of those was a rocking version of "Stronger Than The World" from his new record The Great Despiser.  The song showcases Pug's songwriting skills and also shows the world that he isn't afraid to rock out a bit.  As he played I caught several folks around me actually dancing a bit as they tried to sing along.
Pug featured several other songs from the new record in his set including the title track, the powerfully tender "One Of Many," and the Harvey Thomas Young tune "Deep Dark Wells" that closes out the album.  Before playing "Deep Dark Wells" Pug credited his Austin landlord with introducing him to Young, and several other Texas songwriters, during some long inebriated nights on his property.  While this was an amusing story, one of the standout moments of the set was when Pug dedicated "Hymn #101″ to the memory of Levon Helm saying something along the lines of, "if you are here, and you like this kind of music, then you should know Levon Helm and the influence he had."  As a huge fan of The Band, and of Levon himself, it was great to hear Pug show such respect for the man.
Pug wrapped up his stellar set with "Speak Plainly Diana" and I was surprised at how many people in the packed room knew almost every word to the song.  It's a catchy song, with a sing-along chorus, and Pug delivered it with the raw emotion in his voice that makes every one of his songs so memorable.  As he waved and left the stage, I was sad to see him go but glad that I had caught him twice in the same day!
The Lumineers: Taking the stage at just about 11:30 to an overwhelming roar from the crowd, The Lumineers launched right into a passionately played, but relatively short, set.  Live, the core trio expanded to a quintet with the addition of a multi-instrumentalist and a Bass player and it did help to flesh out their sound a bit.
Throughout the set the crowd was riveted, singing along loudly to favorites like "I Ain't Nobody's Problem," "The Big Parade," and of course "Hey Ho."  These guys have made a meteoric rise up the charts and into the hearts of their fans over the last several months, and while their performance proved they have talent and songwriting chops in spades, it didn't do much for me that their recent self titled debut album does do turned up loud on my home stereo.
While the put on a solid, but not incredibly impressive, show, that featured most of their new record, there were a few highlights and two of them were in the form of some great cover song choices.  The first, Bob Dylan's "Subterranean Homesick Blues," sounded great as the band gave it an old timey feeling and lead singer Wesley Schultz seemed to almost channel Dylan as he effortlessly spat out the fast paced lyrics.  Later in the night, Schultz tipped his hat (literally) to the late, great, Levon Helm and the band nailed a version of "The Weight" that got most of the crowd singing along.  It was a tender moment as we turned our thoughts to Helm and his legacy, and I was glad that both The Lumineers and Joe Pug had taken the time during their set to acknowledge one of the true backbones of American music.
As the night wound to a close, The Lumineers took the party to the balcony and literally set up on the edge of the balcony above our heads to  serenade us.  Schultz took it one step further and stood outside the railing as he played and sang to a room of craned necks and adoring faces.  It was a powerful, if a little gimmicky, way to wrap up the night, and it showed me that this band isn't afraid to take chances whether they be physical or musical.  Next time they play in this area will be on the big stage of Red Rocks in July when they open up for CAKE.  Who knows, maybe that show will feature a few tunes from a top Ship or Creation Rock.  Guess you'll have to head up to Morrison to find out what they have in store for that show.
Energy: A-
Sound: B+
Musicianship: A
Stage Presence: A-
Set/Light show: B
Overall: B+
Music has always been a part of my life. It probably all started listening to old Grateful Dead, Peter Paul & Mary, and Simon & Garfunkel records that my parents had, but it wasn't long before they were taking me to concerts like Starship, Crosby, Stills & Nash, and Huey Lewis & The News. I got the bug to write about music after reviewing an Eric Clapton concert for a creative writing project in high school but didn't really take it up seriously until 2002. Since then I have published countless articles in The Marquee Magazine and done some work for Jambase.com, SPIN Magazine, and various other outlets. I started Listen Up Denver! as a way to share the music information that is constantly spilling out of my head with people who care. Please enjoy!