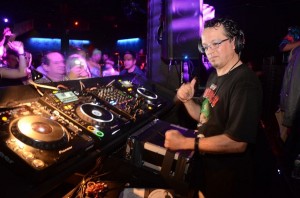 Listen Up Denver! wants to send you and a friend to see Lindstrøm and Mark Farina for FREE!  
We have a pair of tickets to giveaway and all you have to do to enter this contest
is post "Send me to space with Lindstrøm and Mark Farina at Cervantes'" on our Facebook Wall
PLEASE NOTE: Entry deadline is 5pm MST Wednesday May 23rd
Why You Should Go: Mark Farina is the originator and pioneer of "Mushroom Jazz:" acid jazz infused with the West Coast's jazzy, organic productions along with urban beats that thrills house music lovers the world over.  He developed this sound by experimenting with a deeper style, dropping De La Soul, disco classics and other stuff that wasn't being played in the main rooms of nightclubs, into his mixes.  Since then, Mark has been traveling the globe performing 100s of shows, to over one million club goers, a year. His House sets take fans on journeys to the jazzy side of Chicago House mixed San Fran style. Some of these sets have been known to last up to 8 hours. And sometimes you'll find Mark playing in two different rooms at the same party, showcasing his range of rocking the big room sound to the uber-chill.
As for Lindstrom, it's quite impossible to pinpoint the exact origins of his musical originality. Coming from gospel choirs, country, and rock bands without any knowledge of dance music whatsoever, he entered the scene freed from any preconceived notions of style and trend parameters. He hung on to the habit of making music by playing melodies on real instruments, and the fact that he plays all the instruments on his recordings – guitars, bass, keyboards, drums and percussion- enables him to make music inspired by whatever his influences are at the moment.
Following a consistent flow of highly acclaimed EPs, singles (in the track "I Feel Space," that put Lindstrom on the map of dance communities all over the world) and remixes for names like Franz Ferdinand, The Killers, Roxy Music, Doves, Bordoms, The Horrors, and LCD Soundsystem, he has also released two Lindstrøm & Prins Thomas duo albums on Eskimo Recordings. The press and record buyers alike loved the Norwegian bearded duos album – often described as downbeat space disco with a singer/songwriter feel – and they are now regarded as modern classics.
Lindstrøm today enjoys a cult-like status within dance music circles, and although the humble guy himself is happy doing what he loves on an underground scale. He has decided to have control over both his own music and publishing, that is why releases all his music on his own label, Feedelity, in collaboration with Oslo's Smalltown Supersound.
Venue:
Cervantes' Masterpiece Ballroom, 2637 Welton Street, Denver, CO 80205 – 303/297-1772
Doors:
8:00 PM
*Price:
$24.00
Buy Tix
*All times and prices are gathered from other sources and we are not responsible for mistakes or inconsistencies. They are intended only as guidelines. Please, always call the venue if you desire the most accurate information possible.