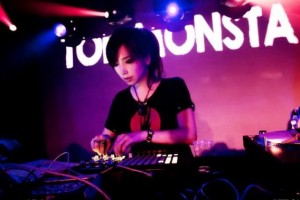 The Scene: In recent months, Summit Music Hall has become my favorite venue to see music of the electronic nature. The easily accessible bar, the upstairs balcony, and the booming sound system all provide for a state of the art concert experience. Take those things and add the artists that Euphonic Conceptions brings to town, and you have a recipe for greatness. Some of my favorite parts of the whole experience are the psychedelic installations, the vendors, and the strange array of people that come out for these shows. That being said; Tokimonsta and Daedelus was a little different. I felt the ticket sales may have been a little low due to the lack of folks inside and in comparison to most EC events at Summit, this one could easily be described as one of the tamer.
Tokimonsta: I had only recently discovered the Down-Tempo sounds of Tokimonsta but I figured from her massive following on Facebook that the crowd would have been much larger than it was. I certainly could not complain though. Sometimes it's nice to have a little dancing room and it was also nice to experience how the sparse crowd affected the set of music she played.
My friends and I showed up expecting something much different, but left amazed with her ability and knowledge of music. Her set wasn't full of the Down-Tempo, laid back soundscapes I was familiar with. The best way I can describe it is that she kept it gangsta as all hell. She dropped heavy bass lines that vibrated your organs and blended them with vocal samples from hip hop icons as well as the up and coming hard hitters.
She mixed in tracks from one of my favorite freshman rappers of today, ASAP Rocky. She dropped intricate melodies and displayed perfect understanding of how to transition from one genre to another. The entire time she was dancing and smiling almost as hard as all the folks in the crowd as she worked her way through a massive array of earth shattering bass drops and lyric samples that brought me back to dancing around my living room to Hip-Hop videos during Sucka Free Sunday's on MTv.
The highlight was by far the super mashup of Wu-Tang samples she through over some more of the most gangster beats I've heard in a long time. Most the crowd was able to mouth the words as they got dirty on the dance floor. Even though her set was not anything that I expected, I ended up more than impressed with her knowledge and ability to just get down-right gully with it.
Daedelus: Unfortunately for circumstances beyond my control I was only able to catch a short amount of Daedelus' set. Sometimes assuring I have a ride home is a little more important than dancing my ass off. By the time he made it to the stage the venue was finally starting to fill up.
Daedelus is known for his Victorian Dandy style and immense understanding of sequencing. As the founding resident DJ of www.dublab.com, he has garnered a huge following and throughout the years developed a style unmatched by any other performer. He is a master of using the Monome controller; a strange device with hundreds of buttons that absolutely confuses the shit out of me.  It may be Greek to me, but when he gets on stage with his devices he makes it look like a cake walk. Often infusing elements of improvisation and working off of multiple Monomes at once. His movements are almost robotic as he flawlessly manipulates the flashing lights on the massive pad of buttons in front of him.
Energy: B
Sound: A
Musicianship: A
Stage Presence: B
Set/Light show: C
Overall: B+

I rode my skateboard from school in 7th grade to my buddy Vince's house where he put on the song "Perfect Government" by NOFX and I was hooked. The next day I bought the album Duh by Lagwagon. The next year I saw Against Me! at the Starlight Theater in Fort Collins, my mom dropped me off. I've since devoted every waking hour to anything done with passion. My speakerbox bumps everything from Lil' Wayne to Pablo Casals. I was never very good at making music, but I am damn good at listening to it. I've been filling up yellow notepads with random thoughts and misspelled words for as long as I can remember. I enjoy whiskey of all sorts, Newport cigarettes and the company of my family. I've got an addiction to run-on sentences that I'll probably never cure. A solid handshake with a stranger who has become a friend over a few beers means the world to me. You'll often find me wide eyed and wandering with an ear to ear grin. I live for funky break beats and spreading the love.