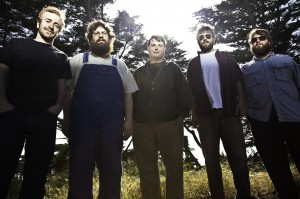 The Scene:  My fellow mid-western transplants came out in droves Friday night to see Trampled by Turtles (TBT) at The Ogden Theatre in Denver. The Duluth based folk-bluegrass band is touring on their new album, Stars and Satellites, and the sold-out crowd sported their Minnesota Twins hats, overalls, and plaid – lots and lots of plaid. Conversations of Twin Cities suburbs, lake cabins, and previous TBT shows were all heard as I inconspicuously eavesdropped on my fellow concert-goers. The beer lines were long, and the crowd had a nice buzz before the opener even hit the stage. The atmosphere had a collective excitement about it you only find at Friday night shows. 
Opener: Brown Bird.  The opening act was a rousing two piece called Brown Bird from Rhode Island. The crowd instantly took to the lead singers growling voice and the attractive female vocalist who harmoniously danced with her standup bass. The duo tore through an upbeat set that had bluesy undertones which built up to some pretty hardcore jams at times. When you take a multi-instrumentalist and combine her with a lead singer on kick drums, you get a colossal sound – if I hadn't seen them live I would have assumed they were a four piece band. Brown Bird's last song of the night was an incredible rendition of June Carter and Johnny Cash's "Jackson." The female vocalist sounded eerily similar to Carter, and the crowd loved it. You know it's a good opening act when you hear fans calling for an encore!
Trampled By Turtles: Trampled has built up their fan base over the years by touring relentlessly across the country. Once only a mid-western secret playing at colleges and small clubs, TBT has transitioned into one of the biggest folk-bluegrass bands of the times, selling out shows from L.A. to New York. Paste Magazine named them one of the Top 25 "Must See Bands of 2011." With their veracious intensity one can understand why even Punk rock fans can find something to love.
TBT hit the stage to an enthusiastic crowd with fresh drinks. They opened with their new love song "Alone" and the energy the crowd emitted was amazing as the balcony felt like was going to give out with all the dancing. Smiles could be seen all around and hoots and hollers could be heard at the start of every song. You know it's a good show when your drunken friends put their arms around you and tell you how much they love you. TBT ripped through a number of old favorites like "Valley," "Trouble," and "Codeine" while peppering in songs off their new album. It was one of those shows where you are always telling yourself you will get a beer during the next song but that time never comes. Erik Berry on mandolin and Ryan Young on fiddle sounded especially on target and each played their solos flawlessly. The percentage of beer spilled was highest during the new fan favorite, "Wait So Long."
Trampled is known for playing some incredible cover songs including "Where is My Mind" by The Pixies, "Rebellion" by Arcade Fire and "Mad World" by Tears for Fears and Friday night was no exception. The last song of their encore was "The Weight" by The Band, and it was a tribute that would have made Levon Helm proud. It brought a tear to my eye and a chill to my spine to hear the entire crowd singing along with Dave Simonett. And just like that, the show was over.  Until next time boys.
Energy: A+
Sound: A
Musicianship: A
Stage Presence: B+
Set/Light Show: B
Overall: A