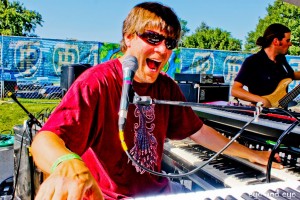 Photo by
Ben Wilson's eye and eye photography
KYLE'S BREW FEST
Sat July 14 | Shattuck Down Low | BERKELEY, CA
Sat July 28 | Boulder Beer Co. | BOULDER, CO
Tickets: $25
On-Sale: Friday, May 24th @ 10am Local Time
PURCHASE HERE
Kyle Hollingsworth, keyboardist of The String Cheese Incident, is at it again, gearing-up for his Summer of Brews, encompassing many exclusive craft beer events throughout the season.
Following three previous sell outs of his flagship event, Hollingsworth will host his charity beer festival and concert, Kyle's Brew Fest, twice this summer, first on Saturday, July 14, at Shattuck Down Low in Berkeley, CA , prior to The String Cheese Incident concert at The Greek Theatre later that evening, and again on Saturday, July 28th, at Boulder Beer Company in Boulder, CO. Berkeley will feature more than 10 breweries and 20 craft beers plus an exclusive performance from Kyle Hollingsworth with members of Hot Buttered Rum.  Boulder will feature more than 30 breweries and 60 craft beers plus a performance from Kyle Hollingsworth Band. Both festivals will include Kyle's Hoopla Pale Ale and unique collaborations from Kyle and select breweries, and will also benefit Conscious Alliance.
The Summer of Brews continues as Hollingsworth returns his Brewru Experience to Electric Forest Festival and Horning's Hideout, providing fans with an in-depth look into his life of brewing, while joining renowned craft breweries to discuss beer and brewing. During The String Cheese Incident's summer tour, Hollingsworth will again host Hop On Tour. Lucky fans who find a Hop On Tour Golden Ticket, in posters they purchase from Conscious Alliance at respective shows, will get to meet Hollingsworth backstage for a beer tasting after select shows with select breweries. To kick things off, Hollingsworth travels to Stone Brewing Company, in Southern California, this May, to create a one-time-only collaboration brew for Hop On Tour and Kyle's Brew Fest Berkeley.
$25 Tickets include:
Exclusive performance: Kyle Hollingsworth Band (Boulder), Kyle Hollingsworth with members of Hot Buttered Rum (Berkeley)
Limited edition Kyle's Brew Fest logo pint glass
Drinks
An opportunity to bid at the Silent Auction (which features rock memorabilia from the scene's favorite artists, among other items)
Details are as follows:
Saturday, July 14 from 1:00 – 5:00 pm
Shattuck Down Low (prior to The String Cheese Incident at The Greek Theatre)
2284 Shattuck Avenue, Berkeley, CA
Tickets $30.00 – All proceeds benefit Conscious Alliance
Ages 21+ Welcome
Saturday, July 28 from 3:00 – 7:00 pm
Outside at Boulder Beer Company
2880 Wilderness Place, Boulder, CO
Tickets $25.00 – All proceeds benefit Conscious Alliance
Ages 21+ Welcome