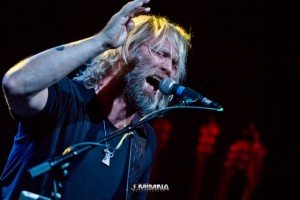 Photos by Jim Mimna
The Scene:  The Bluebird Theatre had cooked all day in the unseasonably hot sun on this fine May day and then became the musical hot box for the smoker of a performance that unfolded over the course of the night.  The crowd of spectators that came out for the show seemed anxious for headliner Anders Osborne to deliver on the hype that precedes most of his shows, so the bar was set high.  As I scanned the audience, I saw a rather diverse gathering of people. But, with a majority of women gathered on the front rail, it was obvious Anders has a strong female fanbase in attendance.  The ladies were reserved at first, but got quite rowdy during the headlining set.  I guess one could blame the heat still lingering in the room, but I blame the viking in Anders.
The Whales: Opening for Osborne is no simple task, but The Whales did their best to impress the home town crowd.  The eager audience seem receptive to their energetic supporting effort.  The trio played a power-style, straight rock that was rewarded with enthusiastic applause.  The audience was ready for the main event.
Anders Osborne: Anders Osborne and company took the stage at about 10:30, and played a 2 hour set followed by a 2 song encore.  After a brief hello to his audience and thanks to The Whales for their support, the band hit the ground running full-bore with the first song off his new album "Send Me A Friend," and they didn't slow down the whole set.  Joined by bass player, Carl Dufrene, and drummer, Eric Bolivar, Anders played reckless abandon.  In true classic rock-n-roll fashion it seemed like he was out punish his black Stratocaster.
Given that he is touring in support of the new record, Black Eye Galaxy, it wasn't any surprise that Anders worked new material like "Lean On Me/Believe In You" and "Black Tar," into the set to give the crowd a hint of where his head is at these days.  The Swedish-born axe slinger exhibited a lot of influence from his home of 27 years, New Orleans, with threads of soul and funk layered throughout the songs.  Osborne played his gritty style of guitar-driven rock with no rush or haste, with many songs taking as long as 15 minutes to come to a boil.  The monster set closer was 20 captivating minutes long!
While the performance was comprised of mostly loud, electric rock tunes, Anders slowed things up midway through the set to offer up an inspired acoustic guitar & harmonica based performance of "Tracking My Roots."  Although most songs were originals, he tossed in a few Bob Dylan covers, like a nicely arranged "When I Paint My Masterpiece," which was appropriately dedicated to Levon Helm and "Knocking On Heavens Door" which he sandwiched in the middle of "Love Is Taking Its Toll."  The one thing that was most evident by the end of the performance was that Osborne's commanding stage presence and exemplary musicianship is at a level that only comes from decades of road wear and tear.  This was not Anders Osborne's first barn-burning performance by any stretch, and when it was all over, he still had a pocket full of matches.
Energy: A+
Sound: A-
Musicianship: A
Stage Presence: A
Set / Light show: B-
Overall: A
Click here for a Free Download of the Show – Courtesy of Jim Mimna
Capturing life in various forms is what I do. I consider myself an archivist by nature. It is not a career choice that I consciously made, but it is something that has called me. I strive to freeze a moment in time with every frame, a moment that can retell its story with each viewing, forever. I also have a deep passion for music and have been photographing and recording live music for years. Capturing the energy and magic of a live performance in a photograph is one of my passions. In addition, I enjoy photographing in a wide variety of settings, from wildlife scenes to family portraits and everything in between. I am a lover of the earthscapes that we see all around us every day, both natural and manmade, and aim to make unique images that do justice to their beauty. Where others see darkness, I see streaks of light through long exposures. I shoot a very wide variety of subject matter including individual/family portraits, event coverage, landscapes, live concert/performance, HDR, product and commercial photography, architectural, weddings, food, and editorial photo journalism. With artistic expression, I aspire to create visual art that speaks volumes.