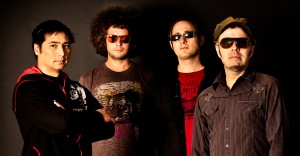 Why You Should Go: Cervantes' Presents the Denver debut of the Fort Knox Five Live Band. DC's famous funk group will perform with a full 7 piece band, including the guitar/sitar player from Thievery Corporation, Rob Myers! Vocalists include Asheru from the Unspoken Heard, best known as the voice behind the Boondocks' Cartoon Theme Song. Joining Asheru will be Mustafa Akbar, longtime vocalist of Fort Knox Five, Thunderball &..Nappy Riddem.
The FORT KNOX FIVE have the midas touch for producing heavy hitting records. Since 2003, they have released an arsenal of floor rocking singles and remixes from their Washington DC based label, Fort Knox Recordings.
Sid Barcelona, Jon Horvath, Rob Myers and Steve Raskin are the masterminds behind the FORT KNOX FIVE. Their signature 'Fort Knox Sound' seamlessly interweaves live instrumentation with funky electronic breakbeats. In 2006 they released the critically acclaimed 'The New Gold Standard' to showcase the groundbreaking sounds from their premier funk and soul label.
The FORT KNOX FIVE's talent for organic hooks has made them highly sought after producers and remixers. They have over 20 remixes to their credit, including monster mixes for A. Skillz and Krafty Kuts, Kraak & Smaak, Ursula 1000, Dynamo Productions, and Mo' Horizons, as well as remixes for the legendary Tito Puente, Louis Armstrong, and Bob Marley. The FORT KNOX FIVE has coined the term 'Reminted' to represent their signature remixing style. They released the first 'Reminted' CD showcasing some of their favorite productions in a continuous DJ mix
in 2007.
Further cementing the FORT KNOX FIVE's reputation, Afrika Bambaataa—the godfather of hip-hop—asked them to produce four tracks on his latest album Dark Matter Moving at the Speed of Light released on the legendary Tommy Boy Label.
Tapped by URB Magazine for its annual "Next 100" list, the FORT KNOX FIVE's music has been featured on major compilation, films, television shows, commercials and video games. Most recently their music has been featured in the FRINGE tv show on Fox, and video games Tiger Woods 2009 & Facebreaker. They also finished exclusive production on six original interactive tracks in the Fort Knox style for EA Sports' Skate 2 & Skate It game soundtracks.
Venue:
Cervantes Masterpiece Ballroom, 2635 Welton Street, Denver, CO 80205 – 303/297-1772
Doors:
8:00 PM
*Price:
ADV – $12.00 – Buy Tix
DOS – $15.00
*All times and prices are gathered from other sources and I am not responsible for mistakes or inconsistencies. They are intended only as guidelines. Please, always call the venue if you desire the most accurate information possible.

Music has always been a part of my life. It probably all started listening to old Grateful Dead, Peter Paul & Mary, and Simon & Garfunkel records that my parents had, but it wasn't long before they were taking me to concerts like Starship, Crosby, Stills & Nash, and Huey Lewis & The News. I got the bug to write about music after reviewing an Eric Clapton concert for a creative writing project in high school but didn't really take it up seriously until 2002. Since then I have published countless articles in The Marquee Magazine and done some work for Jambase.com, SPIN Magazine, and various other outlets. I started Listen Up Denver! as a way to share the music information that is constantly spilling out of my head with people who care. Please enjoy!