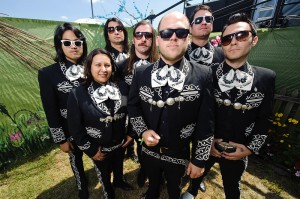 The Scene: A healthy mix of hipsters, punk rockers, curious newcomers to the sound, and seasoned vets all showed up to The Fox Theatre on the 17th when Punk Rock / Mariachi hybrid, Mariachi El Bronx came to town. For once I was able to get to the show on time, since the co-headliner is who I was mainly interested in. There weren't any lines, but it seemed like a steady stream of people were making their way into the theater.
Two Gallants: This duo has been a favorite band of mine since the first time I heard them. Adam Stephens and Tyson Vogel make up the Two Gallants. Tyson plays drums while Adam plays guitar. Each of them sing and their songs are deeply emotional both lyrically and in the passion with which they play their instruments. It's almost hard to believe there are only two guys on stage.
The lyrics that Adam write make it more than evident that he is an intelligent man with a better understanding for the English language than your average rock and roller. He plays both rhythm and lead guitar like most blues musicians do and his voice is passionate and almost haunting at times. You can see on his face that what he is singing is more than just a song, it is an important part of him.
Their set was not too long, but was filled with everything I could have hoped for in a Two Gallants set. Although they didn't play a lot of the songs I was hoping for, they still had my full attention from the first note. It was satisfying to hear them play new songs and it gave me hope that we will finally be hearing a new album from the duo soon.
The song that made it all worth it for me was "Las Cruces Jail." The song is a 10 minute number that I relate to in more than a few ways and a song that means an awful lot to me. I can't even tell you how many times I've tripped and accidentally stumbled into a jail cell only to sing this one over and over in my head to pass the time.
The set as a whole was deep on many levels; it was loud, full of passion, and easily one of the best sets of music I've seen in a long time. Two Gallants never disappoint.
Mariachi El Bronx: This Punk Rock/Mariachi hybrid from California may have started out as a joke, but it's clear from the first note that today they are as serious as it gets about their sound. They came to the stage dressed in silver studded Charro outfits as you would expect from a Mariachi band.
Mariachi El Bronx is the musical alter-ego of The Bronx; a hard core, punk rock band that has released two albums of Mariachi music under this moniker.  When they take the stage as Mariachi El Bronx, each member plays traditional Mariachi instruments while singer Matt Caughthran stands alone with a microphone stand.  Their rhythms are tight, their melodies are flawless, and Caughthran's voice perfectly complements the eclectic sound. The set consisted of songs off of both of their studio releases including "Cell Mates," "Holy," and "Slave Labor." The only thing that could have been better was the movement in the crowd. Aside from a few couples trying their best to Salsa or do the Tango, there was little to no dancing going on in front of the stage.
That aside, their set was well put together and a great change from the rest of the music I've been seeing in the past few months. I was thoroughly impressed with their understanding of a genre of music that may not get the recognition it deserves in a lot of music lover circles. I walked away from the show with a new found curiosity for Mariachi music. It opened my eyes and helped me put into perspective that punk rock can be expressed in many more ways than screams and distorted guitar.  There may not have been a mosh pit, but the music of Mariachi El Bronx is about as punk rock as it gets.
Energy: B
Sound: A
Musicianship: A
Stage Presence: C
Set / Light show: C
Overall: B+

I rode my skateboard from school in 7th grade to my buddy Vince's house where he put on the song "Perfect Government" by NOFX and I was hooked. The next day I bought the album Duh by Lagwagon. The next year I saw Against Me! at the Starlight Theater in Fort Collins, my mom dropped me off. I've since devoted every waking hour to anything done with passion. My speakerbox bumps everything from Lil' Wayne to Pablo Casals. I was never very good at making music, but I am damn good at listening to it. I've been filling up yellow notepads with random thoughts and misspelled words for as long as I can remember. I enjoy whiskey of all sorts, Newport cigarettes and the company of my family. I've got an addiction to run-on sentences that I'll probably never cure. A solid handshake with a stranger who has become a friend over a few beers means the world to me. You'll often find me wide eyed and wandering with an ear to ear grin. I live for funky break beats and spreading the love.