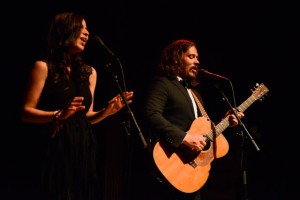 Photos by Ty Hyten
The Scene: I arrived to a sold out Ogden Theatre Wednesday night and was able to squeeze my way into the crowd and out of the rain. As The Civil Wars walked out onto the dark stage the fans erupted with enthusiasm. The duo remarked "they could not believe that this was their first show in Denver" and "the city has such great people and food." According to Joy Williams, the only thing that was lacking was oxygen, and she was not scared to admit that she had an oxygen tank on the side of the stage waiting for her because "that's how hard we are about to folk." These words would hold merit throughout the entire evening.
The Civil Wars: Joy Williams and John Paul White comprise the folk duo The Civil Wars and they seem to be creeping onto everyone's radar. Despite their different backgrounds, their ability to play together puts them into a different realm then most duos. Joy's wide ranging vocal abilities harmonize perfectly with John Paul's sometimes staccato, sometimes bass-filled, voice and the chemistry that flashed between the two on stage brought a smile on my face that lasted the entire night. Whether it was Joy's tendency to giggle at John Paul and take over his mic at moments, or the way the two are always in eye contact or aware of one another, their intimate connection came across seductive and flirty.
One thing was for sure, the Ogden was silent for the majority of the show. The harmony of Joy and John Paul's voices evoked a hypnotizing sense of euphoria that had the entire venue standing in rapt silence. With only a guitar, vocals, and the occasional keyboard, The Civil Wars played a show that insisted upon an encore which the duo delivered in the form of a great stripped-down rendition of "Billie Jean" and The Civil Wars original "Dance Me." As they made perfectly clear throughout the night, this is not the last we have seen of this duo in Denver and I can't imagine missing their next show in the Mile High City.
Energy: A-
Sound: A+
Musicianship: A
Stage Presence: A
Set / Light show: B-
Overall: A
Voted most unique in high school, and attempting to keep that title strong ever since. I am a photographer, and a bit of a quirky artist who loves to photograph just about anything that excites me or makes me shake my booty. You can find me at just about any genre concert with a huge grin on my face. If you see my bright red hair, come say hi, hugs are always free.