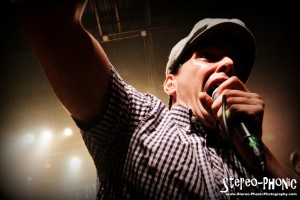 Photos by Johne Edge
The Scene:  In classic Punk Rock fashion, Soda Jerk Presents gave ticket holders four bands for the price of two last Thursday.  When I was younger, Punk was played so fast, and most bands only knew a few chords, and had fewer songs yet.  Back then, you had to have five or six bands on the schedule just to fill up two hours.  This was not to be the case tonight as several different genres were being blended with Punk sensibilities over the course of a lineup that represented a collective 13 or more albums.  Simply put, there would be no shortage of material to choose from.  Today a four band lineup is no longer a necessity, but more of a musical treat from the night's promoter.
Opener: Anchor Point.  Denver's own Anchor Point, the youngest band on the lineup, has been together for just over a year and represented the Mile High City well.  Their set got the bartenders working, as the beer began flowing to quench the thirst of the growing crowd.  If you haven't caught these guys yet, do yourself a favor and catch their high energy show when they play The Marquis Theater on July 25th.  Until then you can check out their five track EP of anthemic punk here.  
Opener: Old Man Markley.  Old Man Markley is an eight piece Punk Hee Haw band, led by Johnny Carey on his very own Buck Owens style guitar.  An amalgam of LA's finest Punk bands and Bluegrass musicians, these guys and gals tore up the stage with their thirty minute set.  Back when I was watching the Ramones play in a bar, I would never have dreamed that I would see a Harpsichord, Mandolin, or Washboard being incorporated into Punk Rock.  But that is just what Old Man Markley does with their brand of Punk Bluegrass.  Now, if only one of those young ladies could yodel, then you would have perfection.
The Aggrolites:  The Aggrolites brought to Denver a rougher style of reggae with their patented fusion of Reggae, Punk, and Soul.  With the rhythms and intoxicating grooves of tracks like "Dirty Reggae" and "Funky Fire" my feet refused to stop dancing unless it was for a trip to the bar.  With a sound that harkens back to the early days of skinhead reggae and two tone ska of bands like Symarip, I love the apparent respect that these guys show for the old school.  Joined on stage by members of Old Man Markley they played a cover of The Beatles' "Don't Let Me Down" as an encore.
Street Dogs:  "Loving the heat and staying dead center within the proverbial kitchen," the Street Dogs have blended Punk with Celtic Folk for almost ten years.  Mike McColgan, formerly of Dropkick Murphys, heads up this who's who collection of musicians from some of Boston's best punk bands.  With the sound of bagpipes filling the venue, the drummer beat out the rhythms to the opening song "Formation" on his metallic flake, fly-butt green, drum set.  "Rattle and Roll" got the tall cans and fists in the air and the band kept things going at a break-neck pace as they played a litany of classics like "Fighter," "Two Angry Kids," and "Punk Rock and Roll."  After the band encouraged the crowd to pogo dance and to join in the tornado pit, I was reminded of the smell of punk rock as my nose was filled with the smell of sweat and spilled beer.  With a tip of the hat to The Clash they played "Guns of Brixton" and then left the stage only to return to the chants of the crowd to play the harmonica filled "Free" and a raucous version of "Savin Hill" for an encore.
Energy: A+
Sound: A+
Musicianship: A
Stage Presence: A
Set/Light show: B
Overall: A  
Wherever the music is, you'll find me with my camera, shooting on street corners, from barstools at clubs, from the side of the stage at theaters, and from photo pits in places like Red Rocks. Clicking away, trying to capture the emotive essence of music, and all those moments that we forget because of one too many Pabst Blue Ribbons.