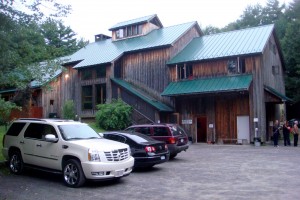 Photo by Tim Dwenger
This past Saturday, May 26th 2012, would have been Levon Helm's 72nd birthday and people came together to celebrate the occasion with mixed emotions, yet ready to raise their hearts, voices, and spirits into the rafters of "The Barn" that Levon built. Cars were lined up on Plochman Lane hours before fans were let on to the property, and there was a feeling of joy and loss that combined into an emotional force that hung in the air the entire night. It felt like celebrating Thanksgiving just over one month after the passing of the man who sat at the head of the table.  Everyone inwardly acknowledged that a patriarchal figure was not only lost by his immediate family, but also by the extended family that included his band and those who made the Rambles happen behind the scenes, a small Catskill Mountain community, and millions of fans that span the globe.
I had no idea what to expect when I walked into the barn last Saturday. Would the night be dedicated to mourning our collective loss, or would it be a celebration of the man's life? The informality of the night allowed it to be whatever it needed it to be for each individual in the room. As fans began to pack the house, a slideshow of intimate pictures capturing Levon's room brightening smile were projected on a giant screen in front of the audience, and people were silently warmed by the memory of that smile. Barbara O'Brien, manager of Levon Helm Studios, said some brief words and reminded us that the night was about making music in the barn, and celebrating the life of a man whose dream was for music to be made here. O'Brien also introduced the lady of the manor, Mrs. Sandy Helm, who came out of her home to welcome everyone arm in arm with Levon's daughter Amy. This barn is still a home to this woman who was the apple of Levon's eye for over 30 years, and it was gracious for her to welcome us into it on a day that couldn't have been easy for her.  That said, I am sure she wouldn't have had it any other way.
Once Sandy left the stage, O'Brien said two words that caused an eruption in the audience, "Let's Ramble!," and man did we ever! A stripped down first set started off with "By The Rivers of Baylon" which was performed by a trimmed down version of The Levon Helm Band which featured Amy Helm, Larry Campbell, Theresa Williams and Byron Issacs in their usual roles, and Levon Helm Studios production manager and chief engineer, Justin Guip, on the drums. After an intermission which was filled with fans sharing barn experiences and thoughts on Levon which each other, the above mentioned musicians came back out on to the stage, and brought the rest of Levon's band out with them for a ripping version of The Band classic "The Shape I'm In."  The night was not inundated with special guests, but a few barn regulars came to join in on the festivities. The Lovin' Spoonful's John Sebastian and folk icon Happy Traum sat in a a few tunes, as did bluesman Chris Bergson.
While The Band "officially" broke up in 1978, they reformed a few years later (without Robbie Robertson) and Woodstock native Jim Weider was its sole guitarist from 1985 until The Band dissolved again in 2000. Another Ulster County native, Randy Ciarlante, joined The Band in 1990, and he and Levon did double duty on the drums. Both of those men showed up on Saturday, and the chemistry between the two of them was undeniable. Chiarlante and Guip traded turns on Levon's kit, and at times, manned both kits on stage to take care of the backbeat. People danced, smiles shined, and music filled the barn for Levon.
In customary Ramble fashion the night wrapped up with a group sing-along on "The Weight" that surely warmed Levon's heart as he smiled down on the proceedings.  The mood was not overly celebratory, and it also didn't feel like a memorial or time of reflection; it was somewhere in the middle. Family, friends, and fans weaved through deep thoughts of the past, joyful thoughts of the present, and hopeful thoughts regarding the future. This event reassured us all that the barn will live on, and music will continue to fill its walls. Long live Levon Helm Studios and Levon's vision for it!
Energy: A
Sound: A+
Musicianship: A+
Stage Presence: A
Set/Light show: N/A
Overall: A  

Brian Turk grew up in the shadow of the Catskill Mountains, near Woodstock, NY. He comes from a family of music lovers, audiopliles, Dead Heads and avid concert goers.The musical magic that can only be created in the Catsklills, both past and present, is what Brian cosiders the epicenter of his music addiction. The music of The Band, and most recently The Levon Helm Band, is the soundtrack of home for him. Brian's mother took him to his first concert at 5years old...it was Johnny Cash and Roseanne Cash at Jones Beach Amphitheatre. For Brian, music is a family affair. He feels the same way about live music...we all convene to celebrate together. Brian's writing life started when he wrote his favorite author, southern fiction writer Clyde Edgerton, a fan letter at age 13. When most kids were idolizing baseball players and television, he was worshipping writers and musicians. The two became friends and Clyde shared his craft with Brian. The next year Brian attended Duke University's Young Writers Camp. This is the extent, of what Brian considers, his "formal" training in writing. From then on his goal was to capture snapshots of life through words. Brian has been involved with live music in various facets over the years, and combined with his enthusiasm and love for Denver's music scene, he creates a vivid description of what he sees and hears. If you see him out at a show, dancing with a notebook in hand, say hello.