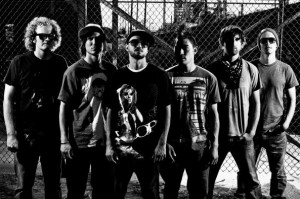 Denver's MTHDS are reviving their Beastie Boys tribute show this week in honor of Adam "MCA" Yauch who passed away in early May and they took some time to answer our "20 Questions" as they prepped for the show.  One read through this exchange and you'll get a feel for what a witty, sarcastic bunch of guys that make up this group.  From comparing themselves to The Partridge Family to claiming that John Denver is one of the best local bands on the scene right now, it's clear that one of the only these guys take seriously is their music . . . read on to see for yourself!
Listen Up Denver!: How did you come up with your band's name?
MTHDS: Jesse Pinkman and Walter White gave it to us.
LUD!: What is the line-up of the band?
MTHDS: Johnny – Guitar & Vocals, Don Dilly – Vocals,  L – Vocals, Neil – Acoustic, Congas, Synth, Ukulele, Chip – Bass, Durtee – Drums
LUD!: How would you describe your sound?
MTHDS: Rock influenced by Hip-Hop, Reggae, and Punk. Like the Partridge family if the Mom was Lauryn Hill and the kids were Jimi Hendrix, Common, Peter Tosh, Sid Vicious and Q-Tip.
LUD!: Who would you count as major influences on your band?
MTHDS: MCA, Donna Summer, Levon Helm, Whitney Houston and Doc Watson.
LUD!: How did you guys get started playing together?
MTHDS: We were all shredding the same mountain and met at an initfortim concert.
LUD!: Does anyone in the band have any formal musical training?  If so, what is it?
MTHDS: Johnny went to LA Music Academy for shredding, studying under the master, Frank Gambale.
LUD!: Where was your first gig together and how did it go?
MTHDS: We rocked a battle of the bands, "Best Looking Band In Colorado" and took the win! That took place in Copper.
LUD!: What's your favorite memory of playing together?
MTHDS: Dilly threw a baseball over a fence  into the neighbors yard one summer. We made Neil jump over the fence with his new shoes, cause he was the fastest. Sadly, there was a massive dog who hid the ball. Neil had to then talk with Morgan Freeman in order to find the hiding spot.
LUD!: Are you playing any shows coming up that you are particularly excited for?
MTHDS: June 7th at Cervantes. Doing a tribute to The Beastie Boys in honor of the late great MCA. Also pumped on Desert Rocks in UT June 9th.
LUD!: What is your favorite song to cover?
MTHDS: Shake Sanora
LUD!: What is the strangest request you've had at a show?
MTHDS: Do my wife. While I watch.
LUD!: What was the first song you wrote together as a band?
MTHDS: "Brand New Life" off our second album.
LUD!: Do you still play that song live?  If not, why?
MTHDS: Sometimes. It's kinda heavy for some audiences.
LUD!: Have you released any of your material yet?  If not, do you have any plans to?
MTHDS: We have three Discs out and 4 singles off our new album, due out sometime. Look for another single soon. You can download most of our music for FREE at www.mthds.com. Holler
LUD!: What is your favorite venue in Colorado, and why?
MTHDS: Cervantes'!  They throw down!
LUD!: If you could play on any stage in the world where would it be and why?
MTHDS: Not sure yet… Havn't played them all.
LUD!: If you could open for any band or artist, who would it be and why?
MTHDS: Madonna. It worked for the Beastie Boys.
LUD!: What is the most outlandish thing your band would consider putting in your backstage rider?
MTHDS: It's already on there…
LUD!: What is your band's drink of choice?
MTHDS: Mushroom tea.
LUD!: Can you name a few local Colorado bands that are really impressing you right now?
MTHDS: Tatanka, Kinetix, Octopus Nebula, Dubskin, Cobraconda, The Foodchain, Head for the Hills, 3oh!3, Whiskey Blanket, Flobots, and John Denver.
Music has always been a part of my life. It probably all started listening to old Grateful Dead, Peter Paul & Mary, and Simon & Garfunkel records that my parents had, but it wasn't long before they were taking me to concerts like Starship, Crosby, Stills & Nash, and Huey Lewis & The News. I got the bug to write about music after reviewing an Eric Clapton concert for a creative writing project in high school but didn't really take it up seriously until 2002. Since then I have published countless articles in The Marquee Magazine and done some work for Jambase.com, SPIN Magazine, and various other outlets. I started Listen Up Denver! as a way to share the music information that is constantly spilling out of my head with people who care. Please enjoy!