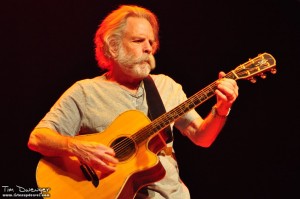 Photos by Tim Dwenger
The Scene: Despite the hordes of people who filled the beautiful park that surrounds the old barn under the Flatirons in Boulder, Monday night at Chautauqua proved to be the listening session stop of the group's three night Colorado run.  The 19th century room was the perfect setting for this trio to strut their stuff and each of them commented on it at least once from the stage.
As we milled around outside the venue, I overheard an older tie-dye wearing Deadhead saying to his buddy, "yeah, Bobby sounds pretty good, but you'll be most impressed by this young guy, Jackie Greene."  While that may have been true to some, each member of the trio shined in their own unique way.  Sure, those of us who live in Denver were a little bummed out they didn't make it down this way, but in the end they probably played the three most perfect venues in Colorado for their brand of music.
Weir, Robinson, Greene Trio: After hearing some reports from the Sunday show at The Mish, I went into Monday with high hopes and I was not disappointed.  In fact I left elated and healed.  The old barn was hushed, the acoustics were perfect, and the trio was in great form for the final show of the tour.
Coming out of the gates with "New Speedway Boogie" was a great start and the one-two punch of "Loser" and "Brown Eyed Women" made my night.  I probably could have left happy right then and there, but we still had a couple more hours of music to go.  The solo section of the night opened with some humor when Greene said "we're going by age tonight" in his best old man voice as Weir and Robinson made their way to the wings.  He then went on to tell us that he was gonna try out a new song on us and oh boy is it a good one.  "One Bad Love" may have featured a few too many repeats of the chorus, but the lyrics were spot on as was the guitar playing, and Greene was in fine voice.  I'm really looking forward to hearing the final version of that one on his next album.
Robinson kicked off his mini-set by saying "this is the coolest creepiest old barn I've ever been in . . . and some might say I'm a connoisseur," and then playing us a "creepy old barn lullaby" called "Someday Past The Sunset" that reeked of the blues.  As usual, Robinson's voice sent chills up spines around the room as effortlessly reached some soaring notes that echoed through the room.  After a touching version of "Last Place That Love Lives" from The Black Crowes Before The Frost album, Weir returned to the stage and commented about how there had been a bunch of ballads played so he was going to pick up the tempo a bit.  With that he jumped into the country shuffle of "Me and My Uncle" and cheers could be heard from well outside the confines of the barn from the hundreds of people who had gathered outside the big open windows to catch a glimpse of the sold-out show.
While "Uncle" was a perfect fit with the environment, Weir's second offering had much the same effect on me as his solo set on Saturday.  Fortunately his ten minute version of "Days Between" offered the perfect time to hit the bathroom and stretch my legs a bit before the group came back together for a mellow take on one of my favorite Dylan songs, "Just Like Tom Thumb's Blues."  With Greene on Harmonica, the trio traded verses and while Weir stumbled a bit on his, the smiles that flashed around the stage proved everyone was in great spirits and it felt a little like being around a campfire with good friends.
An extremely short setbreak of only about 15 minutes surprised everyone and I missed the set opener of "Iko-Iko" but was thrilled to walk in just as Greene started the first verse of "Peggy-O."  A tune my buddy had been hoping for on Saturday, I was glad to catch it in the intimacy of the barn as opposed to the chatter filled theater.  "West L.A. Fadeaway" proved a little lacking without the full electric treatment, but Greene pulled out the slide and spiced things up a bit.
When the first notes of "Birdsong" rang out it signaled the beginning of the best segment of the show as the group ran through crowd favorites "Sugaree" (which Greene always does a great job with), "The Wheel," and finally a set closing "Not Fade Away" that got the relatively reserved audience into the action as we clapped along to the rhythm that Hart and Kreutzmann used to pound out on their kits.   It was a relatively short second set, but I couldn't complain as it had lived up to everything I was hoping for.  The show wrapped up with the double encore of "U.S. Blues" and a particularly beautiful "Brokedown Palace."  As I walked through Chautauqua park to my car I couldn't help but think that the music the trio had offered up on Monday night had indeed rocked my soul on a night when I needed it.  The power of music is undeniable and Bobby, Chris, and Jackie had delivered a show that I won't soon forget.
Chautauqua Setlist
Set One: New Speedway Boogie, I Ain't Broke but I'm Badly Bent, Loser, Brown Eyed Women, One Bad Love (JG), Sweet Somewhere Bound (JG), Someday Past the Sunset (CR), Last Place That Love Lives (CR), Me & My Uncle (BW), Days Between (BW), Just Like Tom Thumb's Blues, GDTRFB
Set Two: Iko-Iko, Peggy-O, West L.A. Fadeaway, Birdsong, Sugaree, The Wheel, Not Fade Away
Encore: U.S. Blues, Brokedown Palace
Energy: A
Sound: A+
Musicianship: A
Stage Presence: A
Set/Light show: B
Overall: A  
Music has always been a part of my life. It probably all started listening to old Grateful Dead, Peter Paul & Mary, and Simon & Garfunkel records that my parents had, but it wasn't long before they were taking me to concerts like Starship, Crosby, Stills & Nash, and Huey Lewis & The News. I got the bug to write about music after reviewing an Eric Clapton concert for a creative writing project in high school but didn't really take it up seriously until 2002. Since then I have published countless articles in The Marquee Magazine and done some work for Jambase.com, SPIN Magazine, and various other outlets. I started Listen Up Denver! as a way to share the music information that is constantly spilling out of my head with people who care. Please enjoy!