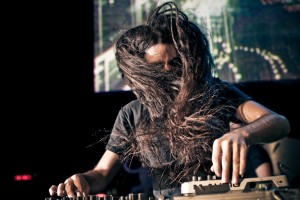 Photo by Douglas Wojciechowski
The Scene: The actual gates at Red Rocks may not open until late in the afternoon, but that never prevents the party from getting started several hours earlier. Showing up early and finding a good spot in the parking lot is easily one of biggest tasks of going to a concert at the Red Rocks Amphitheatre. The party before the show is just as important to most people as the show itself. Hell, I even talked to a handful of party people that weren't even planning on going in. They just showed up to tailgate.
The half clothed teens and neon clad 20 something's arrived early, wide eyed, and in droves for the low frequency messiah, Bassnectar. The Friday night show was added shortly after his Saturday show sold-out in less than an hour making this the first of his two-night run at the hallowed venue. After last year's spectacle between the rocks, it was clear that Lorin Ashton, known better as Bassnectar, was sure to bring out the big guns once again. The lines leading up to the front gates filled up early and fast in order for everyone and their "crews" to get coveted close up spots inside the venue.
Opener: Diplo. By the time I finally made it through the wild mess that was the parking lot, up the stairs, and to a proper vantage point the place was already packed to the brim and the electro heavy hitter Diplo was nearing the end of his set. He is known for his work with many groups and artists including M.I.A. and Major Lazer and his set certainly got the crowd rallied for what was about to come.
He transitioned through many different styles of electronic sounds. Going from Dubstep to Jungle may sound like a strange combination but oddly enough it worked out perfectly. He even threw in some Moombahton which is a new form of Techno that strangely combines House with Reggaeton. Not necessarily my cup of tea, it was still unique to see nearly 10 thousand people pulsing to those rhythms, and it certainly got the blood pumping for Bassnectar.
Bassnectar:  Last summer I had the privilege of covering Bassnectar's first sold-out show at Red Rocks. It was the first time I had ever heard of the electro behemoth, and in all honesty it was one of my first real endeavors into the world of electronic music. I left Red Rocks last summer as a believer and fan through and through. After the spectacle that took place between the rocks there was no doubt in my mind that I wouldn't be there for at least one of the two nights he announced this summer.
Over the past year I dove deeper into the world of which Bassnectar comes from so I figured I would have been a little more prepared for what was about to happen last Friday night.  Alas, I was not. I now know there really isn't much out there that can prepare you for what Lorin Ashton brings forth between those rocks and under that starry sky.
The set started with a voice coming over the sound system asking "Is everybody in? is everybody ready for the ceremony?" The place erupted with over nine thousand voices screaming praise while "Wildstyle Method" boomed out over the PA.  To say that it was loud would be a disservice and a huge understatement. The frequencies and sounds the man is able to reach rattle your bones from the inside, in the best possible way. The songs become visceral. The sounds emanate almost from within your soul.
While the first half of his set was dominated by songs off of his new album Vava Voom, he also mixed in classic bangers that everyone wanted to hear. One of the highlights of seeing a Bassnectar set is that he isn't just your average press play DJ. He takes advantage of the live setting and uses elements of improvisation. Even though he may be playing one of his songs from one of his albums, it's never going to sound the exact same due to the other samples and effects he uses while performing in front of a crowd.
The experience as a whole is truly something sublime. Although it's easy to see where his sound can be off putting to some folks, since his frequencies and the drops can at times be abrasive, labeling him as simply a Dubstep artist is a travesty to what he does in the name of musical understanding. His transitions are smooth, his beats per minute range from that of laid back Hip-Hop to in your face Drum and Bass. In the span of nearly two hours he touched on so many realms of music that to place him under one brand or genre is impossible. That alone is a reason to get out and see him live.
As I'm sure I mentioned in my review of last year, I could feel my organs vibrating inside my body. Even though that may sound unfortunate, it was far from it. His sounds massage the soul. I found myself at times having trouble even dancing because I was too damn mesmerized by the astounding visuals and pure bliss that was echoing throughout those rocks. Near the end of his set came his version of The Pixies "Where is My Mind" that left me once again confused, amazed, petrified in the most glorious way, as I tried to understand what must be going on inside that man's mind that enables him to create the music he does. He ended the set with the fan favorite "Pink Elephants on the Parade."
By this time I was literally asking myself "where is my mind." That question remained during the entire time I floated back to my ride and clear on into the next day. I met with a few friends later on who have not a clue what a Bassnectar even is and of course their questions always crack me up. Being the punk rockers that they are, it's sometimes hard for them to understand the appeal that a show such as this would have to me. As much as I tried to find the words to explain to them why Bassnectar is one of the most amazing musical spectacles you will ever be a part of, it really can only be explained by the man himself via the sounds he makes. His method is wildly methodical, hypnotizing, maniacal, and just simply beautiful in every sense of the word.
Energy: A
Sound: A
Musicianship: A
Stage Presence: A
Set/Light show: A+
Overall: A  

I rode my skateboard from school in 7th grade to my buddy Vince's house where he put on the song "Perfect Government" by NOFX and I was hooked. The next day I bought the album Duh by Lagwagon. The next year I saw Against Me! at the Starlight Theater in Fort Collins, my mom dropped me off. I've since devoted every waking hour to anything done with passion. My speakerbox bumps everything from Lil' Wayne to Pablo Casals. I was never very good at making music, but I am damn good at listening to it. I've been filling up yellow notepads with random thoughts and misspelled words for as long as I can remember. I enjoy whiskey of all sorts, Newport cigarettes and the company of my family. I've got an addiction to run-on sentences that I'll probably never cure. A solid handshake with a stranger who has become a friend over a few beers means the world to me. You'll often find me wide eyed and wandering with an ear to ear grin. I live for funky break beats and spreading the love.