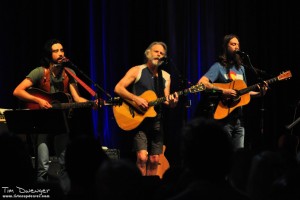 Photos by Tim Dwenger
The Scene: When the Weir Robinson Greene Trio rolled through the front range for three dates that kicked off on Saturday night in Boulder, it was not only a Deadheads dream come true, but also dream come true for fans of The Black Crowes, Chris Robinson, Jackie Greene, and the other projects these three great musicians have been involved in over the years.  The three men came together with a shared for Folk, Blues, and the deeply rooted traditions of American music and their setlists proved that as they didn't repeat a song over the course of six sets of music.
Saturday proved to be the party night and the din of chatter that echoed through the theater all night was a little distracting at times.  It was clear that it was a Saturday night and that people were letting their hair down a bit.  While I've got no problem with that at all, I do like a little more respect for the artists at the quieter shows I go to.  Unlike Jeff Tweedy when he's taken the stage with only an acoustic guitar at The Boulder Theater, the trio didn't seem upset with the crowd on Saturday and only offered up a few spoken words during the two and a half hour performance.
Weir, Robinson, Greene Trio: Walking up to theater at about 8:15, we were faced with a line a hundred or more strong that stretched well around the corner but moved fairly quickly.  Once inside we only had to wait a minute or two for the three ragged looking men to emerge from the shadows and dive into a crowd pleasing "Truckin'" that, despite being a little rough around the edges, got some feet moving and heads bobbing along.  From there the trio slipped into "Loose Lucy," a song I personally think would fit better in the encore slot, and thanked us for a real good time early in the evening.  Judging by the roar of talking as the music faded away, many in the crowd had been having a real good time for several hours before the show even started.
After a couple of songs pulled from the catalogs of the younger players on stage, the solo sections of the night began with Greene nailing versions of "Never Satisfied," and "Gone Wonderin'" with confidence and poise well beyond his years.  Robinson took the stage next and wow'd the crowd with "Reflections Of A Broken Mirror," a song off his upcoming solo release Big Moon Ritual, and surely won over more than one new fan.
What came next was sadly a low point of the night for me, and while many might argue, I just didn't connect with Weir's solo pairing of "Weather Report Suite" and "Let It Grow."  It's not because I don't love these songs, it's just that the energy in the crowd begged for something more than these dreamy jam vehicles.  Despite some obvious flubs and fat fingers, Weir's guitar playing was surprisingly solid as he made his way some tough passages of the twenty minute segment.  When he finished, Weir welcomed his bandmates back to the stage and the set wrapped up much as it had begun with the familiar sing-along, "Casey Jones."
It was an uneven first set, and the second set proved to be much the same as the trio led off with "Stealin'" and then thrilled me when they threw in the upbeat "Wake Up Little Susie" followed by one of my all time favorite Dead tunes, "Deal."  From there we were off on a fairly rough thirty minute segment that transitioned from "Dark Star" to "Death Don't Have No Mercy" to "Easy To Slip."  Now, while I've never been much a "Dark Star" fan, "Easy To Slip" has been one of my favorite Little Feat songs since I was a kid and to say this version was bad doesn't really do it justice.  It just didn't have any of the punch and soul of the original and meandered around with weak harmonies.  I had high expectations for this one and it really let me down.
The set wrapped up in fairly standard fashion with "Knockin' On Heaven's Door" and the obligatory "One More Saturday Night" before the guys left the stage for an encore break.  They returned with "Ripple" and sent us out into the cool night wondering what the rest of the run had in store.  While the show was fun, musically it left a little to be desired and I found myself hoping that Chautauqua would feature a rootsier set from the trio.
Boulder Theater Setlist
Set One:  Truckin' > Loose Lucy, Love Please Come Home, East Virginia Blues, Never Satisfied (JG), Gone Wonderin' (JG), Reflections Of A Broken Mirror (CR), Driving Wheel (CR), Weather Report Suite > Let It Grow (BW), Casey Jones 
Set 2:  Stealin', Wake Up Little Susie, Deal > Dark Star > Death Don"t Have No Mercy > Easy To Slip, Knockin' On Heaven's Door, One More Saturday Night 
Encore: Ripple 
Energy: B
Sound: A-
Musicianship: A-
Stage Presence: A-
Set/Light show: B
Overall: B+
Music has always been a part of my life. It probably all started listening to old Grateful Dead, Peter Paul & Mary, and Simon & Garfunkel records that my parents had, but it wasn't long before they were taking me to concerts like Starship, Crosby, Stills & Nash, and Huey Lewis & The News. I got the bug to write about music after reviewing an Eric Clapton concert for a creative writing project in high school but didn't really take it up seriously until 2002. Since then I have published countless articles in The Marquee Magazine and done some work for Jambase.com, SPIN Magazine, and various other outlets. I started Listen Up Denver! as a way to share the music information that is constantly spilling out of my head with people who care. Please enjoy!