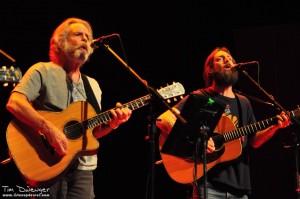 Photo by Tim Dwenger (From Monday Night)
The Scene: There's nothing like a sunny, Sunday evening in the Poudre Canyon to play host to a fantastic acoustic performance by three of the best in the business and Bob Weir, Jackie Greene and Chris Robinson fit the bill perfectly on Sunday as their short acoustic tour rolled into the cozy confines of Mishawaka Amphitheatre.  Not knowing what to expect out of such an accomplished crew, I arrived wide eyed and full of excitement to a packed crowd of dead heads, older couples and music lovers ready to see Bobby do his thing alongside the legendary voice of Chris Robinson and the smooth Guitar and Banjo of Jackie Greene.
Weir, Robinson, Green Trio: The show started early under the late afternoon shadows and it wasn't long before the whole crowd was smiling and singing along like It was 1975 all over again.  Opening with a gorgeous yet subtle rendition of "Bertha," it was clear this trio has made the most out of their short time touring together.  Their voices were on point, the acoustic guitars shimmered softly, and the song choices were excellent.  It's incredible to see Bobby up there still performing like old times.  Although the man is 64 years old, sports a tangled beard, and reads his lyrics on a digital prompter in front of him, he can still sing like its nobody's business.  His voice was so tremendous in fact that when he took the stage for the solo portion of the show, the crowd fell completely silent and gazed in amazement as he belted out an incredible rendition of The Beatles  "Blackbird."  I know my eyes never left the stage during this portion of the set.
After a short set break and an amazing sunset, the trio returned with "Big Boss Man," Jackie's "Nodoby's Fault But Mine" and a flurry of other tunes capped off by a great run through the legendary couplet of "China -> Rider."  It was an incredibly special show at Mishawaka and one that we may never see again.  Playing with Bobby is obviously a huge honor and I felt that Robinson and Greene did a great job of not overshadowing his presence on stage.  Chris Robinson In particular has a fantastic voice and provided the necessary enthusiasm to keep the show moving.  Greene is a quieter figure on stage, preferring to let his guitar do the talking. Although the energy stayed consistently mellow throughout the whole show, this was still an incredible performance and a fantastic way to end the weekend.
Mishawaka Setlist
Set 1: Bertha, Friend of the Devil, Oh Boy!, Deep River Blues, I Don't Live in a dream (JG), Tell Me Mama (JG), Sunday Sound (CR), Appoloosa (CR), Blackbird (BW), Jack Straw (BW), I Am A Pilgrim, Tennessee Jed 
Set 2: Goin' To Alcapolco (CR), Big Boss Man, Nobody's Fault But Mine (JG), Oh Elijah! (CR), Dear Prudence, China Cat Sunflower > I Know You Rider 
Encore:  Uncle John's Band
Energy: B+
Sound: A+
Musicianship: A
Stage Presence: A-
Set/Light Show: A
Overall: A 

I've worked various positions in the music industry with Madison House, Rock The Earth and Bohemian Nights. My dream is to travel the world and seek out all the good tunes, beer and food that make life so special. I have a healthy obsession with live music and I'm thrilled to share the epic moments with you.