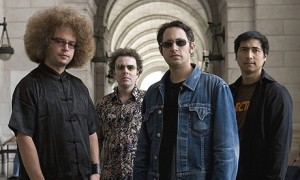 In the '70s, the organic rhythms of funk music filled dance floors in clubs across the country with gyrating masses of sweaty partygoers who just couldn't get enough of the deep grooves. Bands like Parliament-Funkadelic, Sly and the Family Stone, and The Meters followed James Brown's lead and their bottom-heavy styles went on to influence the sounds of disco, house, hip-hop and many other genres. Though the funk craze subsided as metal and new wave took off in the '80s, people have never lost the craving for primal music that makes them want to get out on the floor and move.
Enter Fort Knox Five. The group, made up of Steve Raskin, Jon Horvath, Rob Myers, and Sid Barcelona (which, if you're counting, is only four members strong, despite their moniker), has been cranking out original and "reminted" dance-floor-ready masterpieces of electro-funk through their own Fort Knox Recordings label since 2003. In the four years leading up the creation of Fort Knox Five the group was recording as Thunderball for  Thievery Corporation's label Eighteenth Street Lounge Music (ESL Music). "Thunderball was definitely more down-tempo, soundtracky influenced stuff and Fort Knox was started as a direct extension of that for the dance floor," said Raskin when we caught up with him and Rob Myers, as they were getting ready to listen to a finished copy of their brand new disc The New Gold Standard 2 for the first time.
The album, like its predecessor The New Gold Standard (released in 2006), is a compilation that features artists from their label. "There is a connection between every one of the groups and Fort Knox Five. For a compilation, it is very coherent. Every group spills a little bit onto the other groups. We are all influenced by each other and collaborate with each other," Raskin said. "The group Empresarios, for example, is our conga player Javier's [Miranda] project. Rob [Myers] does International Velvet, and I do Speedy Consuela with my sister, my wife, and my brother-in-law. Each project allows us, to explore our own territory and have a home for it."
One of the songs that is featured on the record is International Velvet's cover of one of the legendary Gordon Lightfoot's most beloved songs, "Sundown." Though just seeing the light of day for the first time, the track was born nearly four years ago when Myers' father was in the last stages of terminal cancer. "There was nothing that I could do for him," Myers said. "He had introduced me to Gordon Lightfoot when I was a kid and that was one of my favorite tracks. I recorded it in the studio and it was the last thing he ever heard. The sincerity of the track is that it was never recorded for release; it was recorded for that purpose."
While that track does carry with it a certain emotional weight due to its back story, the sitar laden, down-tempo tone of the track fits in well alongside the Latin and Caribbean rhythms that dominate the release. Of the four new Fort Knox Five tracks included in the set, the dance-ready "The Sax Pusher" stands out immediately and screams old school funk through the horn of Fort Knox and Thievery Corporation collaborator, Frank Mitchell. "'The Sax Pusher' is totally in the vein of classic Fort Knox; floor funk, organic R&B soul breaks," said Myers. "It is funny because Frank laid down a one-take sax solo to 'The Party Pushers' [from the Fort Knox Five album Radio Free DC] that was incredibly good, but we only ended up using a few notes of it in the final mix because we just needed a little pop. So we had this solo that went on for 32 or 64 bars and we wrote the whole song around that one solo."
Though it's been updated and modernized with cutting edge technology, the Fort Knox sound has been obviously and profoundly influenced by the forefathers of funk and their  live performance is guaranteed to keep the dance floor gyrating until the last beats fade away.

Music has always been a part of my life. It probably all started listening to old Grateful Dead, Peter Paul & Mary, and Simon & Garfunkel records that my parents had, but it wasn't long before they were taking me to concerts like Starship, Crosby, Stills & Nash, and Huey Lewis & The News. I got the bug to write about music after reviewing an Eric Clapton concert for a creative writing project in high school but didn't really take it up seriously until 2002. Since then I have published countless articles in The Marquee Magazine and done some work for Jambase.com, SPIN Magazine, and various other outlets. I started Listen Up Denver! as a way to share the music information that is constantly spilling out of my head with people who care. Please enjoy!