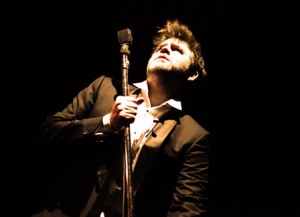 On April 2nd, 2011 LCD Soundsystem played their final show at New York's Madison Square Garden and film makers Dylan Southern and Will Lovelace were on hand to capture the madness.  What they produced is by all accounts a stunning visual experience and in the words of one critic it's "The Last Waltz for the electro-DJ-generation."  Now, for one night only, we all get to witness the film in all it's glory at movie houses around the country.
Here in Colorado Shut Up and Play The Hits will be screening at The Boulder Theater in Boulder, The Landmark Mayan in Denver, and The Lyric in Ft. Collins.  Tickets for The Mayan are on-sale now, and The Boulder Theater goes on-sale today, June 8th, please monitor the Lyric site for information on those ticket sales.
In related news, LCD Soundsystem mastermind James Murphy will be playing a DJ set at The Boulder Theater on August 2nd.
| | | |
| --- | --- | --- |
| Date | City | Theater |
| 07.18.12 | Albany, NY | Spectrum |
| 07.18.12 | Albuquerque, NM | Guild |
| 07.18.12 | Annapolis, MD | Harbour 9 |
| 07.18.12 | Asheville, NC | Fine Arts |
| 07.18.12 | Athens, GA | Cine |
| 07.18.12 | Atlanta, GA | Landmark Midtown Art |
| 07.18.12 | Austin, TX | Alamo Drafthouse South Lamar |
| 07.18.12 | Baltimore, MD | Landmark Harbor East |
| 07.18.12 | Baton Rouge, LA | Rave Mall of Louisiana |
| 07.18.12 | Beavercreek, OH | Rave The Greene 14 |
| 07.18.12 | Bellingham, WA | Pickford Cinema |
| 07.18.12 | Berkeley, CA | Landmark Shattuck |
| 07.18.12 | Bethlehem, PA | Arts Quest |
| 07.18.12 | Boston, MA | Landmark Kendall Square |
| 07.18.12 | Boulder, CO | Boulder Theater |
| 07.18.12 | Brooklyn, NY | BAM Cinematheque |
| 07.18.12 | Brooklyn, NY | reRun |
| 07.18.12 | Burlington, VT | Palace 9 |
| 07.18.12 | Chicago, IL | Music Box |
| 07.18.12 | Cincinnati, OH | Contemporary Arts Center |
| 07.18.12 | Claremont, CA | Laemmle Claremont 5 |
| 07.18.12 | Cleveland, OH | Cedar Lee |
| 07.18.12 | Columbia, MO | Ragtag |
| 07.18.12 | Columbus, OH | Rave Polaris 18 |
| 07.18.12 | Dallas, TX | Angelika Film Center |
| 07.18.12 | Dennis, MA | Cape Cinema |
| 07.18.12 | Denver, CO | Landmark Mayan |
| 07.18.12 | Detroit, MI | Main Art |
| 07.18.12 | Duluth, MN | Zinema |
| 07.18.12 | Durham, NC | Rave Southpoint 17 |
| 07.18.12 | East Ridge, TN | Rave Eastridge 18 |
| 07.18.12 | Eugene, OR | Bijou Art Cinemas |
| 07.18.12 | Fairfax, VA | Rave Fairfax Corner 14 |
| 07.18.12 | Ft. Collins, CO | Lyric |
| 07.18.12 | Ft. Wayne, IN | Rave Jefferson Point 18 |
| 07.18.12 | Ft. Worth, TX | Rave Ridgmar Mall 13 |
| 07.18.12 | Grand Rapids, MI | Urban Institute Contemporary Arts |
| 07.18.12 | Greensboro, NC | Lyndon Street Artworks |
| 07.18.12 | Hartford, CT | City Cinema @ Palace |
| 07.18.12 | Honolulu, HI | Kahala 8 |
| 07.18.12 | Hoover, AL | Rave Patton Creek 18 |
| 07.18.12 | Houston, TX | Landmark River Oaks |
| 07.18.12 | Huntington, NY | Cinema Arts Center |
| 07.18.12 | Huntsville, AL | Rave Valley Bend 18 |
| 07.18.12 | Indianapolis, IN | Landmark Keystone Art |
| 07.18.12 | Iowa City, IA | Englert |
| 07.18.12 | Ithaca, NY | Cinemapolis |
| 07.18.12 | Jacksonville, FL | Sun-Ray Cinemas |
| 07.18.12 | Kalamazoo, MI | Rave City Place 14 |
| 07.18.12 | Kansas City, MO | Tivoli |
| 07.18.12 | Las Vegas, NV | Rave Town Square 18 |
| 07.18.12 | Lincoln, NE | Mary Riepma Ross Film Center |
| 07.18.12 | Little Rock, AR | Market Street |
| 07.18.12 | Long Beach, CA | Art Theatre |
| 07.18.12 | Los Angeles, CA | Rave 18 |
| 07.18.12 | Los Angeles, CA | ArcLight Hollywood |
| 07.18.12 | Louisville, KY | Rave Stonybrook 20 |
| 07.18.12 | Manchester, CT | Rave Buckland Hills |
| 07.18.12 | Miami, FL | Tower Theater |
| 07.18.12 | Milford, CT | Rave Connecticut Post 14 |
| 07.18.12 | Milwaukee, WI | Landmark Downer |
| 07.18.12 | Minneapolis, MN | Landmark Lagoon |
| 07.18.12 | Mobile, AL | Crescent |
| 07.18.12 | Montgomery, AL | Rave Festival 16 |
| 07.18.12 | Nashville, TN | Belcourt |
| 07.18.12 | New Haven, CT | Criterion |
| 07.18.12 | New York, NY | Landmark Sunshine |
| 07.18.12 | New York, NY | 86th Street East |
| 07.18.12 | Omaha, NE | Film Streams |
| 07.18.12 | Orlando, FL | Enzian |
| 07.18.12 | Ottawa, ON | Mayfair |
| 07.18.12 | Oxford, MS | Lyric |
| 07.18.12 | Palo Alto, CA | Landmark Aquarius |
| 07.18.12 | Pasadena, CA | Laemmle Playhouse |
| 07.18.12 | Peoria, IL | Rave Grand Prairie 18 |
| 07.18.12 | Philadelphia, PA | Rave University 6 |
| 07.18.12 | Phoenix, AZ | Harkins Valley Art |
| 07.18.12 | Plano, TX | Angelika Film Center |
| 07.18.12 | Portland, ME | Space Gallery |
| 07.18.12 | Portland, OR | Hollywood |
| 07.18.12 | Providence, RI | Cable Car |
| 07.18.12 | Reston, VA | Reston Town Center 13 |
| 07.18.12 | Richmond, VA | Movieland @ Blvd. Square |
| 07.18.12 | Rochester, NY | The Little |
| 07.18.12 | Sacramento, CA | Crest |
| 07.18.12 | Salt Lake City, UT | Tower Theatre |
| 07.18.12 | San Diego, CA | Landmark Hillcrest |
| 07.18.12 | San Francisco, CA | Landmark Embarcadero |
| 07.18.12 | San Francisco, CA | Balboa |
| 07.18.12 | Santa Fe, NM | CCA |
| 07.18.12 | Schenectady, NY | Movieland 6 |
| 07.18.12 | Seattle, WA | Cinerama |
| 07.18.12 | Spokane, WA | Magic Lantern |
| 07.18.12 | Springfield, MO | Moxie |
| 07.18.12 | St. Louis, MO | Landmark Tivoli |
| 07.18.12 | Stamford, CT | Majestic 6 |
| 07.18.12 | Toledo, OH | Rave Franklin Park 16 |
| 07.18.12 | Toronto, ON | Bloor |
| 07.18.12 | Tucson, AZ | The Loft |
| 07.18.12 | Tulsa, OK | Circle |
| 07.18.12 | Voorhees, NJ | Ritz Center 16 |
| 07.18.12 | Washington, DC | Landmark E-Street |
| 07.18.12 | West Chester, OH | Rave Westchester 18 |
| 07.18.12 | West Springfield, MA | Rave West Springfield 15 |
| 07.18.12 | Wilmington, DE | Theatre N |
| 07.18.12 | Winston-Salem, NC | Aperture |
| 07.18.12 | Ypsilanti, MI | Rave Ann Arbor 20 |