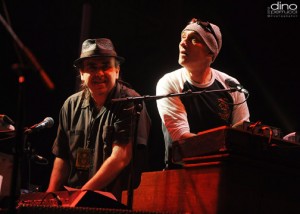 Photos by Dino Perrucci, Allison Murphy, and Brian Turk
The Backstory: I was sitting on my parents couch in Saugerties, NY last Saturday morning and the constant rain the two weeks I had been home was getting me down. Add in the fact that Gov't Mule and The Levon Helm Band were going to do a tribute to Levon at the Mountain Jam Festival thirty miles away, and I wasn't going to be there, well I was downright morose, and possibly pouting a bit.
My first weekend home found me at my sister Caitlin's college graduation, and that alone would have made my trip a memorable one, considering how much I love my sister, but I attended another big event less than a week later. Saturday May 26th 2012 would have been Levon Helm's 72nd birthday, and a concert to celebrate his life was held at "The Barn," and  I got to be there with my sister and parents. It was a great night of music, and one filled with many emotions (Editor's note: Read Brian's account of that Ramble here). So when I was sitting on my folks couch last Saturday, I was not only affected by rain and a bit of disappointment, but in that weird space at the end of a long trip when you are pondering your return to the real world, and thinking about how much you are going to miss where you are.
My father voice interrupted my dreary thoughts. He called me into the kitchen where he was sitting and told me he I had just been invited to ride up to Mountain Jam with The Levon Helm Band, attend their rehearsal with Gov't Mule, and then be able to watch this highly anticipated tribute. My frown was quickly turned upside down. The invitations to the ramble the week before, and to Mountain Jam had nothing to do with me, but happened only because of my father, who has been a member of "Team Levon" for the past few years. The Levon Helm Band and the other staff at Levon Helm Studios have always interacted like family, and spending time with this family during such a memorable event meant the world to me. Thanks to all who made it happen.
The Scene: As we cozied up in vans for the 35 minute drive from Levon Helm Studios to Hunter Mountain, I stared out the window at the Catskill Mountains. Those hills were influential to The Band, and The Band's music has always made me feel at home because of that fact. Mountain Jam was the perfect place for this tribute to be happening! Arriving at the rehearsal space, the members of Gov't Mule greeted The Levon Helm Band, and the family grew larger. After some catching up, they got right to work. This was only the second time The Levon Helm Band was playing together since Helm's death on April 19th, and it was also a reminder of Levon's 70th Birthday Ramble on the same stage with the same people two years prior. The musicians got right in the groove, which was no surprise considering the talents of each individual in that room. While the band was running through the material, I started to get giddy. Sure, our minds were on Levon, but the goal was to celebrate his music with thousands of people in the mountains that he called home, and that's just what we were about to do! There were lots of smiles, but also a lot of feelings in that room.
Gov't Mule and The Levon Helm Band: After a killer set by Gov't Mule, The Levon Helm Band joined the stage for the tribute. The talent that was on the stage was humbling. Here is the line up: Warren Haynes (guitar) and Danny Louis (Keys) from Gov't Mule; Larry Campbell (guitar), Brian Mitchell (keys/accordian), Jimmy Weider (guitar), Teresa Williams (vocals), Byron Isaacs (bass), Justin Guip (drums), Earl McIntyre (trombone), Jay Collins (sax), Kenny Rampton (trumpet) , Blue Lou Marini (sax) and Howard Johnson (tuba) from The Levon Helm Band. Unfortunately, Levon's daughter Amy was unable to make the performance.
The Levon Helm Band horn section was one of the highlights of the night for me, and they acted as heralds of Levon's memory as they blew the first notes of "The Night They Drove Old Dixie Down." The energy was intense! Haynes sang that song with a southern growl that was both pensive and passionate; just how the song was meant to be sung. "Up On Cripple Creek" was boisterous and Brian Mitchell looked like he was having the time of his life! His enthusiasm was contagious as he stood behind his keys and leaned into the microphone. Matt Abts from Gov't Mule played drums on "Up On Cripple Creek," but otherwise Justin Guip was in "the hot seat." Guip has been a member of The Levon Helm Studios family for a long time, and while he looked good up there, I would have loved to see Randy Ciarlante behind the kit for a few. Ciarlante played a couple of songs at the birthday ramble, and his style really reflects the years he drummed with Levon.
"Ophelia" is the song that makes me think of Levon's triumphant return to music during his battle with cancer. I really have no idea why. Maybe because it looks so hard to sing. He put every ounce of what he had into that song no matter how he felt. It tested his limits at times, but always showed just how strong that man was. Dancing in the chilly air to that song, I couldn't help but keep staring up at the moon. Levon's absence was marked by a candle on the drum riser on the stage, but his presence was also marked by that moon which was as bright as Levon's smile. The dancing continued during "The Shape I'm In," and by now the party was in full swing. Each musician played as if it may be there last time, and as if they played their hearts out, he might just come back to us for one night. Well they succeeded. Not only was he looking down, he was standing next to all of us with his hand on our backs, pushing us closer to the music.
Larry Campbell has always been the leader of the band, and he took the lead on vocals for "This Wheel's On Fire." Campbell is more known for his guitar playing than his crooning skills, and he and Jimmy Weider traded some hot licks during "It Makes No Difference," The combined styles, tones and talent of Haynes, Cambell, and Weider was a guitar lover's dream. Byron Isaacs had switched to an electric bass for the night, instead of his usual upright, and he didn't miss a beat. I would love to see that side of Issacs more in the future.
Levon always closed his Rambles out with "The Weight," whether at home or on the road, and the tradition was kept last Saturday. Right as Jorgen Carlsson, Machan Taylor, Corky Lang, & Lukas Nelson walked on to the stage for the song, I made my way around the back, and stood next to my father side-stage, where he had been the entire set. It was a bittersweet moment. I was overjoyed to have shared this experience with my father, but I also saw the sadness in his face. Levon wasn't going to be walking towards him after the song was over, and I think he was still expecting him to, or wishing he would. Theresa Williams absolutely crushed her verse of "The Weight," and the audience erupted for her passion.
As I looked at all of the members of The Levon Helm Band when they lined up at the end of the night, I saw a band in transition and a family in mourning. I saw a group of extremely talented musicians who are willing to do whatever it takes to get through this, and to keep Levon's legacy going strong. The pain of Levon's death is still etched deeply in the hearts of many, and will continue to be for a long time, but the joy his music creates is just as powerful. The two shows I got to see while I was home showed just how hard this family of musicians and staff are willing to work to keep this thing going, and for everyone to ramble on.
Energy: A+
Sound: A-
Musicianship: A+
Stage Presence: A
Set/Light show: A-
Overall: A
Brian Turk grew up in the shadow of the Catskill Mountains, near Woodstock, NY. He comes from a family of music lovers, audiopliles, Dead Heads and avid concert goers.The musical magic that can only be created in the Catsklills, both past and present, is what Brian cosiders the epicenter of his music addiction. The music of The Band, and most recently The Levon Helm Band, is the soundtrack of home for him. Brian's mother took him to his first concert at 5years old...it was Johnny Cash and Roseanne Cash at Jones Beach Amphitheatre. For Brian, music is a family affair. He feels the same way about live music...we all convene to celebrate together. Brian's writing life started when he wrote his favorite author, southern fiction writer Clyde Edgerton, a fan letter at age 13. When most kids were idolizing baseball players and television, he was worshipping writers and musicians. The two became friends and Clyde shared his craft with Brian. The next year Brian attended Duke University's Young Writers Camp. This is the extent, of what Brian considers, his "formal" training in writing. From then on his goal was to capture snapshots of life through words. Brian has been involved with live music in various facets over the years, and combined with his enthusiasm and love for Denver's music scene, he creates a vivid description of what he sees and hears. If you see him out at a show, dancing with a notebook in hand, say hello.