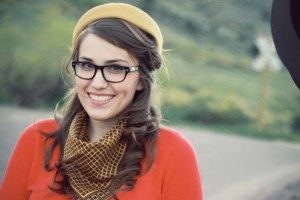 Daniele Ate the Sandwich began charming the socks off The Front Range over four years ago, and her new album shows us a more mature, yet just as adorable side of the Ukulele-wielding Folk singer. Like A King is Danielle Anderson's fourth full length album, and the well-produced and detailed sound reflects how far this young artist with an old soul has come. Listen Up Denver! had the chance to catch up with Colorado native Anderson, and she shared some introspective thoughts with us. What?…Are you surprised? It's what this woman does best!
Listen Up Denver!: Let's talk about your new album, Like A King. What's different about it? What's the same about it? What do you love about it?
Danielle Anderson: There are days when I feel like it is really different, kind of cooler sounding, and more youthful in the sense that the bar crowds that I sometimes skim over will appreciate it and like it. Other times I listen to it and it sounds a lot like my other songs. Sometimes I feel like I really haven't changed at all, like my songwriting style hasn't really grown up or evolved. So, I guess depending on what day you ask me, I will probably give you a different answer. I think it's better and a little cooler. I felt more comfortable in the studio, and I think that comes through in the performance; in the singing and expression. I was also more comfortable with the band, and they've been around me for a while so they know what my limits are, and what I am wanting and not being able to say. They were really good at suggesting things that weren't too out of the box, but they were things that I never would have thought of.  The cohesiveness of the group sound pulls together a lot more too. It's less like I hired these people to play in the studio with me, and more like these are my friends and we've been playing together for a while.
LUD!: You just said that you thought your songwriting hasn't really changed that much over the past few years. You've been doing this what, six years now?
DA: I have been doing it professionally for four years, but I've been writing and playing for probably six years, and writing for even longer, so six years sounds about right.
LUD!: You write very honestly and introspectively; making deep observations of the world around you. Do you really see that style changing for you?
DA: No, I don't. Six years ago I was writing about boys I thought I was in love with, and I kind of expected to grow out of that in a way, and some days I feel like I have, and some days like I haven't. I don't ever want to grow out of my point of view, because that's exactly who I am, but I guess I expected subject matter to change, or even just taking a leap of faith and saying I'm going to write a song this way. Just getting more comfortable in saying I've written songs from my perspective, now I am going to try something weird. Maybe I wouldn't release it, or maybe it wouldn't be effective, but just trying different things. So far I've noticed that when I write and tell my stories, and it's still very close to where it started. 
LUD!: Did your writing start before writing music specifically? Did you write just to process your feelings before you started putting it too music? You started playing guitar first, is that right?
DA: I starting playing guitar when I was in high school, but I was writing songs before that. I was an English kid, and I wrote lots of stories and poems, but I guess I didn't consider myself a writer, you know what I mean. 
LUD!: You are pretty honest on stage.  Does that take anything out of you?
DA: It's actually pretty easy for me. What I worry about is offending people in my life. I say things about my grandma, and my boyfriend, and about my family, and they say things that are kind of embarrassing to me, whether they are true or not. Not just in my songs, but jokes or comments on stage. So it's easy for me to be honest, but I notice myself saying "Danielle you shouldn't do this because some of these stories aren't just yours; or the truth behind some of these songs isn't just your truth, you know, you don't own them." So I worry about the repercussions of getting off stage and dealing with people in my personal life. It's not hard for me to be honest, but it's hard for me to live in a regular world of human interaction and relationships afterwards, because I have to remember not to say everything. Sometimes I am more honest on the stage than I am with the people in my life, so that can be a dangerous place. When people go "I didn't know you felt that way until I heard you play that song. What's going on?" Being honest on stage isn't hard, but censoring myself is.
LUD!: I think when people glance at your sound quickly; they see a young girl with a Ukulele who produces a popish sound. Then when they get into your music more, they realize it's really Folk music, which comes out more in the lyrics than the musical presentation. Considering Folk music isn't what you normally listen too, how did you decided to write the kind of music you write and pick up a Ukulele? Did you grow up on folk music?
DA: Yeah, I definitely didn't grow up on Folk music. I am kind of jealous of people who are like "my Dad played Joni Mitchell records for me." I didn't know who Joni Mitchell was until I was like 21. My mom was kind of a casual music listener. She loved Michael Jackson and Michael Bolton, you know, "the Michaels." So my mom kind of listened to the radio, and listened to what was popular at the time. With my Dad, he has more intricate tastes like Elton John and Steve Miller Band, so maybe his tastes kind of grew in the seventies and he never grew out of them. But I never remember listening to records and saying, "This is what I want to do; this is what I have to do."I think at the time they were probably too weird for me. So, I have no idea how I came to be a folk singer. Maybe it was just in me. I guess listening to Sarah McLachlan in high school was when I connected with an artist and said, "I want to start writing music that sounds like this."
LUD!: If you weren't playing music, what would you be doing?
DA: That's a really good question. I think I would be a small business owner. I would try to do some sewing, which is what I went to school for. Maybe selling to local boutiques or trying to sell a line, or at craft fairs. That's kind of where I thought I would end up. I can also see myself working at a gas station or something. I think I am good enough at plenty of things, but I don't imagine myself every working at a firm or some corporate job where I have to look a certain way and get to work by 9. So, I don't know where I would be if I wasn't here. I surprisingly don't think about it that much. I'm a worrier, and it surprises me that in the back of my mind I'm not constantly dwelling on it. I focus on what I have to do to make enough money at this so I don't ever have to do anything else. I have never thought that I needed another plan if this doesn't work out; which is reassuring to me. I have gotten to the point where I don't really care about being famous, or having a million dollars. It's gotten very bare bones for me. I haven't given up on my dreams and goals, but for now I just want to be able to keep doing this.
Danielle Ate The Sandwich will be having a CD Release Show for "Like A King" at The Bluebird Theatre on Sunday June 10th.
Time: 7:00pm
Admission: $12 adv/$15 DoS
Featuring Ian Cooke and Chris Daniels (solo)
This show will be with the FULL BAND. 16+
Brian Turk grew up in the shadow of the Catskill Mountains, near Woodstock, NY. He comes from a family of music lovers, audiopliles, Dead Heads and avid concert goers.The musical magic that can only be created in the Catsklills, both past and present, is what Brian cosiders the epicenter of his music addiction. The music of The Band, and most recently The Levon Helm Band, is the soundtrack of home for him. Brian's mother took him to his first concert at 5years old...it was Johnny Cash and Roseanne Cash at Jones Beach Amphitheatre. For Brian, music is a family affair. He feels the same way about live music...we all convene to celebrate together. Brian's writing life started when he wrote his favorite author, southern fiction writer Clyde Edgerton, a fan letter at age 13. When most kids were idolizing baseball players and television, he was worshipping writers and musicians. The two became friends and Clyde shared his craft with Brian. The next year Brian attended Duke University's Young Writers Camp. This is the extent, of what Brian considers, his "formal" training in writing. From then on his goal was to capture snapshots of life through words. Brian has been involved with live music in various facets over the years, and combined with his enthusiasm and love for Denver's music scene, he creates a vivid description of what he sees and hears. If you see him out at a show, dancing with a notebook in hand, say hello.