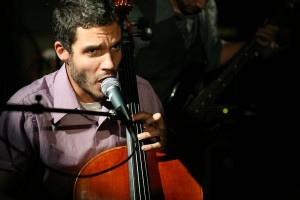 Why You Should Go: The Denver Film Society is sponsoring three neighborhood block parties and the first one is this Thursday, June 14th from 5-9 p.m. at the Lowenstein CulturePlex, 2510 E. Colfax, home to the Denver FilmCenter/Colfax, Tattered Cover, and Twist & Shout.  The CulturePlex rooftop will open at 5 p.m., music begins at 6 p.m. and as an added bonus, attendees will be given an invitation for a free feature film screening at 9 p.m. on the evening of the party, or have the option to return for a film on a future day.
These RAISE THE ROOF parties will feature local food, drinks and one of the best views of Denver's skyline and the Rocky Mountains as seen from the roof of the Denver FilmCenter/Colfax.  This week's neighborhood celebration will feature free live music from Ian Cooke and Chella Negro & The Charm along with the comedy of The Fine Gentleman's Club.  
Singer, songwriter, cellist, pianist – Ian Cooke has appeared in SPIN magazine, Finished #1 in the Denver Post Music Poll in 2009, and has been voted Best Avant-Pop for 3 years by Westword Magazine.  He also plays cello on Crooked Fingers' album Forfeit/Fortune and his two songs appeared alongside Billy Bragg, Owen Pallett, and M Ward on Versions of Joanna – a Joanna Newsom covers-album.  He has toured in the US and Australia playing with: The Dresden Dolls, Crooked Fingers, Built to Spill, The Decemberists, The Flaming Lips, Blonde Redhead, DeVotchKa, Rasputina, Wovenhand, Pedro the Lion and many more.
Venue:
Roof of the Lowenstein CulturePlex, 2510 E. Colfax, Denver, CO 80206
Doors:
5:00 PM
*Price:
FREE!!!
*All times and prices are gathered from other sources and we are not responsible for mistakes or inconsistencies. They are intended only as guidelines. Please, always call the venue if you desire the most accurate information possible.