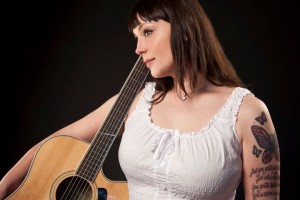 Chella Negro has been spicing up the Denver Folk scene for the past few years, and connecting with her audience might be one of the main reasons for Negro's success. A stage performer since elementary school, Negro doesn't just simply play her songs; she lets you into her life via stage banter and meaningful lyrics. Listen Up Denver! had a chat with the woman we once dubbed the "hipster queen of the folk roller derby ball," and her charm on the phone was just as captivating as on the stage. Ah, theater chicks.
Listen Up Denver!: So Ms. Negro, give me a brief history of your involvement in Denver's Music Scene.
Chella Negro: I moved out to Denver in 2000 and joined a band right away. I was the singer in a Jamband called Purple Buddha for seven years. Then the band broke up, and I decided that I didn't want to stop playing but I wanted to do something on my own. I didn't play anything instrument wise. I was a singer, and a singer only, since I was eight years old. My ex-boyfriend wound up buying me a guitar, which I called the "guilt-ar," and I taught myself how to play on that. Eventually I started writing songs on my own, and finding my own voice. I realized that the kind of music I naturally made on my own was kind of Country and Folk based so I stuck with that route, and kept writing songs.
LUD!: So how long have you been playing guitar?
CN: Four years or so.
LUD!: It must have taken you a while to build enough skill to actually step on a stage since you were starting from scratch.
CN: I put myself on the stage rather quickly. I just kind of threw myself into it which remains the theme of my Denver music career. I came up with a 15-20 minute set, and started hitting up the open mic's up in the mountains where I was living at the time.
LUD!: How did you compensate for your lack of skill on guitar?
CN: Part of the reason I gravitated towards folk music, honestly, is because it was so easy. I started off playing simple chord structures, and made up for it vocally, and by having different rhythm structures in my strumming. I tried to keep it interesting. I ran a record store for twelve years, so it was important for me not to make boring music. I had a small skill set, and I was just one girl, but I tried to make it as interesting as possible, despite my abilities.
LUD!: You really invite the audience in during your shows. Your lyrics are heavy, but you have a joking stage presence. How do the humor and music blend?
CN: I have had people come up to me after a show and say things like "I feel like I know you." I like that. I also like sharing that really personal stuff in my songs, and then making a joke about dental damns or something. I was born and raised to be a singer, and was a double major in college…theater and vocal performance. I have been doing theater and singing since I was ten. When I went solo, I started feeling really alone on the stage, and relied on the audience to be in on a joke with me sometimes. My songs are really serious, possibly depressing. I feel that if there wasn't an upswing to it, I would just help to create alcoholics and suicide victims by the end of the show. That led to me getting into the Denver comedy scene, and performing with a all woman's comedy troupe. I look at somebody like Dean Martin, and try to be like that. I want to be the Dean Martin of Denver. He was a performer that could do everything. His audiences never got bored. I don't ever want people to be bored at my shows.
Negro's performances are anything but boring, and she combines humor with heartfelt honesty while on stage. Negro will next be performing on Thursday, June 14th, at Raise The Roof – a neighborhood block party put on by The Denver Film Center. Other performers include Ian Cooke and the comedy of The Fine Gentleman's Club. The event will be hosted by Denver MC Magic Cyclops.

Brian Turk grew up in the shadow of the Catskill Mountains, near Woodstock, NY. He comes from a family of music lovers, audiopliles, Dead Heads and avid concert goers.The musical magic that can only be created in the Catsklills, both past and present, is what Brian cosiders the epicenter of his music addiction. The music of The Band, and most recently The Levon Helm Band, is the soundtrack of home for him. Brian's mother took him to his first concert at 5years old...it was Johnny Cash and Roseanne Cash at Jones Beach Amphitheatre. For Brian, music is a family affair. He feels the same way about live music...we all convene to celebrate together. Brian's writing life started when he wrote his favorite author, southern fiction writer Clyde Edgerton, a fan letter at age 13. When most kids were idolizing baseball players and television, he was worshipping writers and musicians. The two became friends and Clyde shared his craft with Brian. The next year Brian attended Duke University's Young Writers Camp. This is the extent, of what Brian considers, his "formal" training in writing. From then on his goal was to capture snapshots of life through words. Brian has been involved with live music in various facets over the years, and combined with his enthusiasm and love for Denver's music scene, he creates a vivid description of what he sees and hears. If you see him out at a show, dancing with a notebook in hand, say hello.