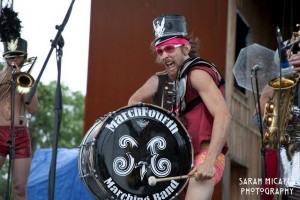 Photos by Johne Edge and Sarah Henderson 
Arrival and Day 1
"I haven't reached the apex of my beer bell curve yet."
– Quote from fan Pauly, Arkansas
After an evening of glow-in-the-dark "beersbie" with the neighbors and an early entry walk-a-bout to get a feel for the grounds, we tucked ourselves into our tents with the anticipation of the big thunderstorm that had been predicted.  Wakarusa had warned its campers that they could expect severe weather Wednesday night.  However, when we awoke on Thursday morning, we were very relieved to see that the forecast had been exaggerated.  Sure, it rained, but the front brought unusually mild temperatures with it, and our camp was thrilled to be able to enjoy the beauty of Mulberry Mountain minus the sweat.
Thursday began with a check in at the Silver Surfer Vaporizer merchandise tent.  Connie, Dave, Jeremiah, and Chris were already in the full swing of business, selling beautiful glass as well as raffle tickets for the opportunity to win signed vaporizers from Chris Robinson, Umphreys McGee, Slightly Stoopid, and Iration.  When we told Connie about our first stop of the day – Colorado  Waka Winter Classic winners, SunSquabi – she graciously donated a congratulatory vaporizer that would keep them "Rocky Mountain High."
The Satellite Stage would have been a well kept secret if it wasn't bumping nonstop electronic beats.  It was there that we met up with SunSquabi.  Despite a major setback in Austin, where their gear was stolen from their car, they seemed to be having an amazing adventure on their first tour outside of Colorado.
"We've only slept one hour so far, and we're about to rage a set and then probably not sleep again….so we're having an awesome time.  Overnight our rain fly flew off and we all got woken up at the same time and this morning we we're like, 'we're done…'  You know, like, no sleep and hungover and I pop into the tent and then I come back out and say, 'This is the best fucking job in the world,' and then Butters says, 'It's going to be a long weekend in the office.'
SunSquabi mixes live guitar, bass, drums and keys over electro, and they have created a unique electronic hydro-funk sound.  The melding of live instrumentation over produced sounds reminds me of the wildly successful Boulder duo Big Gigantic, and I see these boys continuing on a similar trajectory.  Look for them at the upcoming Sonic Bloom in Georgetown, their headlining show at The Bluebird on June 30th, and at State Bridge's River Beats at the end of July.
For the first time in the three years that I've attended Wakarusa, I was not dreading the blistering heat that Main Stage is notoriously known for.  Once again, a big shout out to Mother Nature for providing perfectly clear skies and cool breezes for one of my favorite bands, and Bay Area funkateers, ALO.  They lead their afternoon set with "BBQ->Eye of the Tiger->BBQ" and a delicious dancefloor demolition ensued for an hour and a half.   Even giant Gumby got groovy.
Up next were SSV wave riders, Lance Herbstrong.  This trio creates huge soundscapes by weaving together classic samples such as Clapton's "Cocaine" with Bill Sarver's big beats, Kamal Soliman's percussive rhythms, and the soaring guitar riffs of former Porno for Pyros' guitarist Peter DiStefano.  In true rock star fashion, Peter worked the crowd, as well as several beautiful dancers waiting to perform with the following act, Govinda.
As the sun set, Main Stage filled to capacity for the Weir, Robinson and Greene Acoustic Trio.  The hour and a half set was probably too mellow for some of Wakarusa's younger generation, but for many it was an honor to spend an evening with this iconic band of brothers.  The Grateful Dead classic, "New Speedway Boogie," got Mulberry Mountain folks revved up with the line, "I spent a little time on the MOUNTAIN," and they showcased their outstanding musicianship as soloists as well.  However, my favorite moment, strangely enough, was after I left main stage and headed back to camp to retrieve warm layers for the evening.  Our campsite, stationed at the top of the hill, had wonderful acoustics and I had the opportunity to hear "Deep Elem Blues," mingle with the funky sounds of The Motet in the Revival Tent.  This unintentional mash-up of genres might offend a musical purist, but it was ear candy to me and a memorable Waka moment, for sure.
With LED hoops in hand, I quickly departed camp to catch the Pretty Lights' "inflatables parade."  Wakarusa has one of the friendliest and most inclusive forums of any festival I know, and a thread about the parade had been brewing for a while.  It did not disappoint, and a medley of giant beach balls, sharks, dinosaurs, and an enormous birthday cake all bobbed and weaved in and out of Pretty Lights crowded dance party.  The night brought a chill to the air that Canadian owned ElectroFur gladly accommodated, as pretty ladies donned their illuminated hoods, and Mulberry Mountain lit up like a firefly.
Kansas City based Quixotic Fusion closed the Main Stage with their visually stunning performance.  Pictures cannot do justice to what their aerialists can do.  But Quixotic isn't simply a group of performance artists.  Percussion heavy tribal rhythms layered with electronic beats and topped with a superb violinist, all set the stage for a mesmerizing experience that kept many standing out in the cold night air until well after 2 AM.
The Revival tent gave me an opportunity to warm up to the familiar whomps, glitches and wobbles of one more Colorado act, SAVOY, but by 4 AM my tired feet got the best of me and I had to call it an evening.  However, the phrase, "pace yourself," is not in the vocabulary of many at Wakarusa, and the Satellite stage on Thursday night had the lineup to prove it.  Marty Party, NiT GriT, and VibeSquaD played sets until well after the sun came up to greet Friday morning.
"I wandered into this echoing cavern of light and lazers during NIT GRIT and it was crazy. The smoke machine, the lights, the freaking projector display. Kids and adults going crazy with glow sticks and flashing devices. I have never been to a rave, or any INDOOR party like it, and seeing this outdoor delightful madness was phenomenal. The slope of the hill was a little strange to dance on, but I found my sea legs eventually. Nothing comes close to Waka… when I can turn to the man or woman dancing next to me and smile, and they just smile back… Fantastic."
– Quote from fan Hillbillydudeman, Arkansas
Day 2
"So Friday morning we wake up to find this wook in a frog-covered onesie crashed in the middle of our camp along with some random posessions like 2 gallons of lighter fluid, a handle of Jim Beam, and a cardboard box. I was so pissed because not only was he not waking up, but he also left only two rolls from our package of Hawaiian rolls! After he baked in the sun or a few hours, he eventually awoke to my friend's convincing wookie call. Come to find out, he was friends with our neighbors who had combined camps with us, and they had brought their own Hawaiian roles! The guy ended up being super awesome and hooked us up with disco swords that were in his box and treated us to some AMAZING fire dances that he used the lighter fluid for. It was super funny how things turned around from being upset over Hawaiian rolls to total awe from the private light show! Only at Waka!"
 – Quote from fan Wampfunk, Louisiana
Local favorites, Mountain Sprout, started the day with Rye Whiskey for breakfast and a quick interview with Listen Up Denver! to talk about their sound and their upcoming Colorado shows.   By 2:45, Grayson and the boys were primed for the Revival tent.  Their setlist included songs about dry counties, the Ozark Cannabis Club, and screwing the government; all of which made me wonder how auto-biographical the lyrics actually are.  The quartet's fast and furious string shredding and finger picking worked the crowd into a foot stomping frenzy.  If this is hillbilly music, then call me Ellie Mae Clampett, and let's go for a swim in the cement pond.
As the clouds rolled in for a light afternoon shower, the whole Listen Up crew headed over to Main Stage for last year's biggest surprise and crowd favorite, March Fourth Marching Band.  This collective swells to 20 plus members, including several stilt dancers, and with its heavy brass, percussion corp, and electric bass, it is a sonic force like no other.  A mixture of rain and sweat soaked the dancing crowd, who gladly shook their hips to the left and the right and did the "screw the lightbulb" move in unison in an effort to appease the weather gods.
Taking cover under the Revival tent once more, we sat down with The Devil Makes Three, an all string trio hailing from California.  Hot off of their tour with Flogging Molly, they were ripe to perform for their ever growing legion of fans.  Pete Bernhard, Cooper McBean, and Lucia Turino combine elements of blues, jazz, and jug band music with booze stained lyrics and the result is an infectious sound that, Pete lsays "sends people home singing….and that's something we really shoot for."  And sing, they did…to the likes of "Old Number Seven" (and homage to Jack Daniels), "Do Wrong Right", and "All Hail."    The first of many shout-outs to the late, great Doc Watson was also made during their set, and the crowd went wild.
Up next was the always popular Friday Night Costume Contest.  March Fourth Marching Band naturally led the parade of participants from Main Stage to the Revival Tent.  For some, it was an opportunity to shamelessly flaunt some skin, as was the case with "sexy" Amelia Earhart and "Golddigger," a woman covered with little more than gold bronze and wielding a shovel.  For others, such as the Barrel of Monkeys, The Muppets, and the Yip-Yips of Sesame Street fame, the contest was a team sport.  My favorite costume of the evening, however, was a one of a kind, one time use suit created from hundreds of glow sticks.  They poked out in every direction, giving the wearer the appearance of a radioactive porcupine.
Another sun set brought a chill to the air, and a return to camp was in order.  From there, we decided to relax on the hilltop and let indie folksters, Edward Sharpe & the Magnetic Zeros soothe our weary souls.  As Alex Ebert's and Jade Castrino's voices washed over us we briefly dozed off, only to awaken to their hit, "Home."  This catchy tune is the soundtrack for an equally catchy viral video, and may be one of the reasons that Burning Man's ticket lottery blew-up in its face.  Nonetheless, I love the song, and apparently everyone in the crowd did too….as you could hear the whole field erupt in a sing-a-long.
The trek back to Main stage for The Avett Brothers was leisurely, and interrupted by the need for a garlic grilled cheese sandwich with tomato, spinach, and banana.  Trust me, get the banana.  From the vendors' midway, the sounds of the North Carolina boys' roots rock could be heard loud and clear.  The set list included "Colorshow," "Will you Return," and "Head Full of Doubt/Road full of Promise."  Another tender tribute to Doc Watson was also offered up, in sharp contrast to the "free mustaches" (aka, a sharpie 'stache) from the rowdy boys eagerly awaiting Girl Talk's set.
Girl Talk's Greg Gillis knows how to host a dance party.  The confetti bombs and toilet paper streamer guns exploded with fervor, as fans were pulled from the audience to go onstage for the energetic set.   The hundreds of samples that Girl Talk layers over one another cross many genres and several decades, a fact that makes him more accessible to a broader audience.  As a member of the 40+ demographic, I felt especially at home with his mash up of The Ramones, "Hey, Ho," and Missy Elliot's "Get Your Freak On."
Ghostland Observatory's spectacular laser show brought the masses into the Revival tent for a very late night set.  Despite getting there early, I foolishly sat off to the side of VIP for too long and found myself unable to see the Austin duo, nor enjoy the full effects of a front and center laser show.  What I did witness, however, was a magnificent octopus rage pole.  These poles are designed to assist the lost in finding their crews, but they also have another purpose:  pure, unadulterated amusement.  This particular rage pole, built around a strobe light box, delighted me as it danced to GLO's electro-dance soul rock and bobbed and spun its tentacles in their lasers.
Friday night ended with a trip atop the six story ferris wheel.  From there, we could see the fog rolling over the hills, and hear the mingling of MiMOSA and Ghostland Observatory pouring out of the Outpost and Revival tents.  It was worth every penny of the five dollar ride, and is something to experience at least once each year.

"Oh yeah…someone did get naked in Camp Schwanky lounge and leave all their clothes. Good thing I had tongs for those panties!"
 – Quote from fan Redbobb, Louisiana