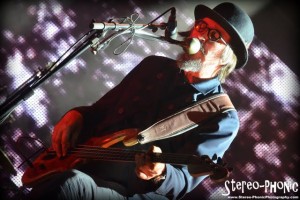 Photos by Johne Edge 
Wakarusa 2012 Day 3

"I ground scored me a hangover this morning."
– Blayne Thiebaud, Fiddle player for Mountain Sprout

The day started early with Chompdown, a bring-what-you-can, take-what-you-want breakfast potluck in RV reserved camping.  Our contribution: 10 gallons of pirate punch (rum, pineapple and mango juice), served up in authentic garb.   Naturally, we made fast friends, and reunited with old ones as well, as many recognized our little red Radio Flyer from the previous year's mobile Bloody Mary and candied bacon bar.  Chompdown, originally organized by John Cabrera ("Rabbit" to his friends) has continued to grow each year, in spite of Rabbit's passing two years ago after a battle with lymphoma.  It's grown from a simple way to give back to friends and strangers, to a way to honor the big hearted man that started it all.  Collections at the Bloody Mary tent (the only money that exchanges hands) all go to cancer research, with Rabbit's friends' KB and Mandy, posting the grand total collected in Wakarusa's forum.  I witnessed one extremely generous fellow pull out a $20 bill for one of Mandy's super spicy concoctions.
As if free booze and massive doses of bacon weren't enough to draw in a crowd, Chompdown also included a set from Louisiana's Dirtfoot.  These six guys know how to throw down and their sound is described as "Gypsy Punk Country Grumble Boogie" for good reason.  It's as about as eclectic and rowdy as a show can get.  The crowd got in on the action, shaking bean cans, participating in the calls and responses, and generally getting down to the infectious grooves….all while shoveling in heaps of delicious vittles.   Rabbit's ashes took front and center stage too, making the event even that much more special.  After they broke down their set, Dirtfoot's J Bratlie and Matt Hazelton took a  few minutes to talk with Listen Up Denver! about Chompdown, the recording of their new album, Live and In Prison,  and their favorite Waka quote of the season [Editor's Note: interview coming soon!].
The rum definitely went to our heads, and as the day began to heat up (finally…I never thought I would be celebrating the heat and humidity of Northwest Arkansas!) we found ourselves taking five back at camp.  Balkan Beat Box was on our schedule of shows to catch, but alas the mid-day heat at the Main stage made us rethink that plan.  We listened to their hybrid of ancient traditional world music and hip-hop from underneath our shade tree on the hill, reserving our energy for the upcoming afternoon shows.
At 3 PM we braved the sunshine and headed down to Main stage for G Love and Special Sauce.   As long time fans of his blend of Blues and Hip-Hop, we were rewarded with some classics, such as "Who's got the Weed?" "I-76," and "Cold Beverages."  Slightly Stoopid's C-Money and DeLa joined Garrett onstage for a special rendition of "Can't go Back to Jersey," as well as a cover of Biz Markie's "Just a Friend."  I loved every moment of the Harmonica heavy 60 minute set, and was hopeful for a guest appearance during Slightly Stoopid's evening performance.
At four o'clock, the boys and girls split up to double our coverage.  The boys met Slightly Stoopid in their bus, in order to catch up about the upcoming summer touring plans, as well as get their Silver Surfer Vaporizer signed for the night's giveaway.  [Editor's Note: Look for that interview soon!]  The girls headed off to the Backwoods Stage for an opportunity to catch Denver's very own The Lumineers.  This intimate stage was the perfect place to witness them.  It offered me an opportunity to recover from my near sun stroke under the trees, surrounded by hammock dwellers (some three tiers high!), while giving my photographer a chance to get up front and personal with the trio and their adoring fans.  The Lumineers brand of heart-on-your-sleeve lyrics and catchy melodies produced every kind of response, from toe tapping to full blown ecstatic dance from the crowd of over 500.
With backstage passes in hand, our crew headed back over to Main Stage for Slightly Stoopid's first set of the weekend.  As long time fans, this was a dream come true for the boys, and as icing on the cake G. Love was standing backstage right next to them, waiting for his guest spot on "Baby I Like It."    Meanwhile, in the Outpost Tent,  the Travelin' McCourys featuring Keller Williams were busy covering "Pepper" by the Butthole Surfers.  Says Hilarygayle, Wakarusa forum member, "We're both big fans of cross-genre covers, and that's about as 'cross' as it comes."
Longtime Umphrey's McGee fan, and Wakarusa forum member, Beck, shared a magical mountain moment from UM's set and it surpasses anything I could possibly write.
"My husband (BDJ) and I celebrated our 35th wedding anniversary on Memorial Day. In our earliest days, we listened to Return to Forever quite frequently. When we started seeing Umphrey's McGee in 2002, we learned that they covered 'Senor Mouse' which was on the album (and yes it was a real album), that we always listened to. We asked them to play it at Great Unknown Festival circa '03 and they did. It is now considered a "rarity" for UM and 75+ shows later, we had never heard it again.
I e-mailed all the members of the band right before Summer Camp, explained about our anniversary, and requested the song for Waka. I really didn't hold much hope for it, because the more I thought about it, the more it seemed 'inappropriate' for the festival setting. When they announced that they were playing an Al DiMeola song, I knew it was my request. BDJ was already ecstatic that they were playing it. When I said 'happy anniversary,' he was almost speechless…then when they said it was for me at the end of the song, I was speechless. We were in a heightened state of awareness at the time, and it was a magical moment as you can imagine. I had already clued our kids (Josh & Sarah) in on the possibility.
The sky lanterns went up in a huge beautiful line on my mountain with all of my family, and jamily, and my favorite band playing my request. Just when you think it can't get any better, then it does. . . ."
Following this heartfelt moment, Les Claypool and Primus gathered to do battle, Ted Nugent style, with a 30 foot diameter octopus puppet.  As it led the parade of weirdness through the audience, stopping to slap around inflated love dolls, Les urged guitarist Larry Lalonde to, "Blow the balls off the octopi with your Stratacaster!"  They played plenty of crowd favorites, along with many tunes from their latest album, Green Naugahyde and they even dedicated one song in particular to the "Bags of Fire" in the sky.
The evening continued to get weirder as the Main stage crowd swelled to impossibly large proportions for Boulder's Big Gigantic.  "What's up with all this whomp-a-whizzle coming from the mainstage?" asked Camp BaconAlien during Big G.  But one man's whomp-a-whizzle is another man's ear candy and I, and thousands of others like me, were drawn to the duo's live sax and drums which they effortlessly lay over intoxicating electronic sounds.  The LED hoops and poi spun deliriously, much to the delight of many mind-altered onlookers…some topless and hugging complete strangers (i.e., yours truly and my husband) by this point in the night.  That was our cue to hit the tent and enjoy the rest of the music from a less weird space.  Dominic and Jeremy continued to kill it, way after being warned of impending lightning hazards.   As if scripted, the storm hit within minutes of Big G's final notes.
Tucked inside of our nylon abode, we listened as Beats Antique went through their soundcheck at the Revival tent.  However, the storm got the better of them, as well as another fan favorite, RJD2.  Neither had an opportunity to perform their full sets, and so it came as no surprise that the party headed back to our campground  in the form of a heady hippie drum circle at 4 in the morning.
"I can't wait to get home and categorically deny everything posted on Facebook."
– KB, Wakarusa forum moderator and fan
Wakarusa 2012 Day 4
"My favorite moment has to be when we went to the waterfall Sunday afternoon and Slightly Stoopid was on the trail with us…such down to earth cool people. Getting to actually meet one of my favorite bands surrounded by such beautiful scenery was surely once in a lifetime."
-Tastypurp,  fan
Sunday afternoons in the Revival Tent are traditionally "reggae day" on the mountain.  So it was appropriate that we would begin our morning interviewing Iration.  SSV met up with us and we got a few shots of the Iration boys signing their custom vaporizer, the final raffle give away of the season.  While we were hanging out we got to take a few moments to talk with Adam Taylor and Cayson Peterson about their band's sound, which has sometimes been described by critics as "broggae."
"I would say it's kind of a mix of an old school reggae sound, modernized with synthesizers….making it more relevant for kids.  We've always felt like the reggae that we listen to, a lot of the lyrics aren't as relevant to kids, so we try to write towards listeners these days.  I would say that the music we make is the five of us trying to make the best music that we would want to listen to…whether that be reggae or rock or whatever.  Our new album has a little bit of both….with the rock songs being full on rock and the reggae songs being full on reggae."
The new album, Automatic, is their third full length record and they worked with the likes of Lincoln Parish from Cage the Elephant and Rami Jaffee from Foo Fighters to get it produced.  Later that day, during their set, they debuted a few of the new songs which they consider, "our proudest work yet."   No, it's not iconic roots reggae, but it's not meant to be either.  It's a fresh take for a new generation and the Revival Yent, despite a tornado warning that necessitated  a false start,  had a turn out that proves that the sound has a following.  Look for the Automatic release later this summer.
Later, Jacob Hemphill, lead singer of SOJA, took some time to share a Waka moment with us, "I got to watch the Avett Brothers…those are guys are insane…they are savage songwriters!"  He also relived  SOJA's recent Tonight Show experience, "It's a like a roller coaster.  There's a wall in front of you that comes up and you can't see anything, but you can hear Jay Leno saying, "Next up….cool guys….heard them at sound check….they're really good, they're really good."  Instead of the CD, we gave them the album so it's HUGE and it covered up part of his face and he had to look around it.  And then you hear him say your name and then the walls goes up and it's like a roller coaster….like tick-tick-tick…then silence and then you hear the track click  in your ears and then you start playing the song and then it's cool, but right before the song it's f***ing nerve wracking."
And finally, he offered some thoughts on our city, "Thanks to Denver…seriously, everyone I know talks about moving to Denver.  You're voted the hardest partying and the most fit.  You guys get f***ed up and then go ride mountain bikes for four hours…that's the full steeze."
Jacob and the rest of SOJA almost had their set cancelled, due to more inclement weather.  For the second time that afternoon, security urged everyone to take cover, and so we spent a memorable moment under the SSV tent, passing a bottle of whiskey and singing in a hailstorm…all while trying to keep the EZ up from collapsing under the weight of too many hailstones and rainwater.  It was there that we met three random fans from Arizona that asked to seek refuge…or not.  Said one girl, "I don't even care if it's raining…This is my first shower since Tuesday!"  The gray skies quickly blew over the top of Mulberry Mountain though, and soon people were puddle jumping their way back to the Revival tent, as the show went on.
One challenge that comes from working a festival is that you have to make sacrifices in order to meet obligations.  Missing a good portion of SOJA and Slightly Stoopid's 2nd set was well worth getting the opportunity to sit down with Matisyahu.  He took some time with Listen Up Denver! to compare his live show to his albums, share the process of recording Spark Seeker, and get personal about his recent change in spiritual paths. He also  disclosed a classic Wakarusa tale that left me wondering if he was pulling my leg.  [Editor's Note: interview coming soon!]  The icing on the cake was that we were invited to watch his full set in the company of OG of Slightly Stoopid, as well as many others artists-turned-fans, from the wings of the Revival Stage.  With Dub Trio's grungy psychedelic sound and dubby electronic jams backing Matisyahu, the audience was elevated to a higher plane through Matisyahu's transcendent hip-hop and reggae.  It was certainly the highlight of my whole Wakarusa.
Meanwhile…. at the Backwoods stage, there were a whole lot of other memories being made.  Although I wasn't there to catch the action myself, fans shared some of the highlights with Listen Up Denver!:
"I loved the acoustic throwdown on backwoods by Hot Buttered Rum and Dumptruck Butterlips on Sunday evening. The power was out at Backwoods, but they played their sets anyways. They came out into the middle of the crowd and GOT DOWN! There were Dirtfoot and Mountain Sprout sit-ins (Scotty and Blaine). Bill Nershi was in the front row for DTBL and even led a mini super jam while waiting on the generator for his own set in the artist tent. The amazing crew at Backwoods even let both Emmitt/Nershi and Sprouts play their full sets in spite of being over an hour behind schedule and having a serious thunderhead looming ever closer."
-.eureka.lover., Arkansas fan
"To top it off HBR led a musical baby blessing and the full moon rose right over the stage during Emmit-Nershi."
-CCRGMac, Indiana
As we caught a ride back to camp and settled in for what would become an epic five hour rainstorm, we recounted the many magical moments from the week.  There's no doubt that Wakarusa holds a very special place in our hearts and we will surely be back again next year.  I'll leave you with one final quote, however, that summarizes our thoughts exactly:
"VERY memorable weekend, & I will definitely return next year. Already budgeting for a pop-up camper & an RV Unreserved pass, and considering names for our camp…Camp 'We're Too Old For This Shit But We Do It Anyway?'"
-Hillarygayle, Arkansas