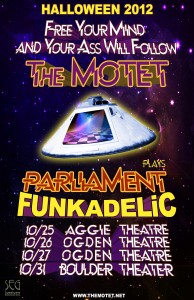 THE MOTET: PARLIAMENT-FUNKADELIC
Thusday, October 25th – The Aggie Theatre, Fort Collins, CO – More Info
Friday & Saturday, October 26th & 27th – The Ogden Theatre, Denver, CO – More Info
Wednesday, October 31st – The Boulder Theater, Boulder, CO – More Info
FREE YOUR MIND AND YOUR ASS WILL FOLLOW!!
The Motet wildly excited to announce that for Halloween 2012 they have amassed a fourteen piece super group to perform the music of the most influential and prolific funk band in
history: PARLIAMENT-FUNKADELIC!
In addition to their infamously nasty rhythm section of Dave Watts, Joey Porter, Garrett Sayers, and Ryan Jalbert, they will be featuring guest vocalist and keyboard player NIGEL HALL (Soulive, Lettuce). Nigel Hall is one of the great young funk, R&B, and soul singers on the scene today and this collaboration with The Motet is not to be missed!  They are also featuring the four piece horn section of Gabe Mervine, Matt Pitts, Serafin Sanchez, and Tom Ball.  Percussionist Matt Grunstad and guitarist Dan Schwindt will join the lineup, as will their most awesome singers Jans Ingber, Kim Dawson, and Damion Massey.  These shows will be the epitome of what Motet Halloween performances are supposed to be: a wild and raucous, psychedelic dance party of epic proportions!  With this many musicians playing material that is the heart and soul of The Motet's sound, Halloween 2012 promises to be some of the greatest and most fun and Motet concerts ever.
These shows always sell out, so please don't miss it!!