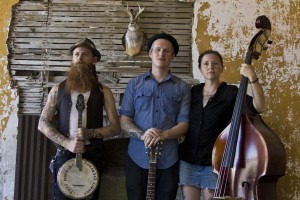 The Devil Makes Three give new meaning to the phrase "tour machine;" they played Wakarusa in the middle of a national tour with Flogging Molly and dates with Gogol Bordello before heading to Bonnaroo.  Despite their busy schedule they took some time to talk to us at Listen Up Denver! about their music, touring, and what flavor of ice cream Wakarusa would be.
Listen Up Denver!: I first heard you guys when you opened for The Yard Dogs Road Show in Denver a couple of years ago.  I was immediately drawn to your sound and bought two CDs on the spot.  Based on your recent sold out Denver show at The Larimer Lounge, I gather that you make diehard fans all the time.  Tell me more about what makes your sound so likable?
The Devil Makes Three: I think it's partially the songs…we can send people home singing the songs and that's something that we really shoot for.  Plus, we try to make our live show fun to be at and I think that people can feel it.
LUD!:  Who writes the lyrics?
DMT:   I [Pete] write them, pretty much.  Cooper writes some of the songs too….the ones that he sings, but I write the majority of them.
LUD!:  They're very catchy.
DMT:  That's the idea.
LUD!:  I read a description from one of your press pieces that calls your sound vintage bluegrass music.  Is that accurate and do you identify with that label?
DMT:  A lot of people that play traditional bluegrass do not consider what we do to be bluegrass.  We take a lot more influence from Blues, Jug Band music, and Jazz, more than Bluegrass….but I love bluegrass…even Country music more than Bluegrass…we have similar instrumentation.   We don't play a lot of straight Bluegrass songs, but we do have an upright bass and a banjo, so the bluegrass comparison is to be expected.
LUD!:  How has the recent touring with Flogging Molly and Gogol Bordello been going?
DMT:  Touring with Flogging Molly has been great.  Really they're just great people, but also their crowd is so cool and we've had really good shows opening for them.  Everybody comes early…even if we go on at like seven o'clock, it's packed.  It's a really cool and really open minded crowd.  I think that Flogging Molly has done a lot of work to train their audience to be ready for something different, and they've been liking us.  We're going to try to tour with them a lot more.  And the show with Gogol Bordello in Atlanta was awesome!  Their crowd was so cool.  They put on an amazing live show.  In fact, both bands put on really amazing, high energy show.  So when we go out there before them, we really have to work hard…because, you know, we don't have a drummer.  So it's been hard work, but fun.
LUD!:  How does that circuit compare to playing at summer music festivals like Wakarusa and Bonnaroo?
DMT:  Well it's a different thing because when we're playing at festivals we're doing our own shows.  People are there to see us, and plus we play a much longer set.  It's a little bit like the pressure is off at a festival.  We're not opening, and the people that came to see us, really came to see us, so it's a different thing. The festivals have been really good, and really fun.  They are kinda new to us, since we built up our following playing in clubs out West in Santa Cruz.  But every year has gotten a little bigger, and we've done a lot of festivals in California.  We did Bumbershoot, but we haven't done a lot of national festivals.  This year is really the year that we've started doing it, and we're enjoying it.
LUD!:  Your recent album, Stomp and Smash, is a live recording.  Any plans for heading into the studio anytime soon?
DMT:  Yes.  It's in the works.  We have a lot of new material.  We demoed about seven new songs, and we have a least four or five more to come.  Tonight we're not doing any of those tunes….they're not quite there yet.  But they're getting there!  We like to get things right before we bring them out live.
LUD!:  Once last question….it's a silly one.  If Wakarusa was an ice cream flavor, what would it be and why?
DMT:  I think there would definitely be drugs in the ice cream.  There would probably be some hash and some Psilocybin mushrooms in it.  I don't know what flavor would be, but I know it would be soft serve.  [big laughs all around]
LUD!:  Oh, you don't have to explain why…say no more!  Any lasts words for our readers?
DMT:  We have a website, www.thedevilmakesthress.com.  You can get all of our stuff up there.  Keep an eye out for us.  We'll be in Telluride (Saturday, June 23rd) and then we'll be in Denver on our own tour in the fall.  I think we're playing The Bluebird, and we might be playing in Boulder as well.
The Devil Makes Three is currently touring in support of their newest LP, Stomp and Smash; a live release recorded over two sold out nights in Petaluma, CA.  Check out their Jug Band meets Punk, and old timey Blues, on their live version of "This Life" and keep an eye out for them coming to a town near you real soon.