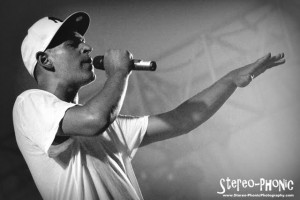 Photo by Johne Edge 
One challenge that comes from working a festival like Wakarusa is that you have to make sacrifices in order to meet obligations.  Missing a good portion of SOJA, and Slightly Stoopid's second set of the weekend, was well worth getting the opportunity to sit down with Matisyahu. This one-of-a-kind vocalist and songwriter took some time with Listen Up Denver! to talk about his upcoming album Spark Seeker, and to share his favorite Wakarusa memory.
Listen Up Denver!:  You have a busy summer ahead of you.  You're about to begin a summer tour, co-headlining with Dirty Heads, and you've got a new album, Spark Seeker, that is about to be released as well.  What can we expect from both the live show and the new release.
Matisyahu:  I'll start with the live show first.  I've been with the same band for a couple of years now, Dub Trio.  We do sort of a thing where we do Matisyahu songs and then we go into improvisational sections where we go into Dub Trio songs.  So anyone that has  seen me in the last couple of years, they are the band from the Live at Stubb's Vol. II record.    The new record is really different from our live thing.  Our live thing has a real rock vibe to it and also a rootsy reggae kind of thing, where the record is in a whole different direction.  It's more of a pop record…it's got more of a Hip-Hop feel to it and a lot more rapping on it and a lot more traditional toasting style…sort of the same delivery as my first album, and unlike the delivery in Light which was more singing.  It's very hooky and very melodic. It's sort of my Crack CD, my musical Crack, but with content.  It still has all of the content of a regular Matisyahu record, it's got a lot of Hebrew in it and quotes and stuff from the bible and content based on the Kabbalah, but it's a fun record.
LUD!:  And I understand this was recorded on your own label.
Matisyahu:  Yeah, I really fully chose the producer myself.  The whole record happened very organically, it wasn't like, "I'm going to do it this way."  As we were touring, I was writing with different people and  I met this guy and he happens to be part of Dr. Luke's camp, which is really Top 40 type of stuff, and we just really clicked…we're from the same era.  He was a Graffiti artist  in Brooklyn in the 90's and from that old school Hip-Hop world…so we have a similar feel.  He's very modern in his approach to music now, but then we went to Israel and for 10 days we had the best musicians just cycling through and we would just play the tracks we were working on that we were just creating right then.  We had the most amazing artists coming through.
LUD!:  It sounds like it was really organic.
Matisyahu:  Totally.  And that just gave the record this whole other dynamic.  It has this darker, mysterious Middle Eastern kind of vibe to it that is mixed with a real  melodic pop, and crunchy beats that I'm really excited about.
LUD!:  Are we going to get a taste of that tonight?
Matisyahu:  Well, a little bit.  We're actually leaving the show today to go to New York for rehearsals for two weeks before our official tour starts.  We haven't fully figured out what we are going to do with those songs live yet.  We could go in two directions with it and a lot of times we totally re-create our live songs and give them a whole different feel.  It's a lot more fun to me that way.  I mean, you can put a record in your car and feel the bump to it, but at a live show I'm not necessarily interested in putting on a Hip-Hop show.  I come from more of a (mindset) of seeing Phish…that's more my style.
LUD!:  I want to ask you about your decision to shave.  We saw you in Denver about a week after this and many of your fans did not recognize you when you went onstage.   What has the reaction from fans primarily been like and what was your motivation for breaking away?
Matisyahu:  It was a very personal decision for me and something that I had been thinking about for a while and was struggling with.  I guess at a certain point I just knew that I was going to do it and I decided that I wasn't going to worry or think too much about what my fans and everybody were going to say.  The reasoning was, it was just time.  Certain big decisions turn out to be not that big of a decision and you just know when it's time and what the right thing to do is.   I just felt it.  It was a very intuitive kind of thing and it wasn't a decision that I made with my head, but with my heart.  My outward style shifted to reflect what was happening inside and I thought, "okay, I have to shave…people will figure it out."  I guess I represented something to some people, but at the end of the day, the people that I'm interested in are the fans of my music and they are not going to be so quick to judge…I mean, who wants judgmental fans?  You want fans that are going to encourage you to try different things.
LUD!:  You were last here at Wakarusa in 2009, care to share any memorable moments from that experience?
Matisyahu:  I remember being here on Shabbat walking around and we had a gig the next day in Dallas.  The funniest thing is that one of my friends came, someone that just shows up once in a while, a Hasidic guy, he's got a pretty tight life with his family and he's got 4 or 5 kids and he's in his early thirties and once in a while he needs a release and he just shows up.  He never bothers to call me, he just checks my tour schedule and then hangs out for a few days.  He  showed up here and it was Shabbat and so he didn't have his phone on him or his wallet and we had to leave because we had a certain amount of time to get to Texas and we start searching for him and no one can find him.  The last time anyone had seem him he was in the woods with some hippies, tripping on mushrooms and dancing.  At some point we had to go, we had to leave him here at Wakarusa with no wallet or phone.
LUD!:  Is this a true story?  I feel like I'm getting my leg pulled.
Matisyahu:  It's a true story!  So we leave him here with his full Hasidic garb on, the long black coat and his hat, and the next day we roll up to the House of Blues in Dallas and who's there with his legs kicked up on the table and drinking our beer?  He somehow made it before us.  He'd hitchhiked to the bus station where he got some guy to loan him money and he got on a bus and beat us there.
Matisyahu will be hitting the road this summer touring with co-headliners, Dirty Heads, and their tour will stop at The Fillmore Auditorium in Denver on September 8th.  This tour is in support of his forthcoming album Spark Seeker set for release on his own label, Fallen Sparks Records via Thirty Tigers/RED, on July 17th, 2012.