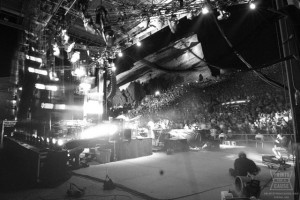 Photos by Mitch Kline
The Scene: Over the years Sound Tribe Sector 9 have amassed a following of die-hard fans and followers that is almost unmatched by any other band in their scene playing today. As with most shows of this nature at Red Rocks, the parking lot party was in full swing when I arrived late in the afternoon.  The clouds parted early on leaving the sun to beat down on the rocks. The show had sold-out the day before, so it was no surprise to see quite the large number of disappointed fans walking through the open air market with their fingers in the air. Being that I was a newbie to the whole Tribe experience, and personally was more excited to see the openers, Cherub, I decided to make my way inside. Marking probably the first time in my life that I actually made it inside Red Rocks without being extremely late.
Opener: Cherub. I discovered these two musicians from Nashville, Tennessee a little over 6 months ago. They were relatively unknown and I knew from the start that they were onto something new with their sound. Although I may not know the guys personally, I was still proud to hear that they landed a spot at Red Rocks opening for a band as popular as STS9. I was also curious as to how their sound would translate from the small stages I've seen them on to the massive 10,000 capacity venue.
They started their set early and I think it's safe to say they played almost every song they know. Unfortunately, it seemed as If most of the people who made it in early enough for their set didn't exactly "get" their sound. It definitely proved to me that it's a lot harder to capture the attention of crowds that large when a majority of the listeners don't have any previous knowledge of who you are. All of that aside, I enjoyed the hell out of their set. I got to hear all of the songs that I blast in my car on a daily basis. I definitely noticed a few folks shooting strange looks my way as I sang along almost word for word to every song they played. The set ended with "Doses and Mimosas" just as the sun was starting to go down.  At this time I decided to give up my spot in the third row to some fans who would appreciate it much more than I for Sound Tribe and made my way closer to the top while we waited for the main attraction.
Sound Tribe Sector Nine: Prior to Saturday night I had no knowledge of what STS9 was about. In fact, the car ride up from Longmont to Red Rocks was the first time I had even heard a STS9 song. I did learn from talking with people before the show that a lot of people are there for more than just the music. I couldn't help but get a huge sense of family and deeper connection to some strange metaphysical appreciation for life.  Almost everyone I came in contact with was extremely accepting, loving and full of pure joy for what was about to happen. As the sun slowly set and the amphitheater filled to the brim, the energy between the rocks rose to a level that isn't reached by your run of the mill Red Rocks crowd.
A computerized voice then came over the sound system asking "Red Rocks are you ready?" Their massive pyramid of LED lights flashed an image of some galaxy, then the show was underway. From that point I kind of lost myself for a good portion of the show. Sometimes showing up to these concerts completely oblivious provides me with a good opportunity to give a good outside perspective and honest opinion. Other times I have no control over how I react to the music and completely forget I am wearing my journalist pants. This was one of those times, at least for the first half of the show.
The band has a great way of transcending genres in many ways. If you weren't able to see the five guys on stage with real life instruments you could very easily mistake what they do for a DJ. The way they combine computer programmed sounds with tangible bass lines, tight melodies, and ripping guitar riffs is like nothing I had ever seen before. I'm never really too hip on progressive music, but their sound was something different. I found the way they progress to be much more pleasing than most live jam bands I've come in contact with. As I said, I kind of lost myself for a majority of the first set, but the song that brought me back to reality was "ABCess." I have a great affinity to 2-step and Reggae music and this song had me in a trance.  To be quite honest, I would have never expected something like that to come from a band like this.
At set break, the lights went up and I looked around to realize I somehow had lost almost everyone I showed up with. It turned out this wasn't much of a problem since everyone seemed to be in such loving moods. By the time they came back for set 2, I decided to just take a walk around the venue and take in the nice night. I found myself lost in quite a few thoughts, only to be brought back to reality with the sudden thoughts of "holy shit, these guys really do know what the hell they are doing." I enjoyed that every song didn't have to be the "absolutely most epic shit ever played." Which I've noticed has become a bit of a constant theme in a lot of electronic music these days. I enjoyed that I was able to just sit back and groove to their sounds.  Don't get me wrong, they certainly were able to build the pressure in the place and drop some "epic shit." Every transition was smooth, as far as I could tell and their sound was spot on the entire night.
As the show came to an end I was able to understand a little better why Sound Tribe has the following they do. Throughout the day I had met countless beautiful people, got to hang out with strangers and old friends, and at the end of the day there was an amazing atmosphere of pure love throughout the entire venue. I understood a little better where the strong sense of family came from. I may not understand the deeper metaphysical meaning of my existence on this rock any better, but I sure as hell got to free my mind for a few hours. It was truly amazing what those guys are able to do with their instruments, and above it all it's beautiful how they are able to bring together so many different walks of life and send them out into the world with ear to ear grins.
Setlist:
Set 1: Vapors, Simulator > Moonsocket, Really Wut, ABCees, Shock D > Hidden Hand Hidden Fist > When The Dust Settles > Arigato > New Song > Empires, 20-12
Set 2: T.W.E.L.V.E > Inspire Strikes Back> Peaceblaster 08 > Evasive,  Looking Back on Earth > EHM > Hip Hop Remix > The Unquestionable Supremacy of Nature,  March > Scheme > Rent

Encore: New Song
Energy: A+
Sound: A
Musicianship: A
Stage Presence: A
Set/Light show: A+
Overall:  A
I rode my skateboard from school in 7th grade to my buddy Vince's house where he put on the song "Perfect Government" by NOFX and I was hooked. The next day I bought the album Duh by Lagwagon. The next year I saw Against Me! at the Starlight Theater in Fort Collins, my mom dropped me off. I've since devoted every waking hour to anything done with passion. My speakerbox bumps everything from Lil' Wayne to Pablo Casals. I was never very good at making music, but I am damn good at listening to it. I've been filling up yellow notepads with random thoughts and misspelled words for as long as I can remember. I enjoy whiskey of all sorts, Newport cigarettes and the company of my family. I've got an addiction to run-on sentences that I'll probably never cure. A solid handshake with a stranger who has become a friend over a few beers means the world to me. You'll often find me wide eyed and wandering with an ear to ear grin. I live for funky break beats and spreading the love.