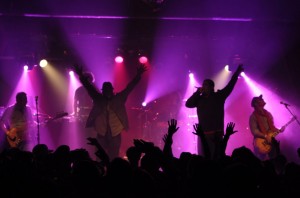 All Photos by Tim Dwenger
The Scene: Cervantes is Cervantes, if you've been there for any kind of jamband show you know what you are in for.  It's gonna start late, there's going to be weed in the air, and the crowd is going to be fairly young and saturated with hippies.  That said, Friday's crowd was a little older the normal and Fort Knox Five definitely brought out some hipster crossover.  It was probably half capacity or so by the time Fort Knox came on and it is definitely good to see that they are steadily building a following here in Denver.  When Jon H started DJing here several years ago, the crowds were sparse, but they've stuck with it and if with the great set the FK5 Live Band threw down, word is sure to continue to spread fast.
Openers: DJ Motion Potion & Lance Herbstrong.  Motion Potion provided some decent background tunes for those who arrived early and even dropped a Cab Calloway tune about two thirds of the way through his set.  Not mind blowing, but definitely better than house music.
Lance Herbstrong came on about 11 and slammed through some funky electro dub that definitely got the room moving and warmed up for Fort Knox Five.  The band was centered around two laptop jockey's but also featured live percussion and Porno for Pyro's guitarist Peter DiStefano.  DiStefano was definitely enjoying his role as defacto front man for the band as he danced around the front of the stage shredding his low slung guitar.  He even came down into the crowd for a solo at one point in the set.
Fort Knox Five: Around midnight, Fort Knox Five took the stage with their full live band for the first time in Denver.  The band consisted of Guitar, Bass, Drums, and live vocals with Jon H. rocking the decks and laptop.  Judging from the reaction when they came out, the crowd loved it from the first notes.  After getting their bearings on the first couple of tunes the band locked in and killed the danceable New Gold Standard 2 tune, "Shift" that featured Mustafa Akbar on vocals.  Mustafa soon yielded the mic to Asheru who dropped some smooth rhymes on "Insight," a track from Fort Knox Five's 2008 album Radio Free DC before the band slid into the sultry beats of "Blowing Up The Spot," an older track that dates all the way back to 2006.
Out on the floor the vibe was great and everyone was moving and I even noticed a couple of people singing along to the vocals of Asheru and Mustafa as the show built to one of the highlights of the night, a raging and funky "Sax Pusher."  The cranked up energy set the stage well for the last third of the show which featured some of Fort Knox Five's most well known tracks, "Brazilian Hipster," "Funk 4 Peace," and their Remint of the Bob Marley classic "Duppy Conqueror."
It was a night of Funk, Breaks, Reggae, Hip-Hop and they even managed to throw in a cover of Gordon Lightfoot's "Sundown" before it was all over.  Let's hope the Fort Knox Five Live Band returns to Denver real soon!
Energy: A-
Sound: B
Musicianship: B-
Stage Presence: B
Set/Light Show: B+
Overall: B+
Music has always been a part of my life. It probably all started listening to old Grateful Dead, Peter Paul & Mary, and Simon & Garfunkel records that my parents had, but it wasn't long before they were taking me to concerts like Starship, Crosby, Stills & Nash, and Huey Lewis & The News. I got the bug to write about music after reviewing an Eric Clapton concert for a creative writing project in high school but didn't really take it up seriously until 2002. Since then I have published countless articles in The Marquee Magazine and done some work for Jambase.com, SPIN Magazine, and various other outlets. I started Listen Up Denver! as a way to share the music information that is constantly spilling out of my head with people who care. Please enjoy!