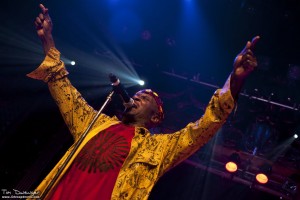 Photos by Tim Dwenger
The Scene: The last time I saw Jimmy Cliff was back in 2004 or so, up in Boulder, at The Boulder Theater, and as I remember it the place was only about half-full.  This time, the Denver Reggae faithful turned up in force and the crowd at The Ogden was just about perfect.  It wasn't sold-out, and there was room to move around, but the room was full and the energy was high . . . really high.
As was expected the crowd was a little older and some of them probably caught The Harder They Come when it was released back in 1972.  It was great to see all these folks out on a Tuesday night and the variety in the crowd made for a great vibe.  One thing was for sure, those that came out to catch Cliff were into his music.
In a bit of a surprise (to me anyway), HD Net was broadcasting the show live from Ogden so there were boom cameras sweeping over the audience, and a giant satellite truck parked outside on Colfax.  Maybe Cliff brought it a little harder because of the live broadcast, but if I remember correctly from the last time I saw him he always brings it hard.
Jimmy Cliff: At 9:30 on the dot, Cliff's band took the stage and warmed us up for a minute or two before the legend came high stepping into the spotlight.  Opening with "You Can Get It If You Really Want," Cliff's electric stage presence lit up the otherwise dark and drab room.  He smiled ear to ear, waved his arms in the air, and looked for every bit like he was loving every minute of being up on stage.  In my mind, this is what a Reggae show should be.  It should make you feel like you are on the beach, or at least near it, and make you feel that much better about your life.
Cliff soon made his way into a warm and soulful cover of Cat Stevens' "Wild World" that had everyone in the room singing along with every word.  It was truly amazing how many smiles were flashing around the room as Cliff radiated love and got people moving by calling out dance moves like the "Scooby Doo," which he happily demonstrated from the stage.
The show wasn't all smiles and laughter though.  Cliff did wax political from time to time as he touched on tracks like "Save Our Planet Earth" and an updated version of his classic "Vietnam" where changed the country in question to "Afghanistan."  Whether singing the sunny songs, or the more serious ones, Cliff was on top of his game all night and in great voice.  As he danced his way around the stage he seemed much younger than his 64 years and I found myself hoping that he continues to bring his brand of Reggae to the world for many years to come.
Late in the set he picked up a guitar for one of my personal favorites, "Sitting Here In Limbo," and the stripped down version let the crowd fall into, and get carried away by the song before Cliff broke into Johnny Nash's "I Can See Clearly Now.  While the latter song is probably what he is known best for by the younger fans in the room I was thrilled when the band all took their places behind their own conga drums and the group launched into a percussion heavy version of "Bongo Man."
I will say that the one disappointing part of the show was how much Cliff and the band milked the encore.  In fact, I think he left the stage four or five times.   The waiting all paid off however when he dealt us the a fantastic triple play of "The Harder They Come," "Many Rivers To Cross," and "Wonderful World, Beautiful People."
As we all filtered out of the theater, I replayed the lyrics to the "Wonderful World" in my over and over and couldn't help but think the this wonderful world is indeed full of beautiful people.  Jimmy Cliff communicates a very important and real message to the world and it's critical to have people like him on stages around the world.  Thank you Mr. Cliff!
Energy: A+
Sound: A
Musicianship: A
Stage Presence: A+
Set/Light show: B
Overall:  A
Music has always been a part of my life. It probably all started listening to old Grateful Dead, Peter Paul & Mary, and Simon & Garfunkel records that my parents had, but it wasn't long before they were taking me to concerts like Starship, Crosby, Stills & Nash, and Huey Lewis & The News. I got the bug to write about music after reviewing an Eric Clapton concert for a creative writing project in high school but didn't really take it up seriously until 2002. Since then I have published countless articles in The Marquee Magazine and done some work for Jambase.com, SPIN Magazine, and various other outlets. I started Listen Up Denver! as a way to share the music information that is constantly spilling out of my head with people who care. Please enjoy!